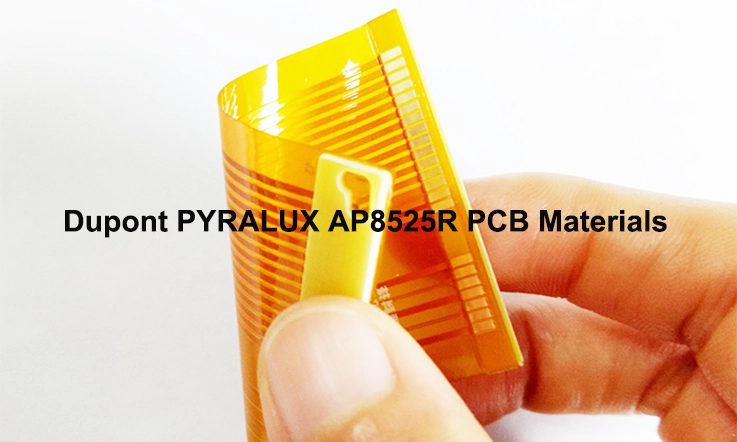 Welcome to an in-depth exploration of the cutting-edge Dupont PYRALUX AP8525R PCB materials. As an electronic contract manufacturer, we recognize the significance of utilizing high-quality materials that offer reliability, performance, and versatility. In this article, we aim to provide comprehensive insights into the unique features and advantages of incorporating Dupont PYRALUX AP8525R in electronic contract manufacturing processes.
Description Of Dupont PYRALUX AP8525R
DuPont™ Pyralux® AP8525R is a type of flexible circuit material that is designed for high-performance applications. It is a double-sided, copper-clad laminate and an all-polyimide composite of polyimide film bonded to copper foil. This material is ideal for use in multilayer flex and rigid flex applications that require advanced material performance, temperature resistance, and high reliability. It offers a versatile option for a wide variety of flexible circuit constructions and is well-suited for use by designers, fabricators, and assemblers in the PCB manufacturing industry.
Feature of Pyralux® AP8525R
Pyralux® AP8525R offers a range of features that make it well-suited for high-performance applications in the PCB industry:
●It has a low coefficient of thermal expansion (CTE), making it ideal for use in rigid flex multilayers.
●The material demonstrates excellent thermal resistance, ensuring reliability in demanding operating conditions.
●Its thin copper clads provide superior handling, contributing to ease of manufacturing and assembly.
●The unique thick-core product is designed to maintain controlled impedance, offering enhanced performance for specific applications.
●It exhibits excellent dielectric thickness tolerance and electrical performance, ensuring consistency and reliability in circuit constructions.
●The high copper-polyimide adhesion strength enhances the material's durability and reliability in use.
●Pyralux® AP8525R is fully compatible with industry-standard processes and holds IPC 4204/11 certification.
●It also meets UL 94V-0, UL 796 standards, and has a maximum operating temperature of 180°C (356°F), making it suitable for a wide range of applications.
Why PYRALUX AP8525R So Important High frequency Applications?
DuPont™ Pyralux® AP flexible circuit material is the first all-polyimide flexible circuit material to offer dielectric core constructions of 3–6 mils and greater. These clads present designers and fabricators with new opportunities to construct high reliability/high yield circuits for controlled impedance and high-frequency applications.
The application advantages of DuPont™ Pyralux® AP flexible circuit materials include:
●Enhanced production yields and increased flexibility in controlled impedance applications due to the unique DuPont™ Pyralux® AP core dielectric thickness.
●Excellent dielectric thickness tolerance, ensuring consistent electrical performance.
●Full mechanical and electrical benefits of DuPont™ Pyralux® AP adhesive material in double-sided multilayer and rigid flex applications.
All DuPont™ Pyralux® AP flexible circuit materials are fully certified to IPC-4204/11 standards.
Another Benefits of PYRALUX AP8525R
In addition to the improved dielectric thickness, DuPont™ Pyralux® AP flexible circuit materials maintain the superior inherent advantages of adhesiveless laminate for double-sided multilayer flex and rigid-flex applications. The following characteristics contribute to the advanced performance and high reliability of DuPont™ Pyralux® AP:
●Its low thermal expansion coefficient provides improved compatibility with copper and enhances yields in rigid-flex fabrication.
●Consistent dimensional stability ensures the reliability and precision of circuit constructions.
●Excellent adhesion of copper to the dielectric enhances the material's durability and reliability in practical use.
●The superior thermal resistance of the material makes it well-suited for high-temperature applications and assembly processes.
●It exhibits good compatibility with all flexible circuit processes, facilitating ease of manufacturing and assembly.ing and handling systems.
How Many Types Size for PYRALUX AP8525R Provide?
The DuPont™ Pyralux® AP flexible circuit materials copper clad laminate is available in standard sheet sizes for convenient use in PCB manufacturing. The following are the standard sheet sizes provided:
– 24″ x 36″ (610 mm x 914 mm)
– 24″ x 18″ (610 mm x 457 mm)
– 24″ x 12″ (610 mm x 305 mm)
– 12″ x 18″ (305 mm x 457 mm)
These dimensions allow for flexibility and compatibility with various PCB fabrication processes, providing manufacturers with options to suit their specific project requirements.
How to Safe Handling for PYRALUX AP8525R PCB Materials?
It is important for individuals handling DuPont™ Pyralux® AP flexible circuit materials to wash their hands with soap before engaging in activities such as eating, smoking, or using restroom facilities. While DuPont is not aware of any cases of contact dermatitis associated with the use of DuPont™ Pyralux® AP products, it is possible that some individuals may have a higher sensitivity than others. Therefore, it is recommended to use gloves, finger cots, and finger pads, and these protective measures should be changed on a daily basis.
DuPont™ Pyralux® AP flexible circuit materials are fully cured upon delivery. However, it is advisable to ensure proper ventilation in lamination areas, with a fresh air supply, to prevent the accumulation of trace amounts of residual solvent (common in polyimides) that may volatilize during press lamination. When drilling or routing parts made with DuPont™ Pyralux® AP, it is important to provide adequate vacuum around the drill to minimize worker exposure to generated dust.
As is the case with all thin, copper-clad laminates, sharp edges can pose a potential hazard during handling. Therefore, all personnel involved in handling Pyralux® AP clads should use suitable gloves to minimize the risk of cuts.
Storage Conditions and Warranty
Dupont PYRALUX AP8525R flexible circuit material laminates should be stored within their original packaging at temperatures ranging from 4-29°C (40-85°F) and humidity levels below 70%. It is crucial to prevent the product from freezing and to maintain a dry, clean, and well-protected environment. Adherence to these recommended handling and storage guidelines is essential to ensure the validity of the DuPont warranty, as stated in the DuPont Standard Conditions of Sale, which covers a period of two years from the shipment date.
Quality and Traceability
The copper clads of Dupont PYRALUX AP8525R flexible circuit material are produced within a quality system that is registered to ISO9002 by Underwriters Laboratories. These clads are certified to meet the IPC-4204/11 standard. DuPont meticulously maintains comprehensive material and manufacturing records, which encompass archived samples of the finished product. Each manufacturing lot is assigned a unique identification for easy reference and traceability. The packaging label plays a critical role as the primary tracking mechanism in the event of customer inquiries, containing essential information such as the product name, batch number, size, and quantity.
Conclusion
Dupont PYRALUX AP8525R PCB materials epitomize excellence and innovation in the realm of electronic contract manufacturing. Their exceptional thermal stability, electrical performance, and ease of processing make them an invaluable choice for meeting the stringent demands of modern electronic assemblies. As a PCB manufacturer in China, we highly recommend the adoption of Dupont PYRALUX AP8525R to enhance the quality and performance of electronic products.
Call us to get a free quote now