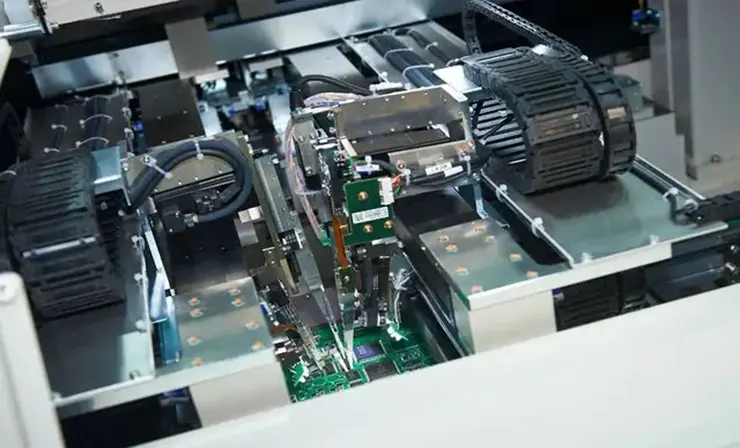 Get Your Military and Defense PCBs From JarnisTech
JarnisTech offers quality, long-lasting, and durable PCBs that can be used in a range of defense and military applications. JarnisTech has ISO 9001:2008 and is certified by UL as well as RoHS certified, so you can expect these printed circuit boards to perform well under the challenging conditions that military equipment is subjected to. We also make a variety of PCBs that are suitable for various applications in the defense and military.
When it comes to military or defense applications that require quality printed circuit boards, Find out why countless companies in virtually every major industry trust JarnisTech. In contrast to other PCB makers, we also provide PCB assembly services. As a result, you don't need to waste time looking for a good assembly service and transporting your materials, as we handle all everything, so your operations can run more smoothly.
Our stock includes many special military grade materials, such as Arlon, Taconic PCB, and Teflon PCB and more.
Definition of Military PCB
A PCB for military use is made for military use. What is a PCB?
Printed circuit board (PCB), it is a board in which electrical components are connected by copper tracks, rather than by wires.
It is necessary to drill holes in the PCB board fixes the electrical components . Then soldering components secures them in place, and copper tracks link them together to forming a circuit.
The components and the board together are referred to as PCB Assembly. (Or Printed Circuit Board Assembly)
What Is Military Grade PCB ?
A PCB that is military-grade is a PCB that is in compliance with the military's specifications and requirements. To make a military-grade PCB, all components have to be in compliance with military specifications. In addition, the components must have tolerances ranging from 1% to 2%. The manufacturer should use circuit boards that are capable of enduring the most highest levels of the current load.
A military-grade PCB manufacturing is based on the use of military-grade materials. Furthermore, these materials must be in compliance with certain standards, such as IPC-A610E. This is the ideal specification for circuits that are high-performance. Therefore, designers should strive to utilize materials that are heat-resistant.
Manufacturers develop PCBs that are military-grade and meet an improved standard than consumer-grade PCBs. This is because a military-grade PCB can operate at high temperatures. Furthermore, a military grade PCB has to have higher tolerances and conform strictly to quality standards.
Additionally, manufacturers must make military-grade PCBs compliance with specific standards. MIL-PRF-5110 and MIL-PRF-31032 are two examples of these standards. Manufacturers create military-grade PCBs to be tested. Also, it is clear that there is easy access to the components so that they can be tested separately.
Military grade PCBs feature materials with great properties. So, selecting the right materials and the right laminates is crucial. PCBs that are military grade is perfect for a variety of applications. These circuit boards are making a positive impact on the military sector. So, PCBs for military use should conform to the standard sizes and finishes that are used in military products.
Review of PCB Capabilities Available in Military and Defense Industry
As we said, most PCBs are designed to function in a specific set of conditions that are typical of normal conditions. However, military PCBs are subjected to different conditions than regular PCBs. Due to the fact that military PCBs may be used on the ground, under water, or in the sky, they are often designed and tested rigorously to meet the following standards:
● Temperature and resistance to pressure.
● Resistance to moisture and humidity.
● Capability to detect low and high frequency.
● Operating in environments that are corrosive.
● Excellent clarity of transmission and power.
All of these requirements can be fulfilled exclusively by the military PCB manufacturers as they understand these requirements more effectively. This is why it is advised to purchase from reputable and seasoned military PCB makers with years of experience making PCBs that can be used in harsh conditions. To meet these conditions, it meets these conditions through a variety of layouts and materials. Additionally, they conduct strict tests and inspections prior to sending the PCBs to their clients. In testing, the manufacturer ensures that the PCB meets the above-discussed requirements of the applications as well as offers high performance.

Design of Military Printed Circuit Board
The design and conceptualization of the PCB usually represent the very first stage in the production process for circuit boards and, therefore, is no different than the military PCB. It has a variety of aspects you should consider, such as the kind of PCB that is used in the military. So, What are these considerations?
Board Materials
It's an integral part of the military PCB's design since you have to ensure that the material you choose to use is made to a quality that meets military standards and specifications. The materials used to develop PCBs for military use must be resistant to heat due to the use of PCBs under harsh weather conditions. Furthermore, the use of thermal compounds is crucial to aid in the dissipation of heat.
Be aware that printed circuit boards require non-conductive and conductive components to function. While the material requirements need adhering, it has to be done in line with the base requirements for the material ( ceramic or FR-4, which is composed of glass-reinforced epoxy) as well as the copper layer with conductive properties. Since the majority of military PCBs feature high-performance components, the base material will be primarily composed of a Ceramic or PTFE base.
PCB Stack-up
In this instance, the stack-up of the printed circuit board determines which layer number a military PCB would require. It is essential to identify this at the time of design to ensure you know the required impedance on each of the layers, in addition to the proper fabrication procedure to follow. These calculations help determine the expected production yields, minimize the cost of manufacturing and ensure that the product is reliable.
Copper Traces
A printed circuit board circuit's copper traces play a crucial in transmitting electrical and other signals within the PCB. During the design phase, it is crucial to understand the attributes of copper traces in addition to its limitations.
Via Types
The kind of via is crucial in connecting the different components of the military PCB. It is comprised of blind, through-hole, micro, and vias that are buried. But it is true that all high-end PCB shave the smallest number of vias. Furthermore,When designing a PCB, the current carrying capacity of the via is a crucial factor to consider as well. Because of all top-quality PCBs have fewer vias than standard PCBs.
Picking Components
A military PCB includes not only one military component but a variety of them. So, consider this when designing your design. You will need to consider a variety of components used in the military. It is essential to choose the right components for your PCB that are designed for military use to minimize errors and to ensure the highest standards for the PCB's quality.
Design Rules
It is essential to think about the design guidelines after the explanations given previously. Considerations like the location of components, DFM, cross-talk budgets for the layer allocation and flight time must be thought about. Other components that operate closely and with PCB components, like capacitors of military quality, have to be included in the design of the PCB for military use.
Power and Signal Integrity
In order to be a quality military printed circuit board, it must possess a high level of power and signal integrity. A key consideration here is the rise and fall times of the signal, the characteristic impedance, the rack length, and the strength of the drive. But, A quality performance guarantee can only be achieved by running the signal integrity simulation both before and after the layout. Furthermore your power distribution's AC and DC performance must also be considered.

How Can We Satisfy Mil-spec Requirements While Maintaining Full Traceability ?
We supply all the documents that are military-grade.
The following is a document list that we'll provide to you for your mil-spec board:
● Certificate of conformity.
● Specifications for the material.
● IPC J-STD-001E.
● Copy of the Reflow profile.
● Report of AOI (or visual inspection report).
● Photo requirements.
● Flying probes or testing in circuits report.
● First Article Inspection Report.
● Report of the Ionic test for cleanliness.
● Record of tools calibrated during the process of manufacturing.
Types of PCBs Used in Military
There is a wide variety of military PCB designs that all serve the same purpose.
Single-sided PCBs
In most cases, this type of circuit board consists of a single layer or base material. One layer of the board is covered with a conductor-like copper. It may also be coated with silk screen coating or a solder mask that protects over the copper coating. This type of PCB has the advantage of being more cost-effective.
Duoble-sided PCBs
The double-sided board is the most common option for a variety of uses. The board has conductive metal layers, components, and parts on both sides. Additionally, the board is equipped with holes to make it easier for circuits on either side to connect.
The various components are connected by tiny wires that go through the holes of the board. The wires are then soldered into the holes to provide a strong and reliable hold
The through-hole technology is another way to connect the two sides. With this technology, fast and lightweight devices can be created.
These are small leads that are permanently connected to the board instead of making use of separate wires.
Multilayer PCBs
The multilayer PCB board is built with two or more layers with each separated by insulation. The typical size is of 4-10 layers PCB, but there are boards that can have upwards of 42 layers. This is the type of board to accommodate the most complicated electronic configurations.
The boards are connected by wires that pass through holes in the individual boards.
They can be extremely helpful in the reduction of weight and space. Typically, they are found in servers and computers.
Features of Military Circuit Boards
There are some top-of-the-line capabilities that allow military PCBs to endure harsh environments. These features and capabilities are the reason for the top performance that military PCBs have.
Resistance To Weather
This is among the best characteristics that are a part of the military circuit boards. No matter what the weather conditions are, these boards will not be affected. They are able to withstand humidity as well as high temperatures. The use of additional shielding and thermal compounds adds to this ability.
Mil-spec Components (Parts or Elements)
Manufacturers of military PCBs employ military-spec components to make these boards. These components are of superior performance, durability as well as reliability. that range between 1 % to 2 %.
Chemical Resistance
Military PCBs feature this as one of their most impressive features. The PCBs have the capability of surviving every chemical assault. The military circuit boards are highly chemical resistant. Due to this, they are less likely to corrode.
Control of Quality
Military PCBs are engineered to comply with strict standards of quality control. A few of these standards are ITAR as well as IPC-A610E, IPC, and MIL-PRF-31032.
Use of Quality Material
Military circuit boards are made of high quality materials. Manufacturers make use of high-temperature laminates as well as substrates to make these boards. Additionally, they use anodized aluminum due to its capacity to withstand the oxidation process.
Application of Military-grade PCB Circuit Boards
Military Grade Printed Circuit Boards Assembly has a wide range of applications in a myriad of fields that include, but are not only:
● Underwater navigation systems.
● Jet instrumentation.
● Systems for jamming.
● Electronic countermeasures.
● Military Robotic Systems.
● Defense navigation and communication.
● Ruggedized Computers.
● Power Distribution.
● Control tower systems.
● LED lighting systems.
● Base/Camp Security and protection.
● Circuit Diagram of the Board and Layout.
● Artillery and Mortars.
● Unmanned vehicles.
● Turnkey product assembly.
●  Auxiliary power units for radar control systems.
● Radio communications systems.
● Equipment for testing explosives and firearms.
● Etc…
Printed circuit boards for military applications are frequently subject to high pressures and stresses, so high-temperature substrates like temperature-resistant laminates, copper, and aluminum will often be used.
Taking into account the requirement for lightweight, heat-dissipating PCBs for military applications, PCB manufacturers must be able to produce PCBs that can resist heat-induced oxidation.

Military PCB Prototyping
PCBs are used in a wide range of military equipment, devices as well as systems, including aircraft-based flight systems, guided missiles and satellite communications systems. Because failures in these crucial components could result in catastrophe, we thoroughly test each of the PCBs that we make as prototypes to ensure that they will not fail.
When prototyping PCB, we follow strict procedures. Design review is completed within two hours after receiving the specifications of the customer. After that our team examines the manufacturing capabilities of the design and then adjusts the design to fix imperfections. After reviewing the design and approval, it is then sent to the assembly and manufacturing teams to create prototypes. The prototypes are then tested for functionality.
The lead time depends on the design and construction of the products, but generally they are available with quick turnaround times:
● 3 to 5working days for the standard double-sided or FR-4 PCBs.
● 4 to 10 working days are required for 4 layers up to 8-layer PCBs.
● 6 to 12 working days are required for HDI and rigid-flex PCB, flexible PCB, and PCBs with metal cores.
● 12-16 working days for PCBs with 10-layers and over.
Why Should You Choose Us To Be Military PCB Board and PCB Assembly Supplier ?
Quality Assurance System&Aerospace Certifications/Government Programs Certifications
JarnisTech provides aerospace & defense customers with the PCB reliability and performance required for critical applications with the broad-based technical expertise of its team. Our numerous state-of-the-art facilities are ITAR registered and certified to comply with or surpass the requirements of all important Aerospace/Government Program requirements.
Capabilities for Highly Specialized Aerospace & Government Program PCBs
As a result of our advanced PCB technology, we are able to meet even the most demanding requirements and design criteria with precision and performance. Our capabilities include boards with up to 40 layers, via-in-pad, sequential lamination, laser-drilled microvias, oversized boards, heavy copper up to 20 ounces, laser direct imaging, cavity boards, and microwave/antenna boards, among others.
Seamless Transition From Manufacturing to PCB Assembly
JarnisTech is the leading one-stop service PCB manufacturer in China, offering rapid turn-around, small quantities assembly and other services.
Extensive Selection of Materials
The selection of materials is an essential aspect of Aerospace/Government PCB design and production to ensure high performance and reliability in the most challenging conditions and applications. JarnisTech offers a vast array of the most advanced materials to meet the requirements of the aerospace and defense industry.
Why Is Military Electronics Important ?
Military electronics play an essential part in the modern world. A military electronic device is one that can withstand harsh environmental conditions. Additionally, they are electronic devices that provide high performance, electronic protection along with electronic detention.
Manufacturers develop a lot of these electronic devices for military applications. They also are able to meet the thermal and vibration requirements of the military sector. These electronics are able to be utilized on a variety of platforms for military use. They aren't only suitable for use in the military. They are also useful in the defense, aviation, and space sectors.
Military electronics conform to the requirements that are required by the industry of the military.
Since High-quality materials are used to manufacturing these electronics, which can withstand a wide range of temperatures. It's no question that military electronic devices have had a major impact across the globe.

Summary
Providing Military Grade PCB for harsh environments is an area of specialization at JarnisTech. If you are designing PCB for military equipment, then you need their components must be highly accurate and effective. After all, military PCBs are used in harsh environments.
At JarnisTech, We have the required knowledge and experience to meet the demanding requirements of defense applications. From low volume prototypes to High Volume production quantities and beyond, you will be able to count on us to develop turn-key prototypes for new solutions, as well as replace or upgrade the current electronic systems used in the military, Navy, Military and Air Force. Our PCB boards have the necessary durability thanks to the use of high-temperature laminates and the best components.
Call us to get a free quote now