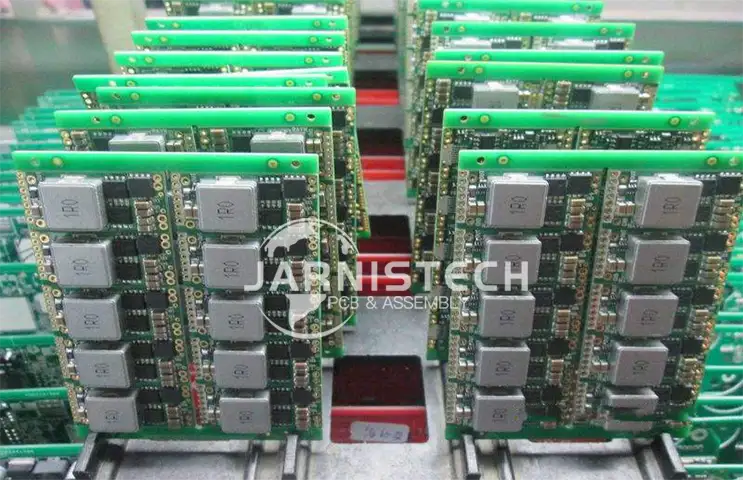 Low-volume PCB Assembly
As a low-volume PCB assembly company with customized features, JarnisTech specializes in assembling low-volume PCBs. We offer turnkey PCB assembly services for low-volume PCBs that include fabrication, component mounting, assembly testing, and delivery to you. With our highly skilled engineers and committed workforce, We are equipped to handle small-scale PCB assembly that is delivered with the shortest lead time.
As a top small-batch PCB manufacturer, we're equipped with the latest manufacturing equipment and capacities to meet the requirements of our customers regarding quality and getting the project completed in a short time. Making use of techniques such as Design for Manufacturing (DFM) and Design for Testing (DFT) during manufacturing. In addition, Prior to final production, we take the time to identify any problems and optimize them.
Additionally, we have been ISO 9001:2015 certified since 1999, with IPC-certified personnel and Triple Processes Inspection adhering to the highest quality standards for small batch PCB assembly. Our rigorous QA team also utilizes other inspection and testing equipments, such as laser inspections, X-ray tests and so on. Each of the small batch production PCB assemblies is made using specialized support, reliability testing, and reputable craftsmanship.
Design for Manufacturing (DFM) Service
In order to prevent several engineering issues that could hinder fabrication and possibly cause delay in delivery, we use a Design for Manufacturing (DFM) service to check the quality of engineering documents provided by our customers, including Gerber files, bills of materials, assembly drawings, and circuit diagrams.
In addition, it will screen the circuit boards, check your list of components to ensure accuracy prior to purchase components and suggest using a soldering mask to ensure the highest output rates. Due to JarnisTech's integration of DFM into its prototype circuit board assembly, it is able to offer its consumers price discounts.
Design for Testing (DFT) Service
To facilitate your circuit board testing process and provide suggestions on where to place test points throughout your circuit board, JarnisTech employs a Design for Testing (DFT) service. References regarding probe types, fixtures, and testing limitations are provided by this service. The DFT service will validate that your testing requirements, problem detection processes, problem-solving instructions, and other references are well-designed.
Pre-production Test Boards
To prevent the risks and additional expense of the reworking process, JarnisTech will initially produce a limited number of circuit boards and then deliver them to you to be examined prior to manufacturing the entire order.
As soon as a completed production order is confirmed, we will check all manufactured circuit boards and verify the ball grid array and quality of the leadless component assembly by X-ray.  PCBs are not delivered until all issues have been dealt with.

What Is the Best Way To Locate a Reliable Low-volume Manufacturer of PCB Assembly ?
After having completed the initial design of the product, designers may outsource PCB assembly to an experienced PCBA manufacturer in order to test prototypes and create an actual product. For smaller companies and smaller quantities, it can be difficult to locate an ideal PCB Assembly manufacturer willing to accept orders with low volumes. This article will examine the four main reasons for this and offer recommendations on how to find the most suitable one to meet your needs.
Business Size Does Not Meet
For small businesses, startups, design houses, or single-off projects, it might be impossible to locate an industrial-scale facility like Foxconn for small-batch production or prototyping. The likelihood is that your order won't exceed their Minimum Order Quantity or MOQ. It is recommended to search for the most specialized tiny and moderate-sized PCBA producers. They are the only PCBA manufacturers that will be able to accept orders for small-batch prototypes for PCBA and provide services specifically tailored to small-scale batches.
Price Differential Is Too Huge
The cost for small batches of PCBA as well as prototyping is different from mass production. It is advised to speak to a few manufacturers to compare quotes and study additional services that they provide to weigh the advantages and disadvantages of each. The price isn't everything. A turnkey solution that manages the procurement of parts can help you avoid many headaches and ease production problems for those who aren't experienced.
Geographical Aspects
The location of the PCB assembly plant is situated will have an influence on the cost. Manufacturing and assembly of PCBs often involves a combination of automation and skilled labor, and both can be very expensive, especially for small batches that require agility in manufacturing.
Businesses may be enticed to make PCBs in regions where labor costs are less. For instance, labor costs in China are lower in comparison with Western Europe and North America; however, the lower price doesn't have to come at the cost of the quality.
It is in areas like Shenzhen, China, known as the Silicon Valley of hardware, that high-quality products can be produced at high speed for the international market with ample experience and connections. The fierce competitive environment has pushed prices down and pushed companies to improve their products. Additionally, you also should consider international restrictions as well as the cost of getting parts to an assembly facility.
Production Plan for the Future and Schedule
The majority of manufacturers who are willing to take small-batch and prototyping orders do it in the hope that clients are also willing to Place the production of large quantities order to them at a later stage. Many PCBA manufacturers will invest their time and energy in helping with prototyping during the initial stages of the product's development. Manufacturers would like to learn what your production plans are and are able to assist in preparing prior to the start of production.
If you want to find a good small-batch PCB Assembly manufacturer partner, you should look for one that matches your interests and your expected production volume, as well as being able to satisfy your budget and quality standards.
Based in Shenzhen, China, JarnisTech is the best choice for small-scale PCB Assembly needs. And we have experience of PCB manufacturing and assembly for over 20 years. At JarnisTech, we offers a comprehensive service, including procurement of components manufacturing PCBs, assembly and procurement.

Our Low Volume PCB Assembly Capabilities
The following are our capabilities when it comes to manufacturing and assembling turnkey PCBs.
● The state-of-the-art facility we have, the sophisticated tools and machines, the experienced team, and our budget allow us to produce low-volume PCBs meeting the required specifications. Depending on the budget, a small quantity of boards might be required or only a prototype might be required. Therefore, That's worth the effort and cost, since many OEMs will use it as a reference for future PCB assemblies.
● We have stringent test and examination procedures implemented. The testing methods consist of automated optical examination (AOI), microscopically-inspected inspection, x-ray inspection, FPT, flying probe tests (FPT) as well as visual inspection.
● In low-volume PCB assemblies, typically comprising 200-250 boards or fewer, we offer single- and double-sided boards that are flexible,rigid and rigid-flex.
● For our low-volume prototypes or PCB manufacturing, we utilize various methods of mounting components like Surface Mount Technology (SMT) and plating through holes (PTH) technology. In addition, we offer balls grid array (BGA) as well as Micro/uBGA BGA Chip-scale packaging (CSP) and many more.
● We employ Leaded and RoHS-compliant soldering types and advanced techniques like the selective wave method of soldering Pb88 soldering and High melting point (hmp) soldering, as well as au80 soldering.
● PCB designs are accepted in Gerber RS-274X, 274D Eagle as well as AutoCAD's DXF and DWG formats. It is possible to share the design in your Bill of Materials (BoM).
To provide better service to our clients, we're equipped with a well-trained staff with state-of-the-art assembly lines and technology and advanced PCB assembly capabilities to help you with the construction of rigid circuit boards, Metal core PCB assembly, flex PCB assembly, and flexible, rigid board assembly. We are able to assemble SMDs that include 0201 BGA, Micro-BGA, QFN and other landless packaging parts as well as through-hole components. When you work with JarnisTech is a great way to get no risks, maintain a low cost of operation and be able to satisfy market requirements.

Advantages of Low-volume PCB Assembly
PCB assemblies with low volumes have many benefits. Here are some advantages:
● A prototype or a low-volume PCB assembly is ideal for experimenting with new products.
● In the real world, there is a method or strategy to placing the components on these boards. It is important that we keep the area free of other components during testing or troubleshooting.
● You can test the components in depth and determine what fixes or replacements are required. Additionally, it is possible to test for certain component compatibility.
● Bare boards allow for easy modifications to design when needed.
● A low volume of boards, components, or layers reduces production time and costs in the long run since a lot detailed analysis is possible.
As long as you have a good design, a low-volume PCB assembly allows you to rework on the same board surface, especially while prototyping manufacturing process.
Why You Should Use Cost Calculator for Low-volume PCB Assembly ?
Here are some important points to be aware of that will assist you in determining the ideal price to build PCBs at lower costs.
Quantity To Assemble
When you use low-volume PCB assembly, you must specify how many boards you wish to assemble.
Number of Unique Parts
It is also necessary to indicate the number of individual components you want to include on the printed circuit board. This implies that the BOM, also known as bills of materials lines, would be entered in the calculator for cost.
Quantity of Through Holes
It is necessary to indicate the amount of through holes you will require if you intend to use through-hole technology.
Number of Fine Pitch Parts
You must be aware of the exact number of fine-pitch parts that you'll need for the circuit board for public use.
The Amount of BGA and SMT Components
Additionally, You should also indicate how many SMT – surface mount technology parts will be on the public circuit board. At the same time, the quantity of BGA components on your board should also be determined
Amount Of QFN Parts
Another crucial aspect is defining the number of quad flatpack parts with no leads, which you'll want to include on your budget PCBs.
In addition to all the requirements previously mentioned, you should also be sure to provide information regarding the following:
● Class III inspection.
● ITAR processing.
● Double-sided through-the-hole and double-sided mounting assembly
● Lead-free processing -with RoHS Quality certification- RoHS Quality.
In cases like this, you need to indicate NO or YES, depending on your preference. Remember that if you're looking for more options on your PCB, you expect the cost to be more expensive.

Choosing Us as Your Low Volume PCB Solutions Provider Has Many Benefits
Apart from the Benefits of choosing low-volume PCBs assemblies, there are also a number of advantages to working with us on this kind of requirement. Here are a few of them.
● We have the capability necessary to provide the turnkey manufacturing of PCBs and assembly as well as the experience and technical knowledge. We have the entire process made simpler.
● When we say that we offer full-service contract manufacturing means that we cater to almost everything, including small-scale PCB assemblies. This includes prototyping, design production, pilot runs, whole series of assembly PCBs box construction, system-level integration of assembly, testing, packaging as well as supply chain and delivery. This includes all the technical assistance you could need as a customer.
● Our supply chain experience and our strong vendor network can assist our clients in procuring the most appropriate parts and materials. We are able to deliver them promptly, which can reduce the time from purchase to delivery for customers.
● Being focussed on quality, we treat even prototypes with low volumes extremely seriously. We employ DFM, DFT, LEAN and others for manufacturing, designing tests as well as evaluation of vendors.
● We have a great aftersales team who focuses on aftersales assistance, installations and problems with teething, maintenance repairs, and so on.
● As low volume batches foster further innovation and benchmarking of PCBs for specific applications, our strong engineering and design teams focus on continual improvement through research and development
● Our low-volume PCBs, prototypes and assemblies have been utilized in some of the most important sectors like defense, medical, aerospace, automotive, heavy engineering, electronics, and many more.
● We provide the most competitive prices and speedy turnaround times.
Our experience in working with clients from a variety of industries and putting our assemblies in critical applications allows us to provide a superior degree of customization to our customers in order to meet their particular requirements.
With more than 20 years of experience behind us with well-equipped and modern facilities located in China, we're equipped to meet even the most complicated small-volume needs and on time.
We will be able to provide you with an immediate price if you want to discuss your needs with us. If you are in need of low-volume PCB prototype, manufacturing and assembly services, please contact us by phone or email or come to our premises.
Summary
JarnisTech PCB Advantages for Small Batch, Low Volume, Low Cost Printed Circuit Board
In making PCB assembly for low-volume products, JarnisTech has multiple assembly lines that can shift between products according to requirements. In fact, we have fully equipped to offer you prototypes. Whether you need prototypes for low-density or high-density boards, we have the capability to provide prototypes to clients and ensure that we have you fully covered. Even the smallest batches undergo strict quality inspections before they are sent to you.
With more than 20 years of working experience in PCB Assembly, what you receive from us isn't just top-quality boards but an entire collection of industry expertise that guarantees you won't need to create a new system. Our experienced and qualified personnel ensure you will receive the top PCB assembly boards from JarnisTech. We offer the most competitive rates, and a speedy turnaround is what explains the confidence placed in us by a wide range of customers across all industries.
If you're in the middle of a smaller order, chances are you'll want it taken care of by one contact. therefore, it's possible to count on our turnkey solutions, which take away your hassle and let you have the time and energy to concentrate on your core area of business.
Contact Our team of experienced PCB engineers to discuss your custom requirements and let them handle the rest.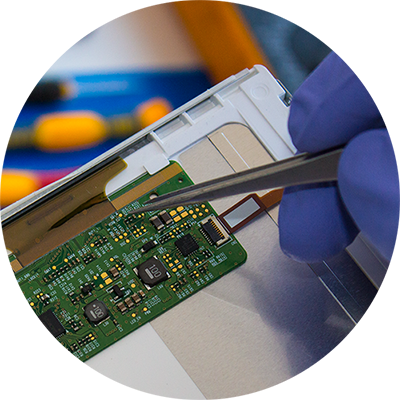 PCBs We Can Assemble
Min size: PCB whose width/length is less than 30mm should be panelized.
Max size: single board 500mm*400mm | panel board 310mm*410mm.
Layer Count: 1-60 layers (1-20 layers for mass production).
Copper Thickness: 1/2oz – 17oz.
PCB Types: Rigid PCBs, Flex PCBs, Rigid Flex PCBs, Rogers PCBs, Ceramic PCBs, etc.
Surface Finishes: Lead/Lead-free HASL, ENIG, ImSilver, OSP, Gold plated, Immersion Gold, etc.
Components We Can Assemble
SMT sizes: 01005, 0201 or larger.
BGA pitch: 0.35mm or greater.
BGA Ball count: 2 – 50.
Fine pitch: 0.4mm or greater.
WLCSP pitch: 0.35mm or greater.
Components Height: 0.1mm – 12mm.
BGA, micro-BGA, POP, CSP, LGA package, Flip chip, Hard metric connectors, Cable & wire, etc.
Min. Components Spacing: 0.20mm for SMT parts, no specific demand for Thru-hole parts.
Custom PCB Assembly Capabilities
Quick Turn.
IPC III standard compliant.
Prototype Quantities to Production Quantities.
Single PCB Assembly and PCB Panel Assembly.
Single and Double-sided PCB Assembly.
Leaded Assembly, Lead-free or RoHS Compliant Assembly and No-clean Process Assembly.
SMT Assembly, Thru-hole (DIP) Assembly, and Combo of SMT and Thru-hole Assembly.
Consigned PCB Assembly, Partial consigned PCB Assembly and Full turnkey PCB Assembly.
Call us to get a free quote now