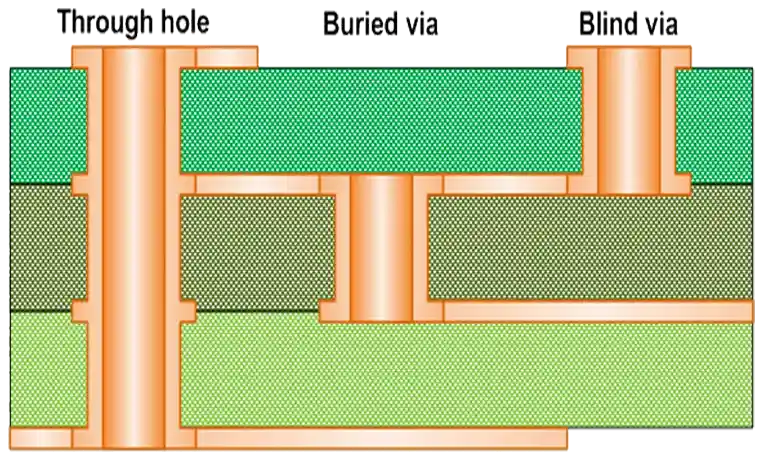 PCB Design: Choose the Right Manufacturer
You should choose an experienced PCB manufacturer when designing printed circuit boards with buried vias and blind vias. Only a company with professional skilled techniques can make blind through vias and buried vias in PCBs in a precise manner.
As a leading maker of PCBs in China, JarnisTech has provided more high-quality PCB products to customers from diverse industries both at home as well as abroad. If you're looking for a PCB manufacturer, contact us. We can provide the best PCB solution for you.
Today, our gadgets are becoming ever more mobile. At the same time, the parts inside are becoming smaller and lighter and delivering higher performance. All these requirements are needed for them to remain functional in a smaller area. This is exactly what the blind and buried vias provide.
JarnisTech provides blind buried vias PCB manufacturing services, Accept Any layer connect, Blind via, or blind buried cross vias. Send Your PCB Files to [email protected]. Estimate Cost Now!
Overview of Blind and Buried Via
The blind via as well as the buried via are the latest technology used in PCB manufacturing to accommodate the increasingly complex electronic design demands.
During this article, we discuss what are vias, why they are important and how they play a critical role in the manufacturing of PCBs, and how these terms differ from each other.
Furthermore, we will talk about other types of vias, such as stacked via and micro via. Before understanding these vias, it is important to understand "via" in PCB design manufacturing.
Micro Vias, Blind Vias and Buried Vias, Through-hole Vias, Blind and Buried Vias
According to IPC-A-600G, definitions of them are below:
Through-hole Vias
A via (also called the vertical access to interconnect) is a hole made of copper that permits electrical connections between the layers of a printed circuit board. The hole is made by using a drill or laser. A via is made up of a barrel, a pad, and an anti-pad.
The term "through-hole" refers to a hole that is copper-plated and runs across all the printed circuit boards, from one top to the other. It creates a conductive pathway that connects all layers. Through-hole vias are the simplest and most economical to make.
Blind and Buried Vias
Blind and buried vias on multilayer printed circuit boards connect two or more conductive layers without extending completely through all layers of the base material.
It's at a premium, Blind and buried vias are used to connect between layers of a PCB board where space. But not every combination is feasible. It is stated by the UL that 3 press cycles of thermal are the most efficient. Therefore, to ensure the best reliability and performance, We cannot make multiple-layer PCBs with more than three lamination steps. It means that vias should not be designed so they require more than 3 steps to assemble them.
Additionally, buried vias and blind vias can add substantially to the expense of circuit boards. They are only employed when absolutely necessary. To assist PCB desgigner of tightly printed boards, we provide via holes that are smaller than 0.2mm and microvia up to 0.1mm(4mil). These require minimum pads for the outer layer that are 0.45mm and 0.4mm respectively.
At most three lamination steps are required for blind and buried vias
These vias, as well as the blind and other buried ones, are crucial components in providing interlayer connections within printed circuit boards.
So, making sure their function does not suffer from handicaps is essential. One method of ensuring the quality and reliability of vias performance is to regulate the process of lamination.
Blind and buried vias are usually created by separate drilling of layers. These layers are then stacked together prior to being pressed.
While undertaking fewer than two lamination processes is possible for low layer counts. However, as the layer count increases, the difficulty increases.
Micro-via
A micro-via is a tiny via that can be cut using the help of a laser. There are special requirements for them, such as the aspect ratio, which limits them cut thick materials like the PCB's core. Microvias typically cut through the prepreg material, and the prepreg is sandwiched onto core material.
Blind Vias
Blind vias that are plated-through holes radiate from the surfaces and join the surface layer to one or more layers within the interior. Blind vias can be created using two different methods:
After multilayer lamination, drill a hole through the surface to the desired internal layer, then plating the blind via holes to electrically connect the layers.
Prior to multilayer lamination, drilling blind holes through the surface layer to the last or first layer are buried and then plating imaging and etching the inner sides, and finally laminating them during this multilayer bonding procedure.
The second method is when an interconnection is required between the outer layer and an internal layer, sequentially etching, plating-through, drilling, and laminating of these layers before the final multilayer laminate is needed. Blind holes should be filled with solder or polymer resist stopping the entry of solder as soldering in small holes reduces the reliability.
Buried Vias
Buried via plated-through holes do not extend to the surface but only connect the internal layer. It is most common for two adjacent internal layers to be interconnected. They are made by drilling holes in the laminate's thin layer by plating holes through and then creating the internal layer pattern onto the layer prior to laminating them with multilayer. Buried vias in non-adjacent layers require sequential etching of the inside layers before laminating them by drilling holes in the laminated panel and then plating the holes on the exterior sides, and then etching them before laminating it into an ultimate multilayer sheet.
Different Types of Blind Vias
There are four types of blind vias for your information. We will examine each in depth here. The following diagram shows the various types of PCB vias.
Photo-defined Blind Using PCB
A photo-reactive resin sheet can be coated onto a core to make a photo-defined blind. Cores should be composed of laminated traces ,and enriched with planes and submerged signal layers. It is recommended that you cover your photo-reactive sheet with patterns that shield the areas where you will make holes in it
Also, expose it to wavelength rays to make the residues harder in the circuit board. Then, you should immerse the circuit board into a mixture of dying to remove any undesirable substance from the holes.
Once you've finished the scraping process, you can plate copper in the holes as well as on the surfaces to create the surface layer on the board.
Sequential Lamination Blind Via
You can make this type of blind vias by passing a thin laminate piece through the two-faced PCB process. The first step is to drill, coat and draw the laminate in order to define the properties which will form the second layer of your PCB. Using the leave-the-solid copper material on the other PCB part as the first layer of your board. If you laminated the different layer of board your subassembly with the different board layers It would be best. The final step is to pass your product through the process of making multilayer surface layers.
Controlled Depth Drilled Vias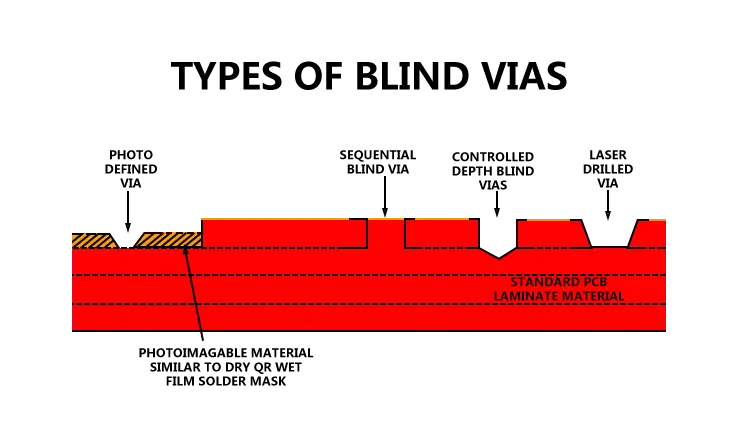 As shown , you can create controlled-depth vias by using the through-hole approach. But, it is important to use a drill that can pierce only halfway across the board. Additionally, a pad must be placed on the second layer in order to penetrate it with the drill. At the same time, it is helpful to be cautious to ensure that there are elements beneath the percolated hole and that they are in contact with the percolated hole. Moreover, you should apply the copper coating to the percolated holes in addition to plating copper inside the through-hole blind vias.
Laser-drilled Blind Vias
These vias can be created after laminating all the board layers. You could create these vias prior to making the design and then covering your surface. Utilize a laser to eliminate the copper coating on the surface layer and also the insulating substance that is between the two layers. Be aware that you may make use of the Excimer laser or CO2 laser.
Selecting the Manufacturer of Printed Circuit Boards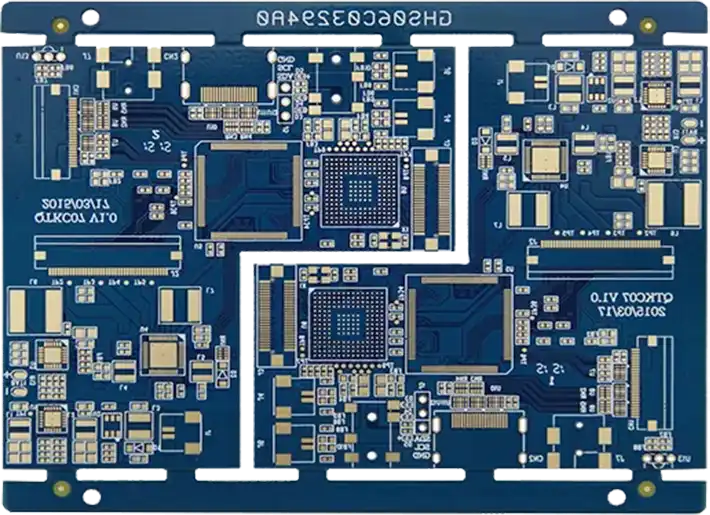 It is vital to ensure that blind or buried vias have been attached to the PCB in a proper manner. Choosing the correct manufacturer is essential. JarnisTech provide reliable PCB assembly and manufacturing that will meet your specifications.
We have a large printed circuit manufacturing facility for boards that utilize modern equipment and processes to ensure quality and consistency. All orders we make undergo a no-cost engineering file review prior to when they are put into production. This ensures that the boards have been designed in a proper manner and work. Nobody wants boards that aren't usable. It's unproductive and a waste of money.
As well, we know how essential it is for you to receive your PCB boards on time. We are able to provide PCBs with blind or buried vias that have a quick turnaround time and speedy shipping.
If you're selecting a manufacturer, you should also be aware of what the purchase will cost. We provide instant PCB quotations.
If you are looking for PCBs with blind and through holes, the right firm can help you get the item you need quickly. JarnisTech is a top manufacturer quality high-quality products and top-quality customer service.
Capabilities for Manufacturing
We utilize a mix of laser drilling controlled by depth as well as mechanical NC drilling to produce the blinds or vias that are buried. The manufacturing capabilities of conventional PCBs, as well as HDI PCBs, are as below:
| | | | | | |
| --- | --- | --- | --- | --- | --- |
| Blind or Buried Via | Aspect Ratio | Ø min | Ø max | Via Pad | Annular Ring |
| Blind Via (mechanical) | 1:1 | 200μm | 300μm | 400μm | 100μm |
| Special Blind Fabrication | 1:1.2 | 150μm | 150μm | 350μm | 100μm |
| Blind Via (Laser) | 1:1 | 100μm | 100μm | 280μm | 90μm |
| Buried Via (mechanical) | 1:10 | 200μm | 400μm | 400μm | 100μm |
| Special Buried Fab | 1:12 | 150μm | 400μm | 330μm | 90μm |
HDI PCB uses a combination of buried and blind vias in addition to micro vias. With our state-of-the-art Laser Drilling Machine (Mitsubishi) and laser-direct imaging (LDI) which we have, we can provide quick delivery of HDI PCB prototyping. We invite you to read more about more information about our HDI fabrication capabilities on PCBs.
| | |
| --- | --- |
| HDI PCB Feature | technical specification |
| layers counts | 4 – 32 layers |
| HDI builds | 1+N+1, 2+N+2, 3+N+3,4+N+4, any layer in R&D |
| Materials | FR4,  Halogen free FR4, Rogers and special Raw laminate. |
| Copper weights (finished) | 18μm – 70μm |
| Minimum track and gap | 0.075mm / 0.075mm |
| PCB thickness | 0.40mm – 3.20mm |
| Maxmimum dimensions | 610mm x 450mm |
| Surface finishes available | OSP, Immersion Gold(ENIG), Immersion tin, Immersion silver, Electrolytic gold, Gold fingers |
| Minimum mechanical drill | 0.15mm |
| Minimum laser drill | 0.1mm advanced |
| HDI PCB Feature | technical specification |
We're thrilled to share everything we've learned about the blind and buried vias based on our experience of 20 years. We're trusted with thousands of electronics engineers across the globe because of our 100% satisfaction guarantee policy. With our two-hour rapid response from our 24/7 tech and sales support team and our outstanding after-sales services, Please feel free to reach us at any time.
How To Use Blind and Buried Vias to HDI PCB
Integrating or adding buried and blind vias onto the HDI Interconnector (HDI) PCB can be well worth the effort. You'll be amazed by the amazing layout of this circuit board and also the overall improvement of the area on the board.
If you are looking to utilize vias that are buried and blind in the HDI PCB, a few of the steps required to do this are:
Placement Beneath the Layers
The hidden layers are those that can be placed underneath the layers. When that happens,, more space on the circuit board will be released.
This will, in turn, free up space on the surface of the circuit board to add the HDI components that are needed for the design.
Be aware that care should be taken to ensure that the release of the surface does not leave trace marks either on the bottom or top layers.
Reducing Signal Stubs
Buried vias play an essential part in clearing more spaces, blind vias can help in more ways.
What it does is free up more space that are important to the fine-pitching BGA components.
The reason to mention this is that the blind via assists in minimizing stubs within the signals, particularly when drilling process.
It is due to this that signal stubs will be trimmed at the end of the connected layer, so there will not be any changes.
Compact
We know that using buried and blind vias design can help to make more room within the HDI PCB is due to the obvious function played by the vias that are buried.
What the buried vias do is ensure that this HDI circuit board is small and light while freeing additional space in the board's surface.
Drawbacks of Using Blind and Buried Vias in HDI PCBs
The impressive advantages of blind and buried vias come with drawbacks. We'd like to help you understand these possible drawbacks so that you don't get caught off guard when things don't go in the way you planned.
Additional Manufacturing Steps
The main drawback of using buried and blind vias in HDI circuit boards is the fact that more time will be required to create the board.
Due to the complexity involved, it takes more duration to develop and produce the HDI PCB in comparison to the quicker time frame for designing conventional Printed Circuit Boards (PCBs).
Add Costs
We are sure you're trying to prevent this from happening, but there is no way to accomplish this. It is true that creating the HDI PCB by using blind and buried vias could result in higher costs due to a long time it will require to finish the circuit board.
Use Cases/Applications
If there are any applications or areas in which blind and buried vias are utilized to make electrical devices, they'll never outdo the ones we use every day.
The possible applications include:
● Medical devices.
● Mobile phones, smartphones and Laptops
If you plan PCBs using different vias, don't be concerned about PCB manufacturing or assembly. JarnisTech remains a trusted solution provider and manufacturer in one stop.
How Do They Make These Things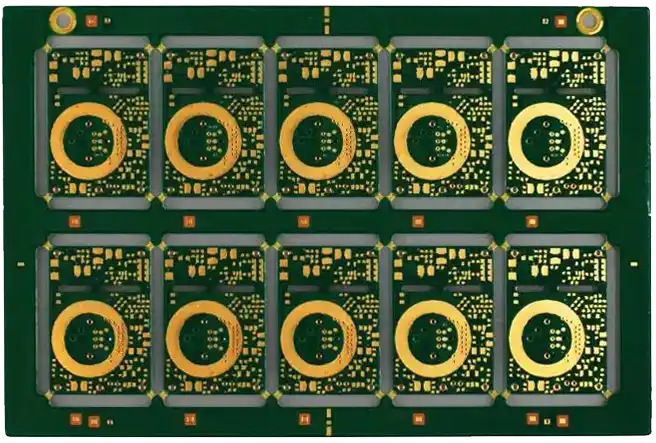 Vias Are Made In Two Methods: One is prior to or after multilayer lamination. In the event that blind or buried vias have been made, one or more of the cores are drilled and through holes are plated. The stack is then constructed and then pressed.
When designing blind vias, it is crucial to know the drill's depth. Based on how shallow and deep the drill it can cause a negative effect on the board. In the event that the hole's too large, it could cause signal degradation or distortion as well as if it's too small, it could lead to an ineffective connection.
It is recommended to speak with your PCB manufacturer for guidance on the most efficient way to design your board to prevent expensive manufacturing. Be sure to have the manufacturer connect through the vias with either a metallic epoxy or thermal/electrical epoxy and then plate copper over it. Otherwise, air bubbles inside can move upwards, leading to pin holes or voids within the joint of the solder.
Designs Parameters To Blind Via
If you're planning to utilize blind via in the next circuit board design, we'd suggest taking the time to study the guidelines. These guidelines are the ones you must follow to complete your task with the desired result.
In addition, here is a of rules and parameters to be followed by the blind via at any time it is used on a High-Density Connector (HDI) circuit board
Drill File
The first thing to keep in your mind is the fact that each hole that will use for every connection needs to be identified in a separate drill file.
In addition, the ratio used to judge the diameter of the hole in relation to depth is 1:1. Naturally, the ratio could be higher depending on the circuit board's specifications.
Distance
Circuit board distances should also be considered. One way to accomplish this is to use the size of the hole with the smallest size for determining the depth.
Once that's been established, then it shouldn't be a difficult task to determine and calculate the distance that is the most significant between the layer on top and its corresponding inner layers of the HDI circuit board.
NOTE: 
It is important to mention that the parameters for designing the blind via will vary according to the type of blind. For instance, the amount of the final result using laser technology is likely to be different from that which can be achieved using mechanically drill technology.
Designer Parameters for Buried Via
However, there's the buried Via, and it is crucial in the design of a High-Density Interconnector (HDI) Printed Circuit Board.
There are two ways to determine the design guidelines and rules for using a buried via for the HDI PCB layout.
Hole Connection
First, the hole size needs to be considered. In general, the holes to be used for every connection level in the HDI PCB should be identified as a separate drill file.
Additionally, the aspect ratio (which represents the ratio between the drill length to the diameter of the hole should be at least 1:12.In addition, it may be larger if the HDI circuit board includes more components.
Depth
The depth of an HDI circuit board will only be determined using the hole that is the smallest. Thus, the maximum distance that separates each of the layers of the HDI circuit board will be measured by the dimension of the hole that is the smallest, which will in turn, affect the depth of the circuit board.
Notification: In HDI circuit boards, annular rings contribute to the stability of the electrical connection. So as more annular rings are selected, the better the reliability of the connection is.
What Makes Blind and Buried Vias Important
It is difficult to design a multi-layer HDI circuit board can be determined in part by its physical dimension as well as the amount of SMT components that are located on the external layers (especially ICs with QFN, BGA, and fine-pitch footprints). Because these components hinder a designer's ability to move tracks beneath the design, multi-layered circuits must be taken into consideration. The dimensions and position of each blind, as well as the buried via are crucial because of PCB real estate limitations as well as the power and signal distribution inside the circuit.
Other aspects to consider include what layers the vias will connect to, if they connect to each other, and whether any through-hole elements are incorporated inside the blind via.
Blind Versus Buried Vias: What's The Difference
Blind vias connect outer layers of the board to one of inner layers. It does not go all the way through every layer of PCB. It is found inside the board and can connect the inner layers without touching the layers on either side. A through-hole is also available that runs across the entire board in a vertical direction and joins all layers. It's an easy concept to comprehend and can bring several benefits.
Can Through-hole Parts To Solder Into Blind Vias
It is possible and viable to solder through-hole components into blind vias on space-constrained PCBs. when designing HDI circuits, It's important to understand that real estate can be crucial on a crowded board when designing HDI circuits. Our support team is available to assist you in your quest for lower costs and high-quality HDI circuits.
What Options Exist for Protecting Blind and Buried Vias
Like through-hole vias, epoxy is generally filled with vias that are blind and buried to shield them from elements and to provide the PCB mechanical support. But, depending on the design requirements, blind vias can be placed in a tented (covered) with solder masks to guard the vias against circuit shorting or left untreated to accept through-hole components. We can accommodate any design requirements or requirements, if you need assistance Please feel free to contact our support team.
What Drilling Techniques Can Be Used for Blind and Buried Vias
Blind and burial vias are created by a series of drilling and lamination.
There are a variety of approaches to drilling that could be used, such as:
● Numerical machine controlled (NMC) drill.
● Ultra Violet (UV) drilling.
● Laser drilling
Of all the drilling methods, UV drilling is the most complex, requires the most advanced technology, and comes with a cost.
Are Blind and Buried Vias Used in Flex-rigid PCBs
Flexible-rigid boards are designed so that they incorporate components of rigid board designs and also flexibility.
They have attributes that include being lightweight and slim, which allows them to be used in miniaturized devices and gadgets.
Because buried and blind vias permit increased circuitry, but without increasing board size, they can be found in great application in the Flexi-rigid PCBs.
The Flexi-rigid board can be used for medical applications, such as biomedical equipment, Rigid-flex PCB provide high performance and reliability are desired.
What Are the Lamination Methods for Blind and Buried Vias in Flex-rigid Boards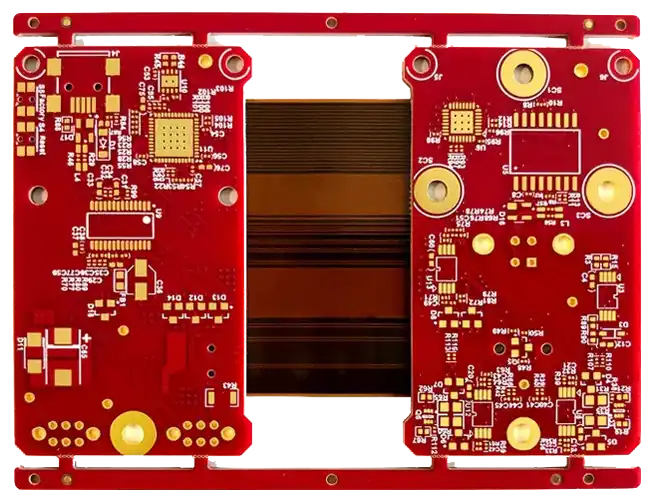 Two types of lamination are used when working with blind and buried vias on flexible-rigid circuit boards.
One-step Lamination
The lamination process is where the layers inside the PCB are joined or laminated in one press.
There is a minimal cost, and it can be executed in a time-bound period.
However, positioning the overlay in the process can be difficult.
In addition, it is impossible to immediately spot flaws in the lamination process.
The flaws in the process can be discovered during the process of the etching.
These flaws can be seen in the form of delamination, as well as the deformation of the layers.
Step-by-Step Lamination
When laminating step-by-step, the layers that exhibit the ability to flexibility and those that are rigid are separately laminated.
Therefore, you don't have overlay problems and the possibility of deformation in internal layers.
Additionally, with this particular lamination, there is rapid identification of flaws in lamination, which ensures functional reliability.
However, executing a step-by-step lamination process takes much longer than the one-step method and requires more steps to achieve lamination.
Furthermore, the expenses are much higher, which requires more materials to be used.
Benefits of Blind and Buried Vias
Many PCB boards are tiny and only have a small amount of space. Therefore, the blind and buried vias may offer additional space and possibilities on the board. For instance, buried vias, can allow for the freeing of space on the top of the board but not affect the components on the surface of the traces located in the bottom or top layers. Blind vias can be helpful to clear some space. They are typically used for high-quality BGA components. Because the blind vias only traverse a small portion of the board, this also means that you will see a diminution in signal stubs.
Although the blind and buriedd vias may be used on a variety of PCBs, they tend to be employed most frequently for high-density interconnect boards or HDIs.
HDIs are popular because they offer higher density. HDIs are well-known because they provide better power delivery and increased layer density. Utilizing the hidden vias helps to make the board lighter and smaller, and more compact, when you creating electronic which is a huge helpful. They are typically utilized in tablets, medical devices, smartphones, laptops, and other similar electronic devices.
While blind and buried vias can be helpful for those who require,but, they can increase PCB costs. It is because they are more work to add to the board, along with additional testing and manufacturing required. Therefore, you should only use them when they are truly necessary; because you want a great board that is tight tight and efficient.
Blind and Buried Vias: What Are the Disadvantages
● It is not their design or functionality that render blind and buried vias undesirable, but rather their associated costs.
● Compared to a similar traditional PCB board, the price for constructing a PCB using the blind and vias that are buried is substantially more costly.
● After the lamination process, blind vias that are fabricated can also cause large depth-to-diameter ratios.
● There are concerns associated with this problem, including difficulty executing the plating procedure.
● In addition controlling how deep the blind is is difficult when drilling is carried out after lamination.
● Accurate calibration is essential to required for success of the procedure, and it is extremely costly.
● Furthermore, the use of blind and buried vias are restricted to boards with only three lamination cycles are able to be used.
● PCB Boards More than three laminations will lead to functionally unreliable blind and buried vias
Summary
JarnisTech has been providing blind and buried vias PCB circuit boards that are buried for over 20 years.
In addition to having the knowledge and experience to use blind vias in the best applications, our experts are able to discuss with you how you can reduce engineering or machining costs with buried vias, as well as how to implement all of the control processes required for blind vias on printed circuit boards.
Contact your JarnisTech expert right now to get a free quote on your needs, and if you want to learn more about blind and buried vias, please send your query to [email protected]
Call us to get a free quote now