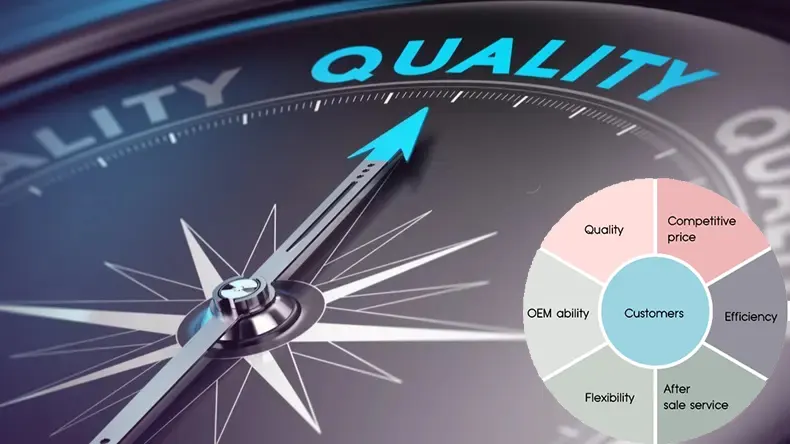 At JarnisTech, our goal has always been to provide you with trusted PCB services that you can rely on. We are aware that high-quality PCBs, a quick turnaround time, excellent customer services and competitive prices help in satisfying your needs and bringing you back, of which PCBs of high quality are high on your priority list. So, we adhere to the strictest quality standards for the process of prototyping circuit boards manufacturing, assembly and production. We are currently ISO9001:2015 IATF16949, UL and RoHS certified. If you need custom high quality PCB production or assembly, don't hesitate to contact us.
Quality Processes
Every order is subject to the same rigorously controlled procedures that aim to not just increase efficiency to benefit our customers but also with the goal of providing high-quality products that meet the requirements of the customer and the requirements of the printed circuit board.
JarnisTech has an international team who works closely alongside our partners in manufacturing to ensure high-quality production and timely shipping of the PCBs you order. Our team of experts across the globe has decades of PCB experience and is the only one to monitor the quality and production for JarnisTech and our overseas customers.
JarnisTech acknowledges as two crucial factors to consider when selecting a PCB provider are price and good quality of their PCBs. Our strategy to get everything right from the beginning starts with your PCB's initial design and specifications. Our technical support team is directly in contact with our customers to learn about the specifications of the PCB as well as the final product, along with a set budget and timeframe to be working within. Therefore, JarnistTech works with the customer or the end-user on manufacturing and design to ensure that the highest high quality of the product can be achieved during fabrication and also to identify any cost-saving modifications to specifications or design which can be made without impacting the goals of the project.
With more than 20 years of experience working in the field of PCBs, JarnistTech has developed processes to ensure your PCBs are perfect every time. JarnisTech has been ISO 9001 Certified since 2014 as well as JarnisTech is currently ISO 9001: 2015 certified.
Quality Management
JarnisTech is ISO9001 certified PCB and assembly house operates within Shenzhen, all quality and process controls are conducted in accordance with Shenzhen China operating procedures. The procedures ensure that our product meets customers' requirements at every stage and phase of the process, from the choice of suppliers to the WIP inspection and on to inspections after the project and customer service. Here are some specific examples:
● Evaluation and Audit of Our Suppliers
Suppliers have to be assessed prior to approval by the JarnisTech supplier assessment team. Furthermore, JarnisTech will appraise and evaluate each supplier every year to ensure that suppliers supply high-quality materials that meet JarnisTech's specifications. Additionally, JarnisTech continuously develops suppliers and helps them enhance their environmental and quality management based on the standards of ISO9001.
● Contract Review
Before accepting an order, JarnisTech will review and validate the specifications of customers to make sure that JarnisTech is able to meet the requirements of customers, including specifications as well as delivery requirements.
● Preparation, Review and Control of Manufacturing Instructions
JarnisTech will analyze all needs of the customer after receiving design information and the related documents. Then, convert the design information into manufacturing data by CAM. In the end, an MI that incorporates the manufacturing datum is constructed in line with JarnisTech's current manufacturing processes and techniques.
MI should be reviewed following its creation by an independent engineer. When the MI is approved MI must be inspected by QA engineers before being approved. The routing and drilling data must be verified by the initial inspection of the item prior to its release. In a nutshell, JarnisTech provides methods to ensure that the manufacturer's documentation is correct and valid.
● Incoming Control IQC
At JarnisTech, the materials have to be approved and verified prior to being shipped into the storage facility. JarnisTech has strict verification procedures and works instructions to monitor the material that is incoming. In addition, JarnisTech owns various precise tools and equipment for inspection to be able to accurately determine if the tested material is in good condition or not.
JarnisTech employs a computer system for managing materials, which ensures that materials are used in a first-in, first-out manner. If the material is close to expiry, The system will issue warnings, which guarantee that the materials are utilized prior to expiry or checked prior to usage.
● Process Controls of Fabrication
The right manufacturing instructions (MI) and complete maintenance and management of equipment, as well as strict control of WIP and inspection, and instructions for working, all of which allow the production process to be completely monitored. Different precise inspection equipment, such as inspection equipment such as the AOI inspection system, as well as perfect WIP inspection procedures and the control plan, all ensure that the final product is in line with the specifications of the customers.
● Final Control and Inspection
At JarnisTech, PCBs are required to be tested using the short and open tests along with a visually inspecting after passing the physical tests. JarnisTech has a variety of advanced testing equipment, such as AOI Testing, 3D AOI Testing, 3D SPI Testing as well as X-ray inspection. In-Circuit Testing for PCB assemblies that are finished.
● Outgoing Audit and Approval
JarnisTech has a special separate department, FQA, to inspect the product in accordance with the specifications and requirements of the customer through sampling. Products must be approved prior to packaging. Prior to delivering, FQA must 100% examine every package for the production part's number, the customer's part number and quantity, the address of the destination and the packing list, among others.
● Customer Service
JarnisTech has a highly skilled customer service department to actively engage with customers and promptly handle customer feedback. If required, they collaborate with customers to resolve the issues on the customer's PCB and assembly project. JarnisTech is extremely focused on the needs of customers and regularly conducts surveys with customers to find out what their needs are. At the same time, JarnisTech will make changes to the customer experience and ensure the products meet customer requirements.
How Are PCBs Tested and Inspected for Quality
To ensure that the PCB board's quality is in relation to meeting the expectations of the customer, we conduct rigorous quality control tests. Here are a few of the tests and inspections we carry out:
● DFM (Design for Manufacturability)
It's a set of design guidelines to ensure that the design of the board is feasible to manufacture within the actual world. The following DFM guidelines are necessary in order to create a machine-buildable circuit board both in terms of quality and price. We are experts on DFM analysis and provide internal PCB review systems of high quality, which guarantee that the boards are free of defects. If you want to know for more information on DFM, Please send email to [email protected], we will provide best service for you to solve your query.
● Autonomous Optical Inspection (AOI)
AOI systems operate by taking multiple images with high-resolution cameras that are illuminated by LED sources to allow for automatic comparison. They also employ laser scanners that have a high resolution across three axes. The type of inspections carried out determines the type of scanner utilized.
For the inspection of solder paste using laser scanning, it is possible to measure the amount of solder on pads. As for assembly verification systems, images of soldered components are taken and then compared.
● Time Domain Reflectometer (TDR) Testing
The time-domain reflectometer (TDR) is an electronic device that utilizes reflector waveforms to assess the impedance characteristics of PCB cables, trace connectors, etc. It detects electrical discontinuities in boards, connectors or any other path of electrical energy.
Impedance measurements for TDRs are vital to ensure the integrity of signals on PCB designs. The TDR injects a pulse into the PCB trace/transmission line in a test coupon. It then measures the characteristic impedance of the line by analyzing the changes in the magnitude of the waveform that it reflects. It is important to note that the TDR can only determine the reflections in the event that the pulse encounters any kind of discontinuity in its course.
How Many Types for Electrical Testing on PCBs
We are constantly investing in test equipment in order to ensure high quality.
● Flying Probe Test
Testing with flying probe systems doesn't require any fixturing of tests, has no limitations on access to boards, and is able to test boards with nearly unlimited nets. They also permit developers to develop test programs in a very short time. We have several flying Probe machines that ensure the quality of prototypes and speedy delivery.
● AOI Test
AOI method is an essential one employed in the production and testing of electronic PCBs and printed circuit boards. Automated optical inspection AOI allows for fast and precise inspection of electronic assemblies, particularly PCBs, to make sure high-quality items that leave the manufacturing line is superior and that they are constructed properly and free of manufacturing defects.
● Test for ICT
In-Circuit Test ICT is a highly effective device for printing circuit tests. Utilizing an in-circuit bed made of nails test equipment, it's possible to access the circuit nodes of the board and test the performance of the component regardless of the other components that are connected to them.
What Are These PCB High-quality Certifications
● What Is UL Certification for PCBs
Underwriters Laboratories (UL) is an international safety-related company and is the biggest and longest-running testing lab within the U.S. It is the only testing laboratory that tests the most recent technologies and products before they are put on the world market. Its products range from security and consumer electronics to medical devices and robotics.
As one of many organizations approved by the United States to conduct safety testing, UL is the most reputable. OSHA is a federal agency that regulates occupational safety and health. In addition to the nationally recognized testing laboratories (NRTLs) approved by OSHA, the agency maintains a list of approved testing laboratories.
This certification provides information on testing for safety according to American or Canadian standards. All the boards produced by JarnisTech have UL 94-VO certification, which indicates an excellent level of flame-retarding properties.
● What Is ISO 9001:2015
ISO 9001 is a family of international quality management standards and guidelines designed to increase global businesses and organizations' ability to exceed and meet the requirements and expectations of their clients by efficiently and efficiently increasing your products or services' quality. The aspects of the ISO 9001 quality management system are a part of the perspective of the company, including management and planning, operations, support, performance evaluation, and improvements.
Based on the strict specifications of ISO 9001:2015, JarnisTech is striving to provide products that consistently exceed and increase customer satisfaction by implementing the requirements in manufacturing PCB assembly and fabrication, as well as enhancing the quality of its products and services.
● What Is RoHS
As the name suggests, RoHS (Restrictions of Hazardous Substances) is a set of restricted laws regarding the use of six hazardous substances in the manufacture of electronics and electrical equipment, such as Lead (Pb), Mercury (Hg), Cadmium (Cd), Hexavalent Chromium (Cr VI), Polybrominated Biphenyls (PBB) and Polybrominated Diphenyl Ethers (PBDE).
From manufacturers within the EU from 2003. RoHS regulations have been widely adopted almost everywhere in the world and cover the entire electronic industry as well as partial electrical equipment. As per RoHS regulations, the maximum concentration of a substance is defined for each kind of restricted substance, and the actual concentrations must never be greater than this.
JarnisTech is able to offer custom PCBs as well as assemblies that have surfaces that meet the specifications of RoHS, including Lead-free HASL ImAg, ENIG, and many more. Additionally, we offer RoHS-compliant laminates that are able to stand up to high temperatures during the process of assembling PCBs in order to meet the environmental needs of clients.
● What Is IATF16949
IATF, which is short to mean International Automotive Task Force, is a specialized agency created by the world's top automotive producers and associations in 1996. Incorporating the standards and regulations of ISO9001:2000, IATF16949 came out, and the most recent version is IATF16949:2016.
IATF16949 is actually an established set of quality management standards which require electronics manufacturers to assure quality and security and also to enhance the quality and reliability of their automotive products.
JarnisTech Manufactures PCBs Professionally and Competitive Prices
As a Chinese-based PCB factory, we offer a full assortment of PCB assembly and manufacturing services for a lower cost than other suppliers. We have you covered, from prototype PCBs that are quick-turn and custom PCB fabrication to electronics assembly. All with a 100 100% satisfaction guarantee. Follow the links to obtain PCB pricing:
All PCBs Are Guaranteed To Be Manufactured to Your Specifications.
Our PCB assurance goes beyond an inscription on the back of a piece of paper. It's a working system that guarantees that your printed circuit board purchase is produced according to to meet your specifications. The system establishes the framework to clearly define the management of printing circuit boards' material as well as processes and the verification process, thereby giving our customers the confidence that the production of their printed circuit board is carried out within a clearly defined and controlled environment.
Conclusion
Customers are more likely to provide you with repeated business if they are confident in the high quality that your goods offer. It requires a lot of work, careful attention to the smallest of details, as well as consistent quality control systems to achieve an unbeatable level of quality. This is why it's important to choose an ECM such as JarnisTech that ensures quality at every stage of the PCB design, assembly and manufacturing.
JarnisTech is an ISO 9001-certified company that continuously audits processes and makes sure to take the necessary steps to ensure the best quality of our products. We encourage efficiency and quality by putting robust quality assurance systems that are in place at all levels.
You should have a partner in manufacturing that is committed to quality and will make your product the very best it could be. JarnisTech is that company. Contact us now to get a no-cost estimate for any future project.
Call us to get a free quote now