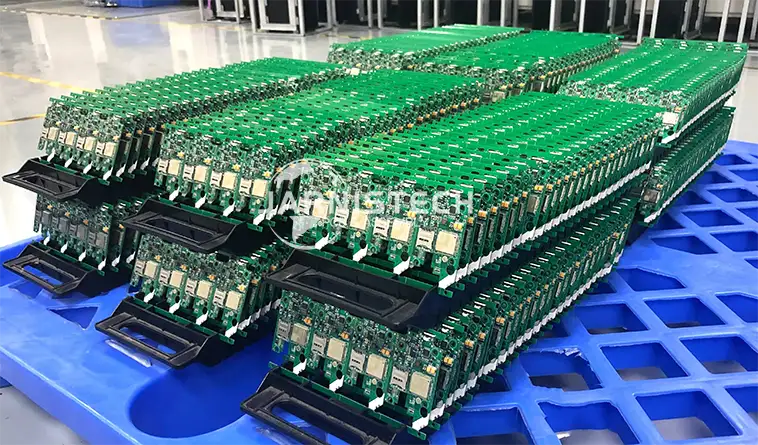 High Volume PCB Assembly
In terms of PCB Assembly, volume requirements vary in terms of price. We are your one-stop service for all your high volume PCB assembly needs at an unbeatable price. If you're producing mass quantities of an item, in order to meet your requirements, you would need high-volume printed circuit board assembly services. The majority of projects that are 10,000 or more pieces are categorized as large-scale PCB Assembly services and you will need an established partner to offer these services.
At JarnisTech, we are fully equipped to provide bulk-volume printed circuit boards that satisfy your needs. Despite the massive quantities, every PCB goes through a stringent testing procedure, which ensures that the quality is never compromised. In addition to our large-scale PCBA manufacturing processes well as capabilities, we provide competitive pricing and flexible shipping plans.
Choosing a High Volume PCB Assembly Service Requires Careful Consideration Thing
You should check the manufacturing capabilities of a high-volume PCB assembler before working with them.
These Are the Major Factors That You Need to keep An Eye on:
● Manufacturing capabilities.
● Quality Control.
● Customization capabilities.
● Turnaround time.
● Delivery services.
● responsiveness and flexibility.
● The number of years experience the manufacturer has.
Finding a Reliable High Volume PCB Assembly Supplier
If your design is successful in passing the prototyping verification following optimizing, DFM and DFT test, it's now time to locate a manufacturer or supplier with the capacity to carry out a large-scale production of PCBs as well as assembly.
JarnisTech is a one-stop service PCB solutions provider. No whatever stage of your design is located, we are able to assist you with manufacturing PCBs, assembly and design. With our design and manufacturing expertise, we are able to provide some ideas to improve or modify your design based on the principle of cost-saving without compromising quality or performance. Additionally, if you select our complete turnkey PCB assembly services, we'll be in charge of BOM procurement to ease your burden.
Our method of conducting high-volume printing circuit board assembly is based on a commitment to providing the highest quality, which is based on IPC specifications and our internal quality control procedures. In keeping with those highest assembly standards, JarnisTech developed excellent high-volume manufacturing and assembly processes. That relied on our high-end manufacturing lines within our clean and dust-free workshop.

Our High Volume PCB Assembly Capabilities
With over 20 years of experience working in the industry, we are aware of the challenges and constant changes in the requirements of electronics manufacturing as well as the Electronic Manufacturing Services industry. Over time we've invested in new technologies and staff, which has allowed us to meet a variety of complicated requirements in the timeframes given. At present, we are able to take on orders that could comprise a number of thousands of PCBAs in one production. The following characteristics of our high-volume capability for the assembly of PCBs were used by our customers over many years.
●Our team of engineers can design PCBAs using both through-hole and surface mount technologies. There may be applications that require boards that feature both surface mount components and through-hole components, and we are able to offer these. These boards are called hybrid boards and have become a preferred option for a lot of our customers in recent times.
● In high-volume PCB assembly, we can use flexible rigid, rigid, and rigid-flex PCBs and Rogers PCBs and more.
● JarnisTech offers lead-free and lead-soldering options for large-scale PCB assembly. Our facility has hand soldering as well as automated soldering machines that help us seamlessly meet the needs of various types of PCB assembly.
● PCBAs of all types are subject to the following kinds of testing and inspection following soldering:
1.Testing in circuits (where it is applicable.)
2. Functional testing.
3. Solder paste inspection.
4. Automated optical inspection.
5. Inspection of X-rays.
● We employ high-quality laser-cut stencils to ensure the highest quality of SMT production. As the stencils are constructed of stainless steel, which makes them able to withstand the demands of manufacturing.
● We have joined forces with some of the most reputable shipping companies in the areas in which we operate. This ensures the timely delivery.
● We provide both consigned and turnkey assembly for PCBAs.
● The turnaround time can be customized to meet your needs. This allows us to speed up your plan to go to market.
NPI To High-volume Production
Relying on a robust NPI (New Product Introduction) system, JarnisTeh is capable of providing constant monitoring of your brand-new product from the initial RFQ to the final PCBA delivery. Through the NPI process, we will look into your massive PCB assembly order to DFM and DFT and also the turn arounds and costs from the engineering perspective.
We are pleased to work with our customers to offer PCB design guidelines that lower overall costs and reduce turnaround times without sacrificing the quality of the final product. The NPI process is built on our technologically advanced production capabilities for PCBs along with the ability to assemble PCBs, Our group of experts with years of experience and highly skilled professionals, paired with facilities equipped with the latest equipment.
Let us create your high-quality printed circuit boards with quick turnaround times. The company can provide the requirements of both SMT as well as THT assembly to a wide range of packages and components. SMT assembly is our specialty. We offer assemblies for QFN, QFP, LGA as well as BGA IC packages, plus numerous others, all down to the size at 0.2mm and 0201 imperial (0603 the metric), which is the narrowest dimension of passive components.
Why Choose High Volume PCB Assembly Services From Us ?
There are a variety of benefits and reasons of buying the bulk PCB assembly services from JarnisTech Assembly. The following are some of them:
We Guarantee High Quality
Before beginning with the assembly process, we conduct the design for manufacturing (DFM) review of the design. The necessary changes are made prior to assembly.
Stringent Quality Checks
We manufacturing printed circuit board assemblies (PCBAs) undergo rigorous quality testing. And We employ tests and inspection techniques that include X-rays, Automatic Optical Inspection (AOI) and In-circuit Testing (ICT) Functional testing, and many more.
Cost-effective PCB Assembly Solutions
Our PCB Assembly maintains a good balance between quality and cost. Thus, if you are looking for high-volume PCB assemblies at an affordable price, then we can help.
Assembly Complies With Industry Standards
We have a wide range of certifications, and In accordance with industry standards manufacturing circuit boards. It includes ISO 13485 Conformity ISO 9001:2015+ AS9100D certified IPC-WHMA A-620 Compliance, IPC CC-830B Compliance, JSTD-001 Compliance and many more. This allows us to maintain our name as a leading provider of top-quality PCB Assembly services.
At JarnisTech, we are committed to providing high-quality goods and services. This has allowed us to be one of the most prominent and trusted suppliers of large-scale manufacturing of printed circuit boards in China. Our team of experienced experts and highly skilled technicians, together with advanced equipment, lets us assemble top-quality printed circuit boards with quick turnaround times. Would you like more information about our products? Do you plan to purchase PCB assembly services to meet large quantity requirements? Contact us right now. For any special needs, please request an estimate.

What Are the Stages Involved in Performing High Volume PCB Production
Here are the steps required for PCB production of large-volume:
Stage of Preparation
You have to prepare the necessary materials required for the PCB assembly process. The items required are solder masking components, materials, PCB stack-up and production machines.
Additionally, the machines required include reflow ovens and placement machines as well as stencil printers. With all of these, it is possible to be able to refer to the design and check to see if all the equipment you require is present. You should also review the bills of materials and ensure that all necessary items are included
When the components are ready, place them in the proper order before starting your machines.
Solder Paste Printing
The PCB assembly procedure to produce high volumes begins with the printing of solder paste on the stack. Utilize stencils and squeegees in the process of printing solder. Jet solder paste is another option.
The Placement of the Components
This step involves moving from the stack of PCBs using the solder paste to the next machine available. This assists in selecting as well as placing PCB parts.
The process is also carried out at a high rate as computers usually control all aspects that have to do with design.
After that, you'll examine the parts. In this case, automatic optical inspection is used. It will checks for errors on the PCB boards.
Reflow Soldering
Then, the PCBs are transferred to the machine to reflow solder.all the connections of the electric solder form here. Heating your PCB be the most efficient way to reflow the solder. This must occur at proper temperatures to ensure the quality of PCB Boards .
The process is completed by performing an automated examination to detect or spot any errors. Be aware that this whole process happens rapidly, which means that it is making printed circuit boards in extremely high quantities.
Factors Affecting the Cost of PCB Assembly

Turnaround Time
The cost of assembly may differ based on the turnaround times also. The shorter assembly time can raise the cost by more than 30% to 20 percent compared to normal assembly time. When an assembly is expedited, there are times when the manufacturer might be required to hold existing orders and focus on the order that is expedited. Shipping that is expedited also costs more, and in certain instances, manufacturing locations might also require to be altered in order to meet deadlines and thus increase the cost of assembly in some instances.
Need Quantity Of Assembly PCB Boards
The price of assembly is extremely misleading in smaller quantities. The cost of assembly for prototype boards might appear lower when compared to the cost of the boards when produced in greater quantities. One thing that many don't realize is that the cost per unit of assembly is reduced to a significant extent when it is produced in large quantities.
A number of factors play a role in determining the assembly cost, including initial set-up, stenciling, and programming. Therefore, this cost will be significant for prototype boards, but as large quantities are one-time costs, this cost becomes insignificant since they are not repeated
Technology Used
Assemblies also cost more depending on the assembly technology used, whether it's through-hole or surface-mount technology (SMT) or both. Therefore, it is also an important factor affecting the assembly cost.
While SMT is more affordable due to the lower cost of initial setup due to the high level of automation and higher component density, but sometimes is essential to put the entire range of surface mount devices (SMDs) in a board. In this case, through-hole technology comes into action. This means that we will see an increase in costs since it requires drilling additional holes in the boards and a reduction in the area of routing.
The Packaging Components
Electronic components are available in various packaging. This means that the costs for assembly may depend on the packaging used for the components. For example, parts like QFNs and BGAs are more expensive to assemble due to their electrical connections underneath them and require a higher level of accuracy to position these components. These parts also need X-ray inspections to identify voids and short circuits that connect the pins. This can increase the cost of assembly of these components in comparison to other generic devices like SMD, 0603, 0805, 1206, and so on.
To summarise, PCB assembly cost depends on the labor cost and turnaround time, stencils as well as the number of boards needed and how you package the components employed. Sometimes, programming the board is required, but JarnisTech does not charge charges for programming.
Assembly of Mass/High Volume PCBs Benefits
A high volume printed circuit board has numerous and significant benefits. The advantages include the following:
As a result of high volume printed circuit board assembly, prototyping and designing must take place simultaneously, ensuring that the prototype gets rigorously developed and tested in order to guarantee accurate functioning. This makes it easy to get the massive production line up and running.
Assembling PCBs in high volumes ensures mass production of printed circuit boards, something that's extremely useful when going to market on a large scale. It guarantees large quantities of high-quality printed circuit board products as well as quick turnaround times. With such a situation, a company has the best chance of getting to market quickly and staying ahead of the competition.
Another amazing advantage of high-volume printed circuit board production is low production costs. Because high volume printed circuit board production often results in economies of scale, which lead to other cost-saving benefits.
The cost of production will affect the price of the printed circuit board. This increases your competitive advantage in the electronic industry. It differs in a situation where you create and assemble small batches, which always will increase the cost.
Production of printed circuit boards in high volumes and assembly can also result in the possibility of a shorter production time due to automation. This is why it plays an important role in the production pipeline as well as the go-to-market strategy, which receives an enormous boost.
The mass or high-volume manufacturing of printed circuits boards assures consistency in production and uniformity of aspects. This is due to a situation in which every printed circuit board is given the same test and assembly process and this in turn assures high quality.
High-volume Printed Circuit Board Assembly Service Application Areas
Production of high-volume printing circuit board assemblies services applies to the mass production of electronic appliances.
In the majority of cases, the process of entering markets that are either new or already across diverse geographic regions requires huge-scale electronic circuit boards. This is why large-scale PCB assembly services are essential.
Mass volumes quantities of PCBs have applications that require printed circuit boards to move beyond the prototype stage of the development process, and after that, every error is found, it is corrected. It is particularly important prior to the PCBs arriving on the market. Therefore, it appears prominently in the electronic manufacturing world, especially for companies that aim for consistency and uniformity.

Final Word
Let's Discuss Your PCB Assembly Project Today
Now, our PCB assembly experts are ready to assist you with any questions you have about your high-volume PCB assembly project. Our friendly and knowledgeable staff is waiting to answer any questions or questions you might be facing and provide the information needed to start your nest step project. Simply get in touch with us via email now to learn more.
If you've heard everything you need to be aware of and are ready to start your large order PCB assembly immediately, we look forward to speaking with you. Simply submit a PCB Assembly quote request by clicking here. Our team will contact you shortly to start moving forward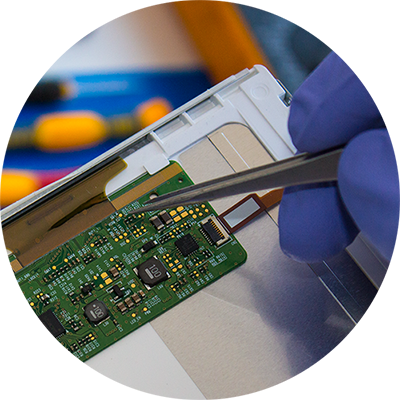 PCBs We Can Assemble
Min size: PCB whose width/length is less than 30mm should be panelized.
Max size: single board 500mm*400mm | panel board 310mm*410mm.
Layer Count: 1-60 layers (1-20 layers for mass production).
Copper Thickness: 1/2oz – 17oz.
PCB Types: Rigid PCBs, Flex PCBs, Rigid Flex PCBs, Rogers PCBs, Ceramic PCBs, etc.
Surface Finishes: Lead/Lead-free HASL, ENIG, ImSilver, OSP, Gold plated, Immersion Gold, etc.
Components We Can Assemble
SMT sizes: 01005, 0201 or larger.
BGA pitch: 0.35mm or greater.
BGA Ball count: 2 – 50.
Fine pitch: 0.4mm or greater.
WLCSP pitch: 0.35mm or greater.
Components Height: 0.1mm – 12mm.
BGA, micro-BGA, POP, CSP, LGA package, Flip chip, Hard metric connectors, Cable & wire, etc.
Min. Components Spacing: 0.20mm for SMT parts, no specific demand for Thru-hole parts.
Custom PCB Assembly Capabilities
Quick Turn.
IPC III standard compliant.
Prototype Quantities to Production Quantities.
Single PCB Assembly and PCB Panel Assembly.
Single and Double-sided PCB Assembly.
Leaded Assembly, Lead-free or RoHS Compliant Assembly and No-clean Process Assembly.
SMT Assembly, Thru-hole (DIP) Assembly, and Combo of SMT and Thru-hole Assembly.
Consigned PCB Assembly, Partial consigned PCB Assembly and Full turnkey PCB Assembly.
Call us to get a free quote now