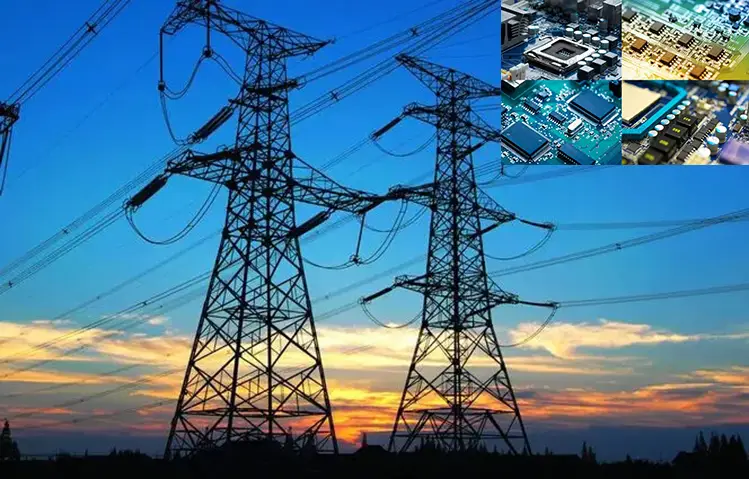 Your Premier Industrial PCB Manufacturer
JarnisTech is a leading manufacturer of industrial electronic PCBs. Our ability to deliver PCBs with the fastest turnaround times and the highest accuracy is what sets us apart. We provide 24/7 live support for your queries due to our several years of experience in this industry and opportunity to work with a variety of clients.
JarnisTech provides industrial circuit boards without minimum order quantities. We are a trusted and innovative PCB maker in China and can service the most important industries, such as defense and aerospace, in mission-critical applications. Using our state-of-the-art PCB manufacturing facility, we can manufacture them.
If you are interested in bulk orders, we offer the most competitive pricing. At the same time, we are always available to assist you. Please email [email protected] to learn more about our services and products.
Manufacturing Considerations for Industrial PCB Designs
A circuit board requires a symmetrical stack up with power, ground and power planes for thermal balance and power integrity. It is also necessary to prevent board warpage in manufacturing. The PDN's requirements for signal integrity and the type of materials used in high-voltage designs will also influence the layout of the board layer stack-up. Also, you should use a good surface finish on the board to protect the assembly process during manufacturing. A conformal coating will also serve as an additional layer of separation to prevent high-voltage arcs.
Industrial PCB Prototyping
It is very important to find a manufacturer who specializes in industrial PCB prototyping. This way, once the design and layout have been approved for production, you will be able to prototype and test it first to make sure it functions and has all the features you are looking for.
The time it takes to make a prototype can vary depending on how complicated the PCB is.
When a PCB prototype is ready, it is often tested further by third parties before being sent to production. PCB prototype design is an engineering skill possessed only by a few manufacturers, and this is why it is imperative to make the right choice when choosing a manufacturer. Because the function of the final product and all aspects are affected by it.
It usually takes longer to produce a PCB prototype than to produce the actual product. Once the prototype is approved, you can begin assembling it.

What Is Industrial PCB ?
First of all, a PCB (printed circuit board) is an internal component that mechanically supports electronics.
In this instance, an industrial PCB is a PCB that has been designed for industrial use. It is composed of multiple layers of insulating material and electrical conductors.
It is common to find insulators made of fibreglass, plastic, or ceramic, or of various mixtures of these materials. As a printed circuit board is manufactured, various sections are etched off, leaving one completed printed circuit board that can be used with electronics components.
PCBs are generally made to the PIC2221A standard these days, regardless of the type of material used. The standard is still used in the manufacturing process regardless of whether a PCB is double-sided, single-sided, or has many layers. In addition, The IPC2220 series has appropriate sectional standards for special types of technology.
According to IPC9592, designers should use additional parameters if they use power conversion devices. It is understood that PCBs are the heart of all electronic equipment. A lot of modern technology would not be possible without PCBs
As a result, industrial PCBs are crucial to the smooth, productive operation of any industrial electronic equipment, and they come in different types that we will discuss shortly.
Industrial Printed Circuit Boards
Single-sided PCBs
This type of printed circuit board usually has one layer of substrate/base material. Single-sided PCBs can be used for simple electronics because they don't require complex circuitry. They are a great choice for beginners.Since they are inexpensive and readily available, these PCBs are ideal for mass production.
And these PCB boards widely used in cameras, calculators and stereo components, vending machines, printers and surveillance, etc.
Double Sided PCBs
Printed circuit boards of this type are similar to single-sided PCBs, but they have copper on both sides of the substrate. These PCB boards use two different technologies to connect their components, namely hole and surface mounting.
They are simple to use and can be used in many applications including: LED lighting, conversions and traffic control systems, industrial controls, traffic management systems, regulators and automotive dashboards.
Multilayer PCBs
These multilayer PCBs have a higher complexity than single-sided ones and double-sided boards. In order to protect the circuit boards from burning in case of excessive heat, insulation is placed between each board.
Multi-layer PCBs can be used for a variety of purposes, such as data storage, GPS technology and satellite system file servers, cell phone repeaters, atomic accelerators cell phone repeaters, Xray equipment, fiber optic receivers, central fire alarms systems, space probe apparatus and so on.
Limitations
Multilayer PCBs are costly to manufacture, so the overall project cost should be considered before choosing one. Its manufacturing time is longer than single or double-layer PCBs and it also requires more complicated repair in the event of permanent damage, loss, or other circumstances.

Rigid PCBs
These rigid PCBs are commonly used in electronics. Their role is to give strength to circuits, keep them rigid, and prevent them from twisting. The computer motherboard is an example of a rigid PCB, as it is made of a rigid PCB substrate material. These PCBs can be designed using different software, such as Proteus or EasyPC.
These products include electronics, toys, gadgets and solid-state devices.
Flexible PCBs
They can be transformed or flexed to any shape depending on your needs. Unlike rigid PCBs, flexible PCBs, also called Flex Circuits, are usually made from polyester, polymide, or PEEK (polyether ether ketone).
Flexible PCBs are often used to replace rigid ones in situations where flexibility, weight reduction, and space-saving are important priorities. Flexible boards are most commonly used in the computer keyboard. Flexible circuits are used in many consumer electronics, including cameras, personal entertainment devices and automobile industries.
Rigid-flex PCBs
The rigid-flex PCBs can be made when a combination of flexible and rigid PCBs is used. These PCBs are ideal for many applications because they require minimal space to make a circuit. These PCBs are widely used in medical applications, such as pacemakers, automobiles, and digital cameras.
High Frequency PCB
They are slightly different from conventional PCBs in terms of construction and materials. They can transmit signals at speeds exceeding one GHz.
It is important to consider the dielectric constant, dielectric thickness, and power dissipation when choosing high-frequency PCBs.
These high-frequency products are used in a variety of applications, such as advanced communication systems and industrial and medical applications. High-speed products are also used by JarnisTech for improved signal transmission. High speed circuits are best illustrated by ground-based and airborne radar systems.
Aluminum Backed PCBs
Metal base PCBs consist of copper-clad laminates and thin dielectric layers and electrically insulated layers, which are laminated between the metal base and copper foil to provide thermal conductivity and electrical insulation.
Different aluminum PCB types are used in various applications depending on their construction and design.
● Through-hole aluminum PCB.
● Hybrid aluminum PCBs.
● Flexible aluminum PCBs.
● Multilayer aluminum PCB.
It is used in automotive, LED and radio frequency industries.
Industrial Electronics PCBs Applications
Here are some applications of industrial electronics PCBs:
● Monitoring of power.
● Potentiometers.
● Amplifiers.
● Analog meters.
● Motors.
● LED lighting systems.
● Microprocessors.
● Batteries.
● Testers for diodes.
● Converters.
● Feedback devices.
● Fuses.
● Modules for input and output.
● Displays and indicators.
● Panel meters.
● Relay for overload.
Industrial PCB Design Rules
The layout of circuit boards for mobile technologies, IoT and other devices is a large part of PCB design. There are also many industrial applications, although they may not be as popular or flashy as next-generation smartphones. These also require PCB designs. Although the various types of circuit board layouts are almost identical, there are some differences that require special attention from PCB layout design engineers.
Industrial circuit boards are used for applications that require high power to drive heavy-duty machinery or motors. These power requirements mean that the layout rules and constraints for industrial circuit boards are different from those used to design low-power IoT devices. We'll be discussing some of these differences and the design principles for industrial PCB layout.
Considerations in Industrial Applications for Circuit Boards

Design for Power
Circuit boards designed for industrial applications typically have high-powered circuitry for power management equipment and motor control systems. These circuit boards are used to monitor and control high-power levels, but they may also use sensitive low-power circuitry in their control systems.
It is essential for PCB layout designers working on these systems to be familiar with all of these power requirements in order to produce designs that are safe to operate and the highest-quality.
Design for Durability & Longevity
To minimize costly machine downtime and upgrade critical-path equipment, industrial applications require rugged designs with long lifecycles.To achieve this, circuit boards need to be robust and high-quality, so that they can withstand the stressful environments in which they will operate. PCB circuit board designers must choose the right components for these layouts and adhere to the appropriate design rules and constraints.
Design to Certification
Manufacturers of PCBs for industrial applications may need to be certified in accordance with specific industry standards. These certifications may include anything from basic ISO 9001 to building enclosures or sub-panels that contain motor controls, overload relays, and fused disconnection switches. For their designs to be certified, PCB designers must understand the certification requirements.
Industrial PCB High Power Circuit Design Rules
Designers need to create design rules that are consistent with the following in order to make a circuit board capable of handling the higher power and longer life cycles of an industrial PCB.
Thermal Considerations
Since many industrial PCBs require more power, It will result from more heat being conducted throughout the circuit board. It is imperative that the layout is designed to allow good airflow, and heat-generating components should provide plenty of space for heat-sensitive components. The full power and ground planes will help with heat dissipation throughout the stack of layers on the board, as well as thermal vias to conduct heat away from components that are hot. In addition to heat sinks, thermal epoxy, and fans, high-temperature measures may also be required
Power Integrity
High-power circuit boards can cause large current spikes and voltage swings that could interfere with sensitive circuits. This should be considered when designing the power delivery network (PDN). To ensure thermal balance, sensitive circuits should not be connected to power components. Multiple power supply circuits should also be distributed as evenly as possible. To reduce noise, power traces should be as narrow and broad as possible.
High-Voltage
High-voltage industrial PCBs must be designed with sufficient clearances between metal conductors to prevent arcing from one conductor to the next and are measured in two different ways. Unlike clearance, creepage is the distance between conductors across a board's contours, whereas clearance is the line-of-sight distance between the conductors. If the spacing is not right, any high-voltage arcing could cause damage to the board and its components, eventually leading to a complete failure or circuit performance issues.
Designers should ensure that industrial PCB layouts include these design considerations. These design rules will help them maintain proper clearances between metal objects and components, and to keep the required trace widths for power circuitry. The list of design considerations doesn't end there. There are still design-for-manufacturing (DFM) rules that must be considered.

Summary
JarnisTech Factory: Trailblazing PCB Industry Trends
Advanced printed circuit board technology requires new requirements than ever before. Reliable printed circuit board manufacturers are essential to ensure that your PCB are manufactured and assembled on time.
JarnisTech is a leader in printed circuit boards. We are a leader in the production of high-quality printed circuit board that meets class 3 standards. They are used worldwide in aerospace, military and industrial applications. We are able to meet tight deadlines every time.
Do you look for the best PCB assembler and fabricator? JarnisTech can provide a quote for your PCB boards or assembly.
Call us to get a free quote now