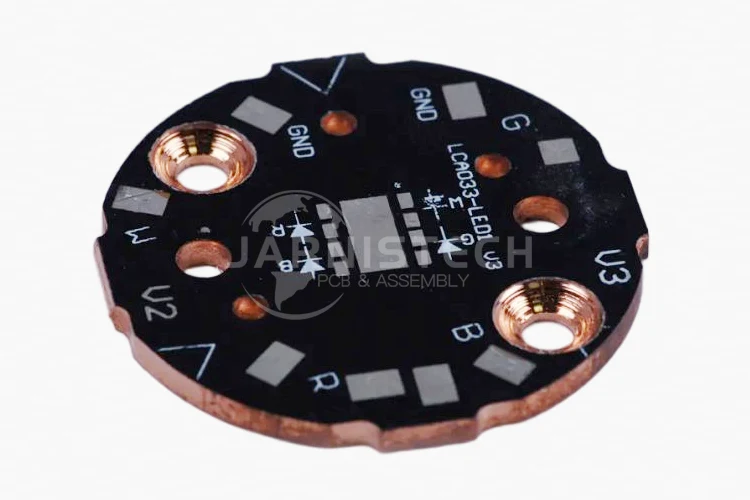 How Do You Choose an MCPCB Manufacturer ?
Selecting the best metal core PCB maker for your needs is a difficult task. There is fierce competition, and inexperienced producers abound. It's a shame that the deserving ones are rarely given equal treatment.
The dielectric material utilized by the manufacturer should be of high-quality copper or aluminum. The material must be able to endure high temperatures in order to protect the components on the circuit board. Additionally, the producer must meet the deadlines of supply of the specific materials. In addition, the manufacturer must be extensive experienced in the manufacturing of different PCBs.
Thermal PCB | IMS PCB |Metal PCB Core (MCPCB)
A metal core PCB, MCPCB, or Thermal PCB, was developed in order to overcome FR-4 materials thermal limitations. The metal core is Aluminium (or Aluminum) or Copper, which is a better option over FR4 if PCB boards have to operate in a high temperature setting. A dielectric layer can be found between copper foil and the metal core to ensure that electrical isolation. This dielectric material has the characteristic of being highly thermally conductive. As such, metal core PCB substrates can also be referred to as insulated metal substrates (IMS). And IMS PCBs and Metal Core PCBs are well known for effectively dissipating heat.
What Exactly Is Metal Core PCB ?
As opposed to conventional FR4 heat spreader fragments, the metal core printed circuit board incorporates metal as its base material instead. Therefore, The metal core printed circuit board is sometimes referred to as a thermal PCB. The heat builds up because of various electronic components functioning on the boards. By using a metal core PCB, heat is diverted from critical board components to less critical areas, such as the heatsink backing or the metallic core. Therefore, these metal core PCBs are ideal to handle thermal issues.
Multilayer MCPCBs have layers evenly distributed on each side of the metal core. For example, a 12-layer board will have the metal core at the center and six layers at the top and bottom.
Metal core PCBs are also known as Impedance metallic PCBs (IMPCB), metal-clad PCBs and insulated metallic substrates (IMS). The common materials used in PCBs made of metal are Copper, aluminum, or a mix of specific metal alloys.
Metal Bases Used in MCPCBs
Aluminum Substrate: The Aluminum printed circuit boards have excellent heat dissipation and transfer capability. Because they are lightweight in weight, aluminum core PCBs are able to serve their use for LED lights, audio frequency equipment as well as communication electronic equipment.
Copper Core (Copper Core, Also Known as Heavy Copper): The copper core boards offer superior performance over Aluminum. However, the majority of customers choose Aluminum because copper is expensive. Additionally, copper cores are very weighed and require an extremely difficult manufacturing process. Copper is also more prone to corrode than Aluminum.

Metal Core PCB Technology Benefits
Compared to FR4 PCBs, insulated metal substrates offer a great list of advantages for applications that require high heat dissipation. Most engineers and designers choose Metal Core PCBs for the following reasons:
● Great durability of Alumimum
● Eliminate heat sinks and other voluminous hardware
● Lightweight and strength
● Superior heat dissipation
MCPCB Circuit Board Stack-up
Basically, the single sided metal core circuit board is composed of a copper conductive layer on top, a metal base plate (e.g. aluminum) that provides rigidity and an insulating thermal dielectric.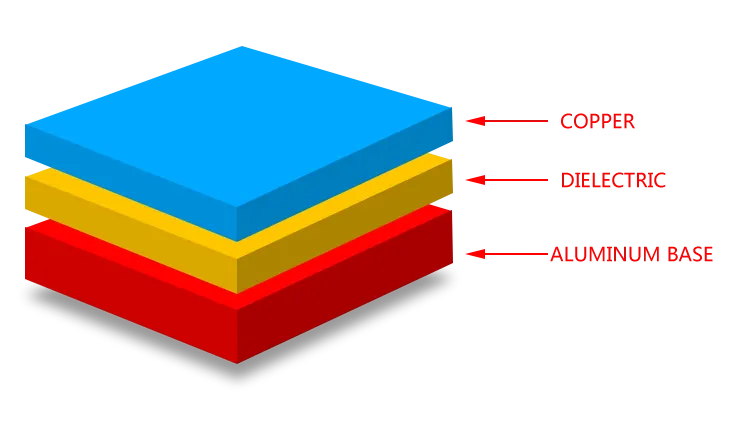 Double-sided metal core printed circuit boards have two copper layers, and the metal core sits between the layers. Plated Through Holes (PTH) interconnect the copper layers to allow SMT and THT components to be placed simultaneously.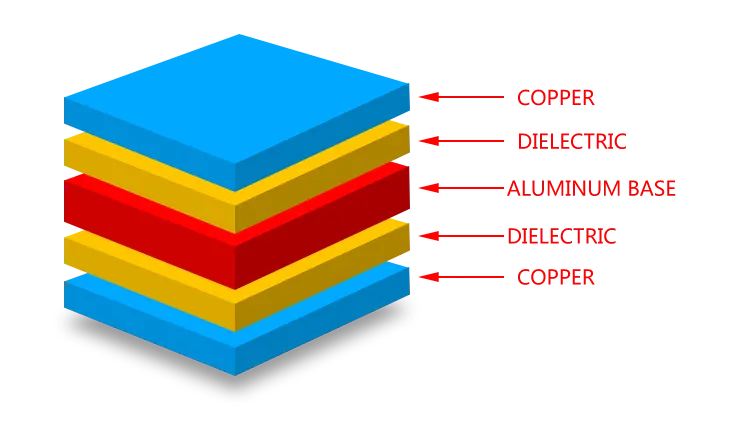 In a multilayer metal core PCB, there are more than two conductive layers separated by a thermal dielectric. The metal base of this printed circuit board is at the bottom of the structure. SMT components can only be placed on one side. Not THT components are allowed, but it provides the possibility to make blind and buried vias with internal signal layers and power/ground planes.

The Possibilities Are Endless With the Metal Core PCB
JarnisTech is proud of being at the forefront of PCB with a metal core technology. Specifically, the metal core PCB is laminating a printed circuit board using copper or aluminum in order to distribute heat more evenly. We're not just the pioneers of PCB made of metal technology, however, but we are also up-to-date on metal core PCB manufacturing and assembly capabilities. If you or your business want to use quality printed circuit boards manufactured and assembly with a fast turnaround time, now please contact us.
Why Should You Choose Us ?
Capabilities Of JarnisTech Fabrication of Metal Cores PCBs
ITEM
DESCRIPTION
SYMBOL
STANDARD
ADVANCED
No. of Layer Count
Max Layer Count
NA
1-6 layer
1-8 layer
T-clad Laminate Supplier
Laminate Supplier
NA
Bergquist, polytronics, boyu
Bergquist, polytronics, boyu
Metal Thickness
/
M
0.4-4.2mm
0.4-4.2mm
Dielectric Thickness
/
E
100-200um
100-300um
Thermal Conductivity
/
NA
1W/m-k , 2W/m-k 3W/m-k
1W/m-k , 2W/m-k 3W/m-k , 4W/m-k
Circuit Width
Outer Layer Min. Circuit Width
W1
0.15mm
0.15mm
Circuit Spacing
Outer Layer Min. Circuit Spacing
S
0.15mm
0.15mm
Copper Foil Thickness
Copper Foil Thickness
T
½- 4 oz
1/3 –8 oz
Finished Hole
Min. Finished Npth Hole Size
X
1.0mm
0.80mm
Npth Hole Tol.
A
/-0.05mm
+/-0.05mm
Max. Aspect Ratio
Max. Aspect Ratio
T:H
8:1
12:1
S/M Dam & Clearance
Min. S/m Dam
W1
0.10mm (Green S/M); 0.13mm (white S/M)
0.10mm (Green S/M); 0.13mm (white S/M)
Min. S/m Clearance
W2
0.075mm (Green S/M); 0.075mm (white S/M)
0.05mm (Green S/M); 0.05mm (white S/M)
For our Metal core circuit board layers, we are able to make just one layer or two. Our skilled technicians are able to develop unique multilayers and applications when you're working on a unique project. We can also make PCBs with a metal core in various thicknesses, which include:
● 0.2mm-1.0mm
● 1.2mm-2.0mm
● 2.4mm-3.2mm
● 3.6mm-6.0mm
In terms of the copper weight we are able to manage:
● 1/2 oz.
● 1 oz.
● 2 oz.
● 4 oz.
● 6 oz.
For the dielectric properties of the metal core PCB we can provide Arlon, Thermal Transfer, Bergquist, Thermagon, and the FR4/FR4 High-TG. We care as much about the appearance of PCBs made of metal as we do about the form, we are able to offer you a range of solder mask colors for epoxy choices, including:
● White
● Black
● Gray
● Green
● Particular Blends

Call Us Now
If you'd like to know more about the options available for silkscreens and surface finishes, please do not be reluctant to connect with us by emailing JarnisTech at [email protected].
Top 5 Adavantage of MCPCBs
In addition to superior thermal dissipation, PCBs made of metal have more power density, better electromagnetic shielding, and better capacitive coupling. Performance in thermal terms can be enhanced by using thermal vias, as in traditional PCBs. The five major advantages associated with this method will be described.
● Thermal Dissipation
MCPCBs are among PCB choices that have more thermal conductivity. By keeping energy away from power elements as far as is possible, they reduce potential harm to the circuit being able of handling circuits of high density and with more power levels.
Aluminum is one of the most popular materials for this type of substrate because of its light weight, good electrical characteristics, recyclable nature, and cost efficiency.
Metal core PCBs are able to transfer heat between 8 and 9 times quicker than PCBs created using FR-4. The dielectric layer needs to be thin in order to form the most efficient route between the heat source and the metal plate supporting it. Its thickness typically ranges between 0.003 to 0.006 inches. Consider that a test carried out on an MCPCB equipped with an integrated 1W LED demonstrated that its temperature was similar to the ambient temperature of 25degC. However, the identical power LED mounted on an FR-4-based board reached a temperature of 12degC more than the average temperature.
● Best Strength and Stability
The rapid and recent growth of LED technology, specifically featuring high-power LED illumination, has raised concerns about heat dissipation. Since they're typically placed directly onto the PCB, LEDs could cause instability and reliability issues on the circuit. If you don't use the correct method the dissipation of heat can hinder effectiveness of devices operating at high levels of power. Utilizing metal PCBs in these devices effectively addresses this issue. Along with providing high quality, durability, and durability, aluminum is lightweight and provides durability and strength on the printed circuit board without creating an increase in weight.
● Dimensional Stability
In comparison with PCBs made from traditional materials, such as FR-4, the size of metallic printed circuit boards remains more stable under changing environmental conditions. The process of heating between 30degC and 150degC PCBs that have metal layers (such as aluminum) has experienced a tiny variation in size between 2.5 percent to 3.0 percent.
● Higher Recyclability and Lower Weight
PCBs made of metal substrates are less heavy. They last longer and are more conductive than conventional PCBs made of epoxy. Additionally, they are more environmentally friendly since the metals that are used, such as aluminum, are not toxic and easily recyclable.
Aluminum is extremely easily mined and refined and refined, making it significantly cheaper than other types of metals. Therefore, the costs of manufacturing that are associated with PCBs constructed of aluminum substrates can be decreased. Aluminum PCBs can also be an affordable alternative to expensive and bulky heat sources. In the chain connecting the producer to the consumer at the end using aluminum, its use in the production of metallic PCBs helps to protect the environment of our planet.
● Longer Lifetime
PCB fabrication typically uses ceramic and fiberglass materials, but aluminum offers greater strength and durability. It is a strong metal that can reduce the possibility of accidental breaking that could occur at different stages of manufacturing and assembly, as well as in the normal usage of the product.

JarnisTech Advantage as a Metal Core PCB Manufacturer
At JarnisTech, we're a dependable MCPCB Manufacturer for many different industries in the field of PCBs made of metal. This is possible because we utilize cutting-edge technologies to satisfy the unique specifications of our customers. Our more than two decades of experience manufacturing modern, high-end metal printed circuit boards and have a wealth of industry expertise makes us a preferred PCB partner. Our strength also lies in our team of PCB experts, who have industry-best practices and are therefore able to design and manufacture metal printed circuit boards that meet your specifications perfectly.
Our metal PCBs go through strict quality tests means that you can be confident that you're receiving are top-quality products that conform to the highest standards in the PCB industry.
Our major benefit is our ability to provide fast turnaround times. This is a great way to increase the effectiveness of your business plan and gives you a significant advantage in competition. Our extensive supplier network also guarantees that we're in a position to provide you with the lowest costs.
No matter if you need prototype metal core PCBs or large production runs. You can count upon our metal core circuit board solutions with confidence that the quantity won't get without quality. Additionally, we offer turnkey metal core PCB manufacturing services that allow you to focus on your core business while we handle everything end-to-end work.
Contact us for a detailed talk about your custom requirements, and allow us to provide you with custom quotations.
Difference Betweem Metal Core PCB and FR4 PCB
Metal core boards conduct heat between 8 and 9 times quicker than FR4 PCBs. Metal core laminates keep the components that generate heat cool by dispersing heat at a higher rate. Dielectric materials are made as thin as possible to create the shortest route from the source of heat to the backing plate made of metal. This helps speed up energy dissipation. The thickness of the dielectric material typically falls between 0.003″ up to 0.006″.
| | | |
| --- | --- | --- |
| Parameters | MCPCBs | Standard FR4 PCBs |
| Conductivity | Higher thermal conductivity,typical values-1W/mK to7/Wmk | Low thermal conductivity, tvpical values 0.3W/mK to 0.4W/mK |
| | Thickness variations are llimited. Depends on the available backingWide range of thicknesses available plate thickness and dielectric sheet thickness | Wide range of thicknesses available |
| Thermal | Metal cores dissipate heat quickly.Eliminates vias for heat transfer | Heat transfer rate is lower. Involvesviasfor relief heat transfer |
| Plated through-hole | PTH not available in 1-ayer PCB.Components are surtace-mounted | Implements PTH |
| Machining Involves | Involves the same standard process except that the v-scoring process incorporates diamond-coated saw blades for cutting through metal | Standard machining process that includes drilling, routing.v-scoring,countersink ,counterbore. |
| Soldermask | White color for LED boards. Applied only on the top laver | Includes dark colors like green,red,blue,and black. |
| Rigidity | Ability to handle shock and vibration.2 to 4 times stiffer than FR4 or polyimide | Lesser rigidity compared to metal core |
| Economy | Relatively expensive than FR4 boards | Less expensive |
Afterward processes are exactly similar to double-sided PCB production. Double-sided MCPCBs, copper core PCBs and aluminum core PCBs are more complex to manufacture than conventional circuit boards with the same number of layers. JarnisTech is a trusted MCPCB manufacturer that is equipped to be your one-stop PCB services for customized MCPCB design fabrication and assembly, and it also supports MCPCB prototypes and production.
Why Should You Use the Metal Core PCB ?
It is a well-known fact that metals like Aluminum and Copper have much better thermal conductivity than FR4 and other nonconductive PCB base materials. The temperature conductivity for FR4 is about 0.25W/m*K. However, copper's thermal conductivity is much higher. Aluminum Based PCB is at a minimum of 1W/m*K. Similarly, the temperature conductivity for Copper Based PCB material is an average of 3W/m*K. High thermal conductivity means that the circuit board's metal core will help to dissipate heat generated by electronic components of hoses quicker and extends the life of the product. This feature is useful in a wide range of industries, including Lighting, LEDs power Conversion, PDP and Regulator, TV Monitor Drivers, rectifiers power Supply and others.
Applications that produce a huge amount of heat can often not be effectively cooled with traditional fans. An ideal slove option would be conductive cooling through metal core PCBs.
MCPCBs are the most common in LED technology since they decrease the number of LEDs needed for a specific light source. Light-emitting diodes generate lots of heat when used in various applications like:
● General lighting applications.
● Backlight unit applications.
● Photovoltaic.
● System automotive LED applications.
● Applications for hybrid/electric motor control.
● Applications for street safety (streetlights and lighting, etc.).
● Power converters for industrial, telecom high voltage regulators and power sources.
Metal core PCBs in LED products and applications help reduce the amount of heat that is emitted.

Summary
At JarnisTech, we know that your technological needs are constantly changing. However your fundamental requirements are the same: consistency, high-quality, reliable lead times, low cost and a quick response to your needs. These are the fundamentals of our company's philosophy.
With a commitment to continuous improvement, we strive to provide the best service to our customers.
If you've experienced any of these problems, JarnisTech is your solution:
● Wish there was a designated contact, instead of dialling the '1-800' call centre?
● Can't reach anyone via the phone or take too long to get an email or a voicemail reply?
● Your PCB manufacturer has good prototyping pricing for small quantities, but it is otherwise extremely costly?
● Are you fed up of not being able to provide all your specifications on the internet?
● Wish that your board manufacturer had a modern website that was simpler to navigate?
● Wasting your time looking for PCB suppliers since your local PCB manufacturer doesn't have the capacity to meet everything you need?
● Feel rushed to get an order in before the daily cut-off time?
● Your cooperative PCB fabricator does not conduct a thorough review of your CAM Gerber information prior to making your board.
● However, PCB manufacturer does not offer free software for layout. What's the reason?
If you've experienced these issues, give us an attempt. Call us or contact us via mail at [email protected], and we'll get back to you shortly.
Call us to get a free quote now