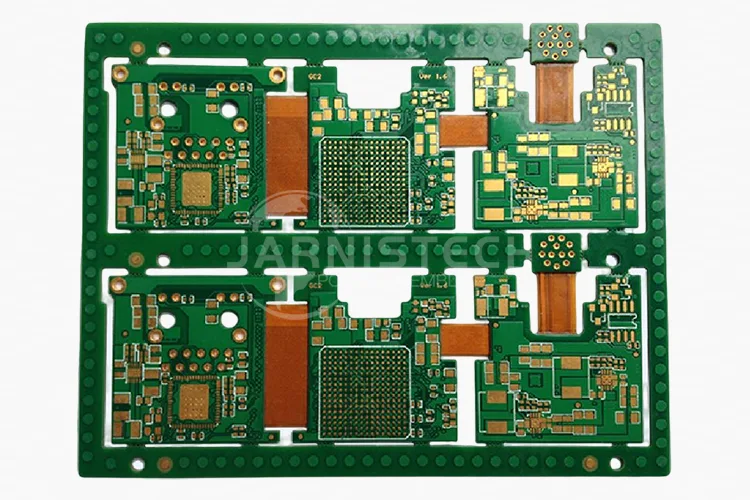 Rigid Flexible PCB Production Service
JarnisTech Rigid-flex PCB capabilities:
Rigid Board It can be used for up to 36 layers ( will accept blind or buried holes).
Flexible Board 12 layers ( Accept aluminum, PI, Fr4 stiffener and any other material that meets the requirements.
Estimate Cost Today, Please send PCB files to [email protected]. We will provide competitive prices for your PCB project soon.
JarnisTech rigid-flex and PCB manufacturing solutions are customs designed for many top electronic industries. Fabricated with dependable high-standard quality control and reliability in our manufacturing process. So, we can provide the best quality for Rigid-flex PCB board to clients. In addition, Our rigid-flex Board is designed to withstand the demands of aerospace robot control medical and military applications.
It is a reliable alternative to wire and wiring harness assemblies Rigid-flex circuits can provide substantial cost savings without diminution in performance. Our PCB engineering team can help with your requirements from the beginning of the designing phases of your project to the final manufacturing stage for all of your rigid-flex and flex circuit requirements.
What Is Rigid Flex PCB ?
Rigid-Flex printed circuit boards make use of the combination of rigid and flexible board technologies to create an application. As we know, Multiple layers of flexible circuit substrates are typically attached to rigid boards, externally and/or internally, depending on upon the design of the application. During manufacture or installation, the flexible substrates are usually shaped into the flexed curve so that they remain in a constant state of flex.
The rigid-flex designs are more complex than the designs of the typical rigid board environment because the boards are created in a 3D space. This also provides more efficiency in spatial space.
Flexible board substrates can be twisted, folded, and rolled as necessary to achieve the desired shape for an application's package when rigid flex designers design in three dimensions.
What Are the Types of Flex-rigid ?
How many type the rigid-flex printed circuit, Let's look at them.
Single-sided Flex-rigid Board
For Single-side flex-rigid PCB, unlike the double-sided type, the single-sided type has one layer of conductive material only. The other side of the board allows for the integration of various electronic components on the circuit board. In addition, they are composed of a single layer made of flex-rigid substrates that are joined together. Contrary to other rigid-flex varieties, they are easy to manufacture and design.
Double-sided Rigid-flex Printed Circuit Board
For Double-Sided flex-rigid boards they consist of one rigid substrate layer and the another layer is flexible substrate. In contrast, the flex substrate is essential for enhancing flexibility, while the rigid layer enhances compactness.
Additionally, double-sided rigid PCBs that flex can allow more routing lines. The vias enable this and switch between the two layers. A majority of PCB engineers favor this kind of flexible-rigid PCB because of its flexibility and its capacity to reduce the size of the board.
Multilayer Flex-rigid Board
In this rigid-flex, either or both substrates contain at least three conductive layers. These substrates function as an insulator.

Flexible PCBs Classification Based on Configuration
Flex circuits can be classified into double-sided, single-sided as well as multi-layered circuits.
Single-layer Flex PCB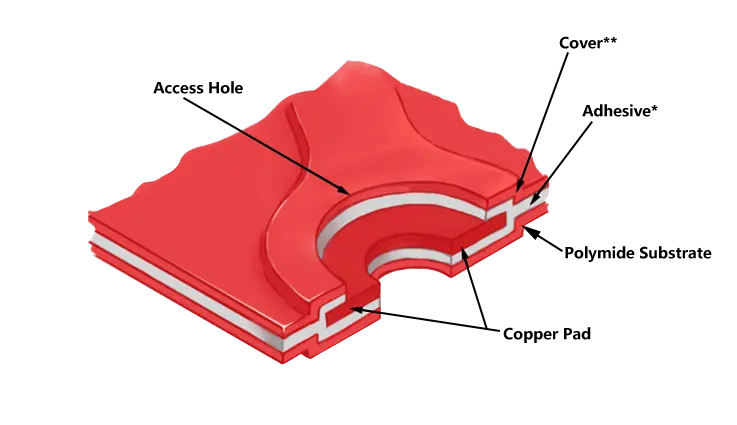 Single-sided is the simplest kind of flexible printed circuit board. Their structure consists of a single conductor layer on a flexible substrate. A flexible polyimide layer is laminated to a thin sheet of copper. Holes can be cut through the substrate to allow for the leaders of the components to move through in the process of soldering. A coverlay made of polyimide may be used to shield the circuit and provide protection against the elements.
Duoble-layers Flexible PCB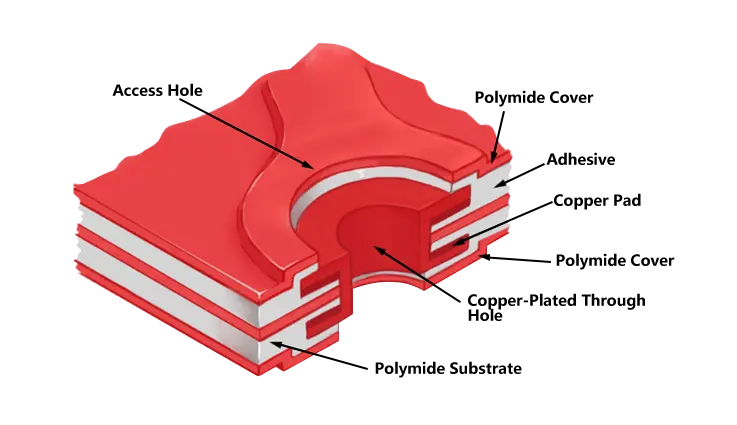 In double-sided flexible printed circuit boards, there are two conductive layers (one on each side of the flexible substrate). These copper foils are laminated to both sides of the substrate. The holes or vias that are plated create electronic connections to the layer. The boards can be constructed havea protective layer of protection either on one or both sides or on neither, based on the design specifications for the circuit.
Multi-Layers Flex PCB Circuit Board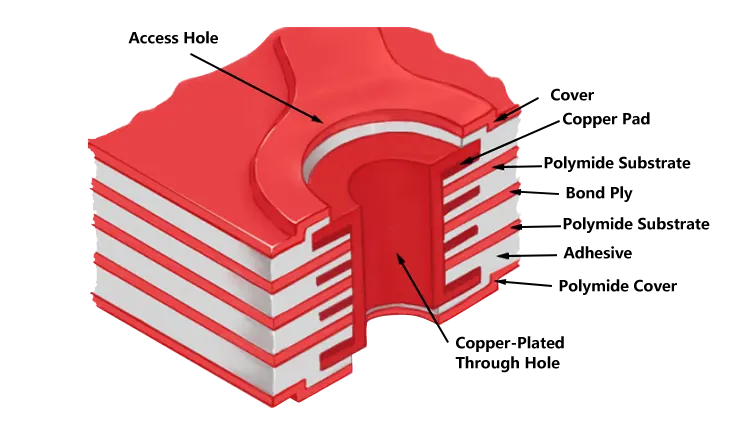 In multilayered flex circuits, they have more than two copper conductors. The circuits are interconnected by PTHs or vias, and they are the best solution to overcome design challenges like specific impedance requirements, unpreventable crossovers, crosstalk, and high component density.
Rigid Flex PCB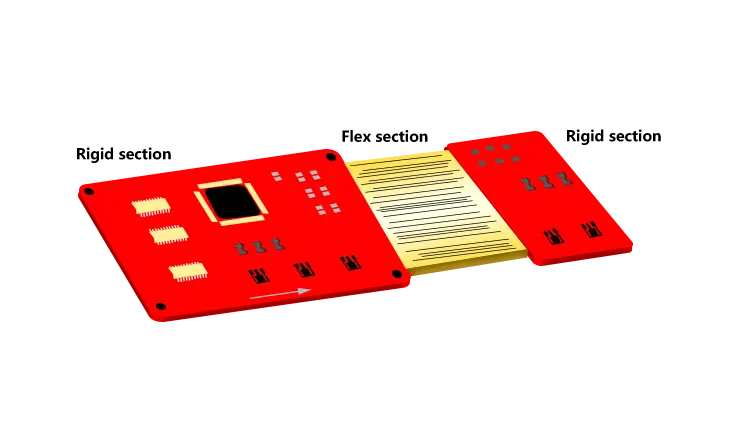 A rigid-flexible PCB is a mixture of flexible and rigid technology. It is a case where some or all flex circuits are utilized to connect circuits within stiff PCBs. The flexible portion of rigid-flex is usually multilayered.
Rigid-flex Stack-up

Aspects Considerations of Material Layup
Layups of rigid-flex materials significantly affect the cost, manufacturing, and PCB's final performance. As a result, the most appropriate material set must be considered. For example, controlled impedance, resistance, and current-carrying needs are all crucial factors that influence copper weights and the choice of material.
A PCB designer must collaborate with the fabricator of their board to discuss these variables to ensure that the final design meets the requirements of signal integrity. After the designer has completed preliminary calculations, the fabricator can validate them and provide a more precise model of the impedance characteristics of the board as well as the materials required to get those values.
If the impedance properties aren't that critical, then you're looking for the lowest price and most reliable and stable design. If you'd want to know a fast estimate of how much your rigid-flex design could cost, you can reach out to our overseas representative. The cost estimator for rigid-flex will evaluate your needs and provide you with an estimate of the cost for lower production amounts. It's a great beginning point to assess whether your plan is financially feasible and in line with your program's requirements.
In most rigid flex boards, the rigid sections are usually no more than twenty layers or less. There are times when they have more, but usually, more than twenty layers are pretty rare.The sections of the hardboard don't necessarily require the same number of layers. For instance, you can have one section with sixteen layers of circuitry and one with 12 layers. So long as the material layup is similar for both and every board is the same overall thickness, there should be no manufacturing problems. In some cases, designs can utilize hardboards with different thicknesses. However, these types of designs are significantly more difficult to fabricate, and alternatives should be taken into consideration.
Flexible sections on rigid boards usually comprise one (singlet) or two (doublet), or triplet) (triplet) and four layers (quad construction). There are times where a designer may require greater than 4 layers on the flexible portions of the board, but they the majority of them are not bonded.
The flex sections with bonds with at least four layers may be very resistant to bending or being flexed. Copper weights placed on those flexible sections of the rigid-flex board are typically one-ounce and half-ounce weights.
Sometimes, the electrical requirement requires two-ounce weights. In such cases, the designer must be in close contact with their fabricator to select the proper no-flow prepregs to fully fill the circuits on the hardboards.
Due to the design of no flow prepreg, it doesn't like to flow, and two-ounce circuitry can be challenging. Three-ounce copper weights are rarely used and can also pose significant manufacturing challenges.
Why Choose JarnisTech To Be Your Rigid Flex PCB provider ?
JarnisTech provides reliable rigid-flexible PCBs for prototypes and huge-scale production quantities. In addition, due to our years of experience in this area, we are able to assemble your PCBs. The rigid-flex PCBs we manufacture are especially helpful in overcoming weight issues in confined spaces since they grant spatial degrees of freedom.
Your projects will receive huge benefits when you use JarnisTech's rigid-flexible PCB circuit boards. It is possible to benefit faster by making a thoughtful and accurate analysis of the possibilities available during the initial stages of the design process. Utilizing an experienced manufacturer of rigid-flex PCB technologies like JarnisTech during the early stages of the process can make sure that both the design and the manufacturing process are in sync coordination, making the finished product successful.
The earlier requirement for the quick association is essential because the production of rigid-flex PCBs is more time-consuming and complex compared to making standard rigid boards. Flexible components that are used in the production of flexible circuits demand completely different techniques for the handling of etching, drilling and soldering procedures in comparison to the processes used for normal rigid PCB boards, which take more time-consuming.

Capabilities of Rigid Flex Circuit Boards
At JarnisTech, We can provide top-quality rigid flex boards that meet these specifications:
Capability
Standard
Types Of Rigid Flex PCB
Single Sided Rigid Flex Boards
Double Sided Rigid Flex PCBs
Multi-layer Rigid Flex circuit boards
Layer Count
2-60
Materials
Polyimide
FR4
Copper Thickness
9 µm/12 µm/18 µm/35 µm
Min. Line / Spacing
125 µm / 125 µm
Smallest Drill
0.28MM
Surfaces
Immersion Ni/Au, OSP/ENIG, Plated Ni/Au, Immersion Tin Etc.
Stiffener Material
FR4
Steel
Aluminum/PI
Min. Annular Ring
150 µm
Min. Solder Mask Dam
100 µm
Drill To Copper–Outer Layers
8 Mil
Drill To Copper–Inner Layers
10 Mil
Minimum Pitch
0.5MM
Copper Thickness
0.5 oz. – 20 oz.
Copper To Board Edge
0.007″
Minimum Hole Size
0.004″
Coverlay Opening
0.003″

The Advantages of Using Rigid-flex PCBs
Printed circuit boards in rigid-flex configurations are incredibly versatile but expensive, and they can be customized for multiple applications in different industries because of their flexibility.
The most significant advantage of these boards is they can be employed in both commercial and sensitive applications. They include commercial applications for cameras, cell phones and other mobile devices. In addition, there is its use in medical devices and military equipment and aerospace.
Its Benefits Are
● These boards are shock-resistant to the extreme. It also protects against vibrations that are high. So the circuit board will be able to withstand extreme conditions and have significant resistance to vibration and shock, and ensure greater durability.
● Manufacturers such as JarnisTech are the ones who manufacture these printed circuit boards that have the highest precision and accuracy. Therefore, experts in the industry prefer these boards for circumstances where a malfunctioning connection could be dangerous. Additionally, high-precision manufacturing guarantees higher security.
● These printed circuit boards are very saving space because they have very dense designs. It can therefore be utilized in the smallest area. And there will be a lower cost and more margin for assembling other parts into the device.
● Due to their rigidity, these boards make assembly safer and easier than regular flex boards. Therefore, you can be more assured with these boards for assembly.
● Assembly of these printed circuit boards is simple, as their rigidity and flexibility combine for such an easy assembly application.
● A rigid-flex board will lower the overall cost for assembly applications in different devices. This is why you'll be able to see it in your daily everyday life.
● You can enhance the optimization and customize these circuit boards by utilizing the development of mechanical complexity. Because it is a custom application, it can be utilized in sensitive industries.
What Is the Limitations of Rigid Flexible PCB ?
We've talked about the advantages of rigid-flex PCBs. We will now discuss its drawbacks of it.
Requires Elaborate Manufacturing: If you are making stiff-flex circuit boards You will require two substrates. They are the flex substrate and rigid substrates. The use of both can make the process complex and time-consuming.
Production That Is Labor-intensive: The production of the rigid-flex printed circuit is not only material-intensive but also labor-intensive. Due to its sensitive nature, as well as the variations inherent in its flexible and rigid substrates, this PCB is more sensitive than others.
The Manufacturing Process Is Extremely Complex: The process of fabricating a rigid-flex circuit is more complicated than that of other PCBs, requiring the use of cost-effective software, which makes the production cost more expensive.
Application of Rigid Flex PCB
The uses of the printed circuit with rigid-flex comprise:
● Consumer Appliances.
● Automotive Industry.
● Medical Industry.
● Aerospace Industry.
● Military equipment.
● Telecommunication Industry.

Rigid Flex PCB Cost
The price of a rigid Flex PCB varies dependent on the kind of rigid flex that you choose and the location from which you purchase it. A rigid-flex PCB can is made up of one to four layers of other materials.
The costs of a Rigid-Flex PCB can vary significantly based on the kind of PCB you'd like along with the number of layers that it contains. This means that based on the kind of PCB you want the cost will either increase or decrease.
In addition, the developer or manufacturer is another factor that affects PCB costs. As we know, the price can vary from reasonable to absurd, depending on the manufacturer. However, It is worth it to pay more for a product of this quality and with the level of attention to the manufacturing process and PCB quality detail given by the more expensive manufacturer.
Summary
Advantage of JarnisTech as A Rigid Flex PCB Maker
At JarnisTech, we have more than 20 years of experience manufacturing and assembling high-quality rigid-flexible printed circuit boards. Whatever type of PCB you require, you can rely on us. The reason for our reputation for delivering high-quality rigid-flex PCBs lies in various factors. One of them is that we use state-of-the-art equipment that can help with fabrication boards that are extremely complicated. If you require rigid-flexible circuit boards, rigid and flexible boards, we've got it covered. In addition, we also provide varity multi-layered boards materials to meet your custom requirements.
As an ISO 9001:2015 and ISO 13485:2016 registered PCB manufacturing and assembly company, we adhere to high-quality standards. Therefore, we established  a highly qualified group consisting of Rigid Flex PCB Manufacturers who are equipped with the industry's best practices and guarantee that your rigid-flex PCB products are good in the hands of our experts. In addition to providing customers with top-quality products but we also provide you with the essential PCB knowledge so that you don't need to re-invent the wheel or face costly errors.
We are aware of the dynamics of the market and know that speedy time to market can be a huge reason for a competitive edge. This is precisely why, at JarnisTech, we place much stress on speedy turnaround times. When you choose to partner with JarnisTech, maybe you will find it the right chooce, because you can rest assured that we will stick to our timelines.
Another advantage our company offers is that we don't allow the sheer volume of PCBs to hinder quality. If you require prototypes or complete run production, you are able to count on our support. All you have to do is, please share your exact requirements with our rigid-flex PCB manufacturer team, and we'll provide a competitive, custom quote as soon as possible.
Call us to get a free quote now