Overview
Are you in search of a premium rigid-flex and flexible PCB assembly manufacturer? We offer small to Fortune 500 companies around the globe with components purchasing, PCB manufacturing as well as assembly and testing.
Reduce the number of vendors and production delays, as well as improve the overall quality of circuits boards with JarnisTech, a world-class PCB assembly company. We offer domestic (China) and overseas rigid-flex and flex PCB assembly services at affordable costs. You can get your PCB to market faster and with higher ROI when you work with JarnisTech. Let us help you win your PCB business today by submitting us the Gerber files or specs for the next PCB project.
What Is Flexible PCB ?
Flexible circuits (also often referred to across the world as flexible circuits or Flexible printed circuit boards, Flex prints, and Flexi-circuits) are part of the interconnection and electronic family. They are made up of an insulating film made of polymer with circuit designs that are affixed to it and are usually accompanied by a thin coating of polymer that helps shield the circuits that conduct electricity.
FPC is a shorthand to mean the flexible circuit for printing. PCBA is the printed circuit assembly ( PCBA) and the soldering process used by FPCs ( Flex PCB Assembly or Flex Circuit Assembly ) differs significantly from that of PCB boards which are rigid. As a result of its lack of hardness, the Flex PCB is exceptionally flexible. If you do not have a dedicated carrier board, it is not able to be fixed or transmitted; additionally, the simple Surface-mount Technology ( SMT) procedures like printing, placing and reflow oven techniques can't be finished.
Structure of Flexible PCB
According to the Type of Structural PCBs That Are Flexible Can Be Classified Into One of the Following Types:
● It is a Flexible single-side PCB with a simple design and can be easily made.
● Double-sided flexible PCBs have a more complex structure than single-side flexible PCBs, which require more control issues.
● Flexible multi-layer PCB that has a higher Complex structure, unlike 2-layer flexible PCB and its quality of fabrication is more difficult to control.
● One-side rigid-flex PCB
● Two-side rigid-flex PCB.
● Multi-layer rigid-flex PCB.
Double-side rigid-flex PCBs and multi-layer rigid-flex PCBs are more difficult to manufacture than the other three kinds of flexible PCBs. They have much more intricate designs. In addition, they cost more than Flex PCB.
JarnisTech manufactures 1-12 layers of flex PCB. And we also offers flexible PCB assembly services and procurement of a full or partial BOM list as well as final flexible PCB testing, and final flex PCBA testing. Send us your PCB flex file along with your BOM list to receive an instant quote.

Flex PCB Assembly Production Equipment
Solder Paste Printer
Plate loading, addition of solder paste, imprinting, and circuit board transfer are the main functions of modern solder paste printers. Using the stencil, the left and right scrapers of the printing machine print solder paste, or red glue onto the flex circuit board after it has been fixed to the printing positioning table.
Pick and Place Machine
It is also referred to as a "mounting machine" or "Surface Mount System" in the production line because the placement head is moved on the flex PCB pad to accurately mount the surface components after the solder paste printer is configured. The device has two types: automatic and manual.
Reflow Soldering
Within the reflow soldering system, it will heats air or nitrogen and blows it to the flex circuit board where the component has been attached to get it to a high enough temperature. This is done so that the solder on both sides of the component is melted and bonded to the motherboard. By utilizing this process, the temperature can be easily controlled, oxidation can be avoided during welding, and manufacturing costs can be minimized.
AOI Detector
It is also known by its full title, automated optical inspection. It is an instrument that detects the most common defects during welding production based on optical principles. It is a novel type of test technology evolving quickly, and a number of manufacturers have developed testing equipment for AOI.
When it is automated, it scans the flex PCBA with its camera, which collects images. Then, it evaluates the tested solder joints with the parameters that are qualified in the database. Then, after the image processing, it examines any defects on the PCB and then marks or displays the flaws via the display or by using automatic indicators. The PCBA can then be taken out to be repaired by maintenance staff.
Component Trimming Machine
This is used to cut and fashion the pin components.
Wave Soldering
Wave soldering assures that the surface of soldering on the plug-in board is in close contact with the liquid at high temperatures Tin in order to fulfill the function of soldering. In addition to maintaining a slope at high temperatures, a special device makes the liquid tin form wave-like patterns, hence the name "wave soldering". The primary component comprises solder bar.
Tin Furnace
Generally, "tin furnace" refers to an electronic welding tool. Tin furnaces are ideal for discrete circuit boards because they produce a good welding consistency, are convenient and fast to operate, and are efficient, it is a good helper for your production and processing.
Machine for Cleaning
It is used to wash your flex PCBA board and also take away the residue that has accumulated on the board following soldering.
ICT Test Fixture
ICTs mostly test the PCBA flex circuit's open circuit short circuit and the welding condition of all components by touching the test points on the PCB layout using probes for testing.
Test Fixture FCT
Functional testing involves simulating the operating environment (stimulus and load) of the test target board (Unit Under Test [UUT]), allowing it to work in various state configurations so that each state's parameters can be obtained to verify the UUT. The function is good or bad test method. In other words, the output end of the UUT is tested by loading a stimulus there and determining whether it is responsive to the stimulus.
Frame for Testing the Aging Process
Burn-in test racks test PCBA boards in batches and simulate user operation for a long time to identify problematic flexible PCBA boards.

JarnisTech Is a Highly Efficient PCB Assembly Factory
JarnisTech has been providing complete all-inclusive turnkey PCB Assembly since 2002. We have a wealth of experience managing projects that require flexible PCB assembly. We welcome you to contact our team for a discussion of your requirements for flexible circuit card assembly.
Why Choose JarnisTech ?
Providing comprehensive knowledge, proven quality, consistent execution, and a strong supply chain.
● Quick Turn Quality PCB Assemblies: The ability to build both boards and entire systems in a rapid and cost-effective manner through rapid process engineering and product assembly.
● Scalability: Flexibility in production and ability to ramp up from small prototype lots to full-scale production.
● Complex Engineering: Multidisciplinary expertise to solve complex problems. There are three aspects to the process: people, equipment, and the process itself.
● Accelerating Time To Market: Service and responsiveness. Quotes fast an hour; 24 hours support and service.
● Quality and Certifications: Having a Quality Management System and a culture of continuous improvement that push the limits of innovation and speed.
The capabilities of JarnisTech include all turn-key solutions to flexible circuits and printed circuit boards and rigid-flex circuits, from the design stage to production to assembly. Find out more regarding JarnisTech services as well call us for more details.
Flexible PCB Assembly Component Procurement Services
It can quickly become a nightmare to find and manage multiple BOMs. When you let us handle your component sourcing, tracking, and purchasing, you will to eliminate your headaches
With our decades of assembly experience with flex circuits and expertise, We can find your company those hard-to-find components at the best price and lead time
As a premier manufacturer of flexible and rigid PCBs, we offer a streamlined process and friendly team of PCB experts that will take the stress and complexity out of your next flex and/or rigid-flex circuit assembly project, when it comes to assembly of flex and rigid-flex circuits.
This is why hobbyist designers, engineers and other design company select us as their primary flex PCB assembly firm.
Now, Let us become your flex and rigid-flex PCB assembler. Please feel free to contact us via our email address or phone number to learn our flex PCB assembly services more information.
A flexible PCB Assembly Process
Flex board assembly is the process of assembling components, similar to rigid board assembly. The image below illustrates the flow of the process.

Characteristics of Flex Board Assembly
Use of Auxiliary Fixtures
Flexible boards are susceptible to wear and tear since they are light and thin in order to successfully put together SMT components using rigid carriers.
In Flex PCB assembly, positioning and consistency of the carrier are crucial. Thus, many auxiliary fixtures are utilized in flex assemblies, such as baking trays for carrying the board, electrical baking test, and function test, along with cutting and hole fixtures.
Low-density
The amount of components that be assembled using the flex PCB is quite little in comparison to rigid boards.
Quality Requirements
It is generally used in places where repeated flexing is required. The components that are assembled must be able to meet the requirements of their operational conditions. Thus the flex circuit boards must meet higher standards for cleanliness and reliability of soldering than rigid PCBs.
High Cost of Assembly
In comparison to rigid PCB assembly, The cost of flex assembly is higher due to longer production times. This process requires more equipment as well as staff and requires an efficient and well-maintained manufacturing facility.

Design Considerations for Flex PCB Assembly
It is important that Flex PCB assembly specifications that designers should know.
● Base Materials: The most popular base material for flex boards are polyimide films. They are thin and flexible. Select a material that has high electrical conductivity and good thermal resistance.
● Number of Layers: In flexible PCBs, the number of layers will vary according to the type of application. For applications that require dynamic, choose a single-layer board. Depending on the static application, the number of layers can vary from 4 to 8
● Bend Radius: A flex circuit's bend radius is what determines its flexibility. The bend radius of these boards can vary between 1 and 5 mm
Conclusion
As flexible PCBs have lightness and flexibility, they can be moved or rolled up easily, so we need to fix them during flex circuit assembly. Flex circuit assembly is distinct from conventional PCB assembly and calls for the baking of FPC and assembly Jigs.
If the FPC amount for the flex circuit assembly is huge, it's best to make use of the Magnetic Pad Board and the steel sheet to fix the board. If the quantity is small, it's better to use the non-magnetic pad board and high-temperature tape to fix it. For the assembly of flex circuits, make sure you check out the one-stop manufacturer-JarnisTech.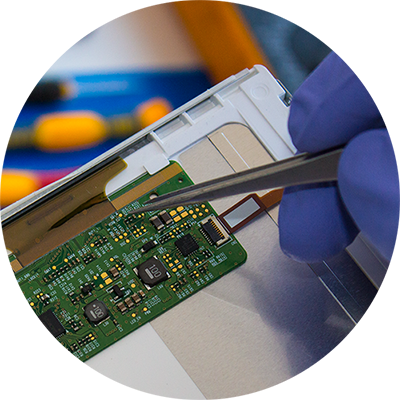 PCBs We Can Assemble
Min size: PCB whose width/length is less than 30mm should be panelized.
Max size: single board 500mm*400mm | panel board 310mm*410mm.
Layer Count: 1-60 layers (1-20 layers for mass production).
Copper Thickness: 1/2oz – 17oz.
PCB Types: Rigid PCBs, Flex PCBs, Rigid Flex PCBs, Rogers PCBs, Ceramic PCBs, etc.
Surface Finishes: Lead/Lead-free HASL, ENIG, ImSilver, OSP, Gold plated, Immersion Gold, etc.
Components We Can Assemble
SMT sizes: 01005, 0201 or larger.
BGA pitch: 0.35mm or greater.
BGA Ball count: 2 – 50.
Fine pitch: 0.4mm or greater.
WLCSP pitch: 0.35mm or greater.
Components Height: 0.1mm – 12mm.
BGA, micro-BGA, POP, CSP, LGA package, Flip chip, Hard metric connectors, Cable & wire, etc.
Min. Components Spacing: 0.20mm for SMT parts, no specific demand for Thru-hole parts.
Custom PCB Assembly Capabilities
Quick Turn.
IPC III standard compliant.
Prototype Quantities to Production Quantities.
Single PCB Assembly and PCB Panel Assembly.
Single and Double-sided PCB Assembly.
Leaded Assembly, Lead-free or RoHS Compliant Assembly and No-clean Process Assembly.
SMT Assembly, Thru-hole (DIP) Assembly, and Combo of SMT and Thru-hole Assembly.
Consigned PCB Assembly, Partial consigned PCB Assembly and Full turnkey PCB Assembly.
Call us to get a free quote now