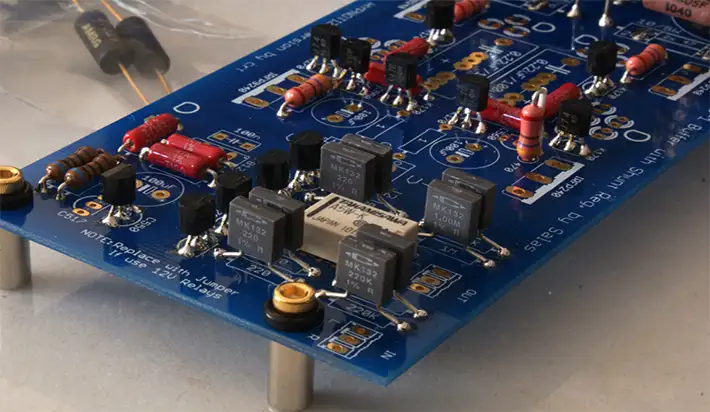 JarnisTech offers full PCB prototype assembly services. Send your PCB file, as well as BOM lists, to [email protected]. Get an estimate of the total cost Today!
Prototype PCB Assembly
Turnkey PCB assembly is one of our specialties. With our skilled engineers, soldering specialists SMT Process Engineers, and Component Procurement experts, we offer an affordable and extremely versatile assembly process for PCBs that comes with rapid turnaround.
We provide the complete PCB assembly for prototypes ranging from 1 up to 20 boards. This service lets you develop complex designs for testing using high-end professional electronic assembly craftsmanship and you don't need to be concerned about the quality of assembly affecting the results of your tests. We have designed our prototype assembly area with a unique layout that allows for a flexible combination of automated and manual part loading. We also have the ability to handle fine pitches components and BGAs for high-density boards like FR-4.
Turn-Key PCB Assembly is our primary business, and we even provide prototype projects. With our knowledge and experience, We can complete everything for you, from PCB prototyping as well as component purchase as well as circuit board assembly, all the same under one roof. We also can assemble using kits as well as Consigned parts If you would prefer.
Do not stress about sourcing components for PCBs and concentrate more on the your design! To ensure a smooth procurement process, our procurement team will work with as many component distributors as necessary.
To decrease total costs, we will optimize packaging (cut tape, tube, bulk, etc.) and versus quantity smaller Bills of Materials (BOMs). We have the ability cross-reference parts, including difficult-to-find and out-of-date items. Your BOM is a guideline to which part numbers and manufacturers we will purchase, so you won't have to worry about part quality issues caused by unauthorized substitutions
The total cost for Turn-Key is the sum of labour costs for the PCB Assembly costs, the bare PCB Manufacturing cost and component cost.
We will use Digi-Key Electronics, Mouser, Avnet, Arrow, Future, Newark or another distributor to determine component prices. We never mark-up any component costs or any handling charges.
We are aware that on-time delivery is crucial, which is why we have designed the turnkey process to make it as effective as it can be. As soon as the parts procurement process is completed, PCB manufacturing begins. We carry out an extensive DFM check and discuss engineering issues and Component issues with you prior to when the assembly process begins. Turn-key Circuit Card Assembly generally takes about 2 weeks, less if there aren't any difficult-to-find components or errors in the documentation.
We at JarnisTech place a high value on customer satisfaction and quality, which has helped us build a long list of satisfied clients. If you'd like to work with a supplier of PCB assemblies for prototypes in China, do not hesitate to call us at 0086-0075-23034656 or contact us with your inquiries or needs via [email protected]. Our specialists will help you throughout the various steps of the initial PCB construction process. We are looking eagerly to making your time with us even better as well as more enjoyable.

PCB Prototype Assembly Advantages
The PCB prototype assembly is a complex procedure. Although it isn't a part of the actual circuit board manufacturing process, it is still of immense importance. We offer prototype PCB assembly because of their have undeniable benefits. Here are some of them:
● This kind of PCB assembly aids in analyzing the design and function of the PCB prior to the final assembly. This can prevent a number of errors in the production process by identifying problems in the early stages. This saves money, production time, as well as resources.
● It's possible to check the feasibility of a circuit at the design stage. JarnisTech emphasizes the use of Design for Manufacturability (DFM) as a means of ensuring quick and accurate design output.
Why Should You Choose JarnisTech 's PCB Assembly Prototype Services
Prototype PCB Engineering Services
● Design for manufacturability(DFM)
● Development in testing(DFT)
● Development of experiments(DOE)
● Create control strategies
● Engineering services with value-added
PCB Assembly Services
New Product Introduction(NPI)
● SMT Surface Mount Assembly Single and Double-sided assembly.
● Plated through-holes, Selective soldering.
● "Mixed technologies": SMT through-hole as well as electromechanical assemblies.
PCBA Function Testing
● Flying Probe Testing
● Functional tests: System and system-level tests, as well as engineering assistance
● Circuit wire bonding
● PCBA Constructive coat (full coat or an individual component coat)
● In-circuit testing (ICT): The development of test fixtures and conducting of tests (suggested creation during prototyping)
Unique Layouts
The company has a reputation for its distinctive PCB design layouts. This allows us to combine the manual and automated parts loading stations with ease. The turnkey Prototype Assembly: Through the years, we've developed strong relationships with our supply chain in the industry. This assists us in meeting the needs for turnkey prototype assembly quickly.
Fastest Turnaround Times
Our expertise in engineering together with our understanding of the industry's requirements and our well-equipped facility allows us to ensure the quickest turnaround times of up to 24 hours.
Reliability
The printed circuit boards we make are IPC certified. This helps us to ensure the reliability of our products.
Competitive Pricing and Quick Quote
Our relationships with our supply chain enable us to ensure the most competitive price. In 24 to 48 hours, we will provide prices for the PCB design and prototype assemblies. Make sure to include the following information:
● Gerber files
● BOM list
● Special processing specifications
● Required quantities

How Do Ask for a Prototype PCB Assembly Quote From JarnisTech ?
Getting a quote for PCB prototype assembly is easy from us; Simply send an email with the PCB design file as well as the bill of material (BOM) document to [email protected]. The price will be finalized within the next 48 hours (If you require a quote quickly, you can send us your email with the subject line "high priority"). Also, include the following information:
● BOM list (complete details will result in an accurate estimate of price)
● Gerber files
● Quantity required (To reduce your entire cost and time to deliver, we will accept the full BOM purchase and part delivery)
● Specific technology process requirements If any (like Selective soldering or mounting without)
The PCB assembly process is free of Minimum Order Quantity (MOQ) limitations for PCB assembly. Even one component is acceptable. Additionally, every component's cost is based 100% on your BOM listing. If you require a comparable replacement to lower costs, we must get your official approval. Our team is able to oversee the entire prototyping PCB assembly procedure that includes the source of all components, their management PCB assembly, the quality assurance and function testing and finally, delivery.
Our circuit board assembly prototype is a specialization service that lets us create complex designs, make them ready for assembly, and then test them without worrying about the workmanship of PCB assembly. The PCB manufacturing prototype section within our facility for manufacturing features unique layouts that allow the flexibility of using both manual and automated parts-loading stations. Our team is highly skilled and proficient in handling parts with fine-pitch along with ball grid arrays (BGAs) for high density PCB with FR-4. Our team can manufacture prototype PCBs ranging from 1 to 1 000 PCBs.
The turnkey assembly of PCBs is our principal function and this is even at the prototyping level. We've engaged electricians and created efficient guidelines for each stage in the fabrication and assembly process so that our clients can profit from the PCB prototype, electronic parts source as well as PCB assembly. We also offer an partial turnkey service that allows us to have the ability to assembly components in accordance with the specifications of the customer.
The PCB assembly prototype service includes the acquisition of the components. This lets you concentrate on the thing you excel at designing layouts. The company is equipped with a team of sourcing who coordinates with a variety of distributors and suppliers to buy electronic components according to client specifications, and our team completes the purchasing details in the most efficient way. We employ advanced methods to ensure the best choice of packaging (cut tubes, tape and bulk and more.) to cut down on the overall cost.
We are also adept at cross-referencing components as well as locating difficult-to-find or obsolete components. Our customers can be assured that whenever JarnisTech replaces components, they are of the highest quality. We use only the electronic part numbers and manufacturers that are specified within the BOM. We won't alter the layout you originally created. Substitutions of parts are only permitted with your approval.
We have experts who specialized in offering quick turnaround times for prototyping circuit board assembly that incorporates surfaces-mount (SMT), through-hole (THT) and mixed-technology components. Our speedy and effective prototyping PCB assembly team can assemble circuit boards in just 72 hours.

Prototype PCB Assembly Capabilities
We procure all components from trusted authorized distributors to guarantee their authenticity. We provide three options to complete your PCB prototype assembly order.
Three Ways to Order PCB Assembly
● Turnkey: We supply all the components needed
● Consigned: All components are sent to us.
● Combo: You send a portion of the components to us and we source the remainder.
The capabilities of our PCB assembly include both surface mount technology (SMT) and manual through-hole assembling. We use the latest picking and placing equipment from MYDATA, precision X-ray imaging equipment from Glenbrook Technologies, and optical inspection equipment from YESTech.
Our rapid turn prototype assembly service can accommodate tiny pitch components as little as 15-mil pitch, passive components as small as 0201 package sizes, or balls grid arrays (BGA) with as little as .4mm pitch, with X-Ray inspection of the placements. Solder types include lead and lead-free RoHS, which is compliant. We employ laser-cut stainless steel stencils (nano-coating available).
For more information on our PCB manufacturing capabilities are full-service and our prototype PCB assembly service, Contact the JarnisTech Sales Rep or contact us at the number 0086-0075-23034656
Prototype Printed Circuit Board Assembly Process Steps
Understanding the process of assembly for PCB prototypes is crucial in the estimation of the cost and other aspects before contacting an enterprise to produce prototype PCBs. The process of assembly is as follows.
Allocation of a specific 2D
It is the first step and begins with the allocation of a specific 2D barcode to every printed circuit board. The barcode is crucial in allowing any trace-back needed, and for this to be achieved, the barcode needs to be scanned throughout the assembly process. Important information, such as supplier information and the delivery of each component's documents also are traced. Additionally, the actions are taken, the duration and the individual who was responsible for the process must be linked in details of the PCB specs and the BOM's revisions.
Stenciling of the Solder Paste
It is the next step of the assembly process. It comes with equipment like a MEDL stencil printer, which incorporates the solder paste onto the circuit board printed.
Pick and Place
The final step is to place SMD components in the correct order. SMD components precisely with the pick and position machine.
It Follows the Exact Installation of Components
The inspection confirms the proper orientation and positioning components are in the correct orientation and position. ( surface mount technology) components prior to sending the assembled assembly onto the soldering process.
Reflow Soldering
The next stage in the assembly procedure is the printed circuit board is placed in the reflow furnace along with all the components that are needed. The oven usually has various zones and will ensure that the solder paste is hardened. Solder paste. It is important to keep in mind that using the solder paste that has an extremely moderate melting temperature is advised. It eliminates the possibility of causing damage to any PCB components due to the high temperatures associated with the process of soldering.
Another Stage of Testing
It is essential to conduct another inspection following the soldering procedure of those SMT components. It will allow for the identification of any possible defects in solder joints. Another side, customer specifications and requirements determine whether inspections are performed manually or by machine.
Insertion Into Through Holes of Components
This is the following step following the second examination. Through-hole components are positioned by hand on the circuit board, which is why you have to make sure that they are placed in the right orientation. Soldering is done by either a machine or by hand, but it is contingent on the amount of the soldering that is required to be selective.
Technical Edge-cutting
This is the next step after the introduction of THT components. Before starting, however, you have to decide if you want to use automated machines to complete the assembly or work manually. In the event that says you're using machines, your printed circuit board be equipped with technical edges, which require cutting off following the complete assembly. However, it becomes imperative to separate the panel at this point if the PCB is supplied as a panel containing many single circuits. To ensure clean cutting of the edges, pre-cut V-cuts or break-out tabs break-out tabs early during the ordering process.
At This Point
once cutting off of edges of the technical components has been completed, The third round of inspection takes place. This is an inspection process that aims to confirm the position and orientation of each component to make sure it's in the correct position. Besides ensuring top-notch edges, the inspection also ensures the quality of solder connections.
It follows as the Next Step Following the Final Inspection
In this stage, the PCB prototype assemblies are put in secure ESD packaging. It is essential to know that every assembly requires its own protection from ESD in its bag. However, if the prototype's dimensions are larger than standard packaging, the assemblies are packed in anti-static foam.
Quality Control
The last stage before the packages are sealed to allow shipping is quality control. The sample is then examined optically to ensure that it is a PCBA sample is high quality.

Summary
One-stop PCB Assembly Manufacturer
When you build your printed circuit boards (PCB) and assemble them in one PCB assembly manufacturer, you will greatly benefit from the process. With decades of experience in the field of electronics PCB assembly, JarnisTech provides a one-stop solution for PCB manufacturing as well as PCB assembly services across the globe. Our advanced capabilities allow us that can produce customer-specific prototypes, low volume or high volume assembly, and undertake high-quality printed circuit board assembly at competitive prices and flexible conditions.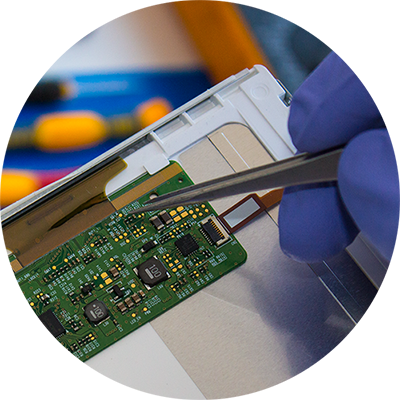 PCBs We Can Assemble
Min size: PCB whose width/length is less than 30mm should be panelized.
Max size: single board 500mm*400mm | panel board 310mm*410mm.
Layer Count: 1-60 layers (1-20 layers for mass production).
Copper Thickness: 1/2oz – 17oz.
PCB Types: Rigid PCBs, Flex PCBs, Rigid Flex PCBs, Rogers PCBs, Ceramic PCBs, etc.
Surface Finishes: Lead/Lead-free HASL, ENIG, ImSilver, OSP, Gold plated, Immersion Gold, etc.
Components We Can Assemble
SMT sizes: 01005, 0201 or larger.
BGA pitch: 0.35mm or greater.
BGA Ball count: 2 – 50.
Fine pitch: 0.4mm or greater.
WLCSP pitch: 0.35mm or greater.
Components Height: 0.1mm – 12mm.
BGA, micro-BGA, POP, CSP, LGA package, Flip chip, Hard metric connectors, Cable & wire, etc.
Min. Components Spacing: 0.20mm for SMT parts, no specific demand for Thru-hole parts.
Custom PCB Assembly Capabilities
Quick Turn.
IPC III standard compliant.
Prototype Quantities to Production Quantities.
Single PCB Assembly and PCB Panel Assembly.
Single and Double-sided PCB Assembly.
Leaded Assembly, Lead-free or RoHS Compliant Assembly and No-clean Process Assembly.
SMT Assembly, Thru-hole (DIP) Assembly, and Combo of SMT and Thru-hole Assembly.
Consigned PCB Assembly, Partial consigned PCB Assembly and Full turnkey PCB Assembly.
Call us to get a free quote now