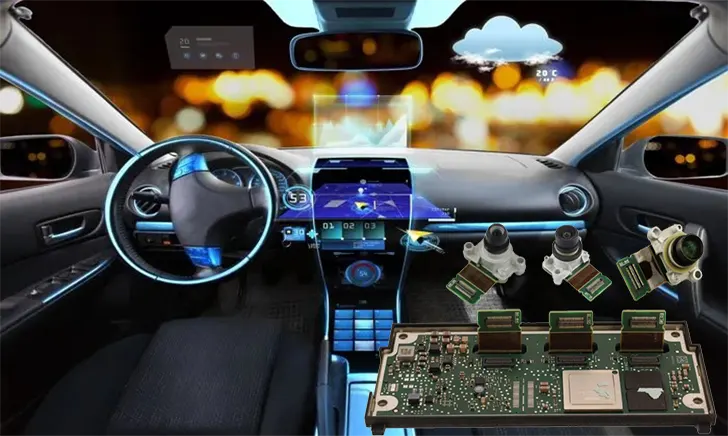 JarnisTech Provide Automotive PCB Services
JarnisTech has a vast amount of experience in the manufacture of automotive PCBs. We offer high-quality and reliable PCB manufacturing services. We manufacture PCBs that are ISO 9001-2008 and UL certified, so they are reliable and durable. All your PCB manufacturing and assembly requirements can be found in one place.
It is our pleasure to provide high-quality products to our customers. Send us your design details and details about the Automotive PCB to this email [email protected], you will get a free quote and professional engineering technology services from us.
What Is Automotive PCB ?
Automotive PCBs are circuit boards that are used in automobile electronics. They include engine controls, antilock brake systems and GPS. Safety is the main consideration in automotive PCB manufacturing.
The demand for reliable PCBs that don't interfere with other systems is going to increase with the addition of heads-up displays, windshield overlays, in-cab navigation systems, and other electronics that help us drive or relax while driving.
Role of Electronic Systems in Automobiles
The application of electronic systems to automobiles aims at improving auto performance. It covers three aspects: security enhancement, environmental improvement, and convenience and comfort.
● Environment Improvement refers to fuel savings: Tail gas reduction and fuel transformation from gasoline and natural gas to pure power or hybrid power. The automotive industry has taken electric vehicles as a strategic direction.
● Traffic accident reduction: It is the key to security enhancement. This includes airbags, radar monitoring and stereo cameras, as well as automatic avoidance of autonomous driving. Autonomous vehicles currently attract the most attention and investment around the world.
● Convenience and comfort are generally rooted in audio: The backbone of electronic devices is PCBs (Printed Circuit boards). Applications for automotive must also meet the above requirements.
Role of Printed Circuit Boards in the Automotive Industry
The automotive industry is moving towards technological advances and innovation. Many applications for automobiles today are based on electronic control. Electronic control circuits, or automotive PCBs, provide reliable and high-quality performance and control systems for issues such as pollution and fuel economy. The PCBs provide the foundation for interconnecting various electronic parts and processes within a vehicle.
Automotive PCB Performance Requirements

Small Size and Lightweight
Reduced size and weight can help save fuel, electricity and the environment. The automotive's size is shrinking. The automotive PCB will be smaller and lighter due to its overall size.
High Reliability
High reliability in automotive PCBs means that the PCB will perform well in complex environments. This is possible within the vehicle's normal service life. Automotive PCBs need to be capable of withstanding a wide range of environmental conditions, such as humidity resistance, water resistance and heat resistance, vibration resistance, electromagnetic interference resistance, and corrosion resistance.
Safety is directly related to automotive PCB reliability. Therefore, it is important that all reliability tests are passed before manufacturing automotive PCBs. Different locations have different reliability requirements for automotive PCBs. These tests are common:
● Thermal Shock Test: Automotive PCBs are required to work in high temperatures caused by heat from the outside or self-generated heat. Thus, we need to test automotive PCBs for thermal shock to ensure they can withstand sudden temperature changes.
● Thermal Cycle Test: The PCB thermal cycle test has different levels depending on the position of the automotive. These are the most common PCB thermal cycle temperatures:
| | | | |
| --- | --- | --- | --- |
| Vehicle Section | Level | Low Temperature | High Temperature |
| Within vehicle body | A | -40°C | 85°C |
| Vehicle chassis below | B | -40°C | 125°C |
| Above engine | C | -40°C | 145°C |
| Transmission parts | D | -40°C | 155°C |
| Within engine | E | -40°C | 165°C |
Temperature and Humidity Deviation Test: Automotive PCBs can fail due to changes in temperature or humidity. Therefore, automotive manufacturers have taken many steps to address this issue; Such as:
● Optimized Materials.
● Self-heating.
Self-heating can be used only when the automobile is running normally. If the automobile has been parked for several days or more in an extremely harsh environment such as high tide or a highly corrosive environment, it cannot be used. If humidity or corrosive gases enter electronic products' interiors through plastic or atmospheric compensation parts, then it is possible for them to become corrosive. Due to this, the PCB's surface and internal structure will be damaged, resulting in failure.
Automotive PCBs Manufacturing Features

High-frequency PCBs
As with military radar, the near-field radar of automotive anti-collision and predictive emergency braking systems rely on PCBs to transmit microwave-high-frequency signals. Therefore, low dielectric loss substrate material such as polytetrafluoroethylene (PTFE) is recommended. PTFE and similar high-frequency materials are different from ordinary FR-4 substrate materials. They require distinct manufacturing capabilities naturally. As an example, when drilling vias, a special drilling speed is required.
Heavy Copper PCBs
Because of their high electronic density, and power, vehicles tend to produce more heat. As hybrid power and all-electric vehicles increase in number, advanced power transmission systems are needed. This drives high demand for heat dissipation capability as well as larger current. In order to achieve that, copper in PCBs should be thickened or copper leads and metal should be embedded in multilayer PCBs.
It is easy to make heavy copper double-layer PCBs, but it's difficult to make heavy copper multi-layer ones. For heavy copper graphics etching and heavy copper gap filling, this is the key point
Heavy copper multi-layer PCBs inner circuit is made of heavy copper. Graphics transferring will require a thick film with a high level of corrosion resistance. To ensure high-quality circuits of heavy copper, the etching time must be prolonged and both the etching device as well as technical conditions should remain in a good state.
As there is a huge difference between the surface of the inner conductor and the surface of the insulator substrate material, usual multi-layer PCB stack ups do not fill in the resin completely, resulting in cavities. Thin prepreg containing a high amount of resin is suggested as a solution. There are some multi-layer PCBs with copper inner circuits of different thicknesses, which allows for the use of different prepregs in different areas based on the degree of differentiation.
Component Embedded
Embedded component PCBs were first developed for cell phones to increase assembly density and reduce overall product size, which is also very important for other electronic products. That's why embedment technology is used in automotive electronic devices.
Embedded PCB Manufacturing Options Vary Based on Component Embedding Methods:
● After the groove is ground, SMDs can be assembled using wave soldering or conductive glue.
● The inner circuits of a thin-film SMD are first assembled using wave soldering.
● On a ceramic base, thick-film components are printed.
● SMDs can be assembled using wave soldering, and resin is used to package them. An embedded PCB of this type is more compatible with the demands of vehicles, such as heat resistance, humidity resistance, shock resistance and high reliability.
HDI Technology
Similar to smartphones and tablets, vehicles also require HDI PCBs for entertainment and communication. Therefore, microvia drilling, electroplating, and interconnection technologies must be incorporated in automotive PCBs.
Aluminum-based Metal Core PCB
MCPCB is a common component in automotive electronics products with bright LED lights. To provide high-brightness white light, these LEDs draw a large amount of current from the battery. In addition, the car's body also contains a small electric motor that can control the heat sink, windows, rearview mirror, and any moving part, and they draw enough power from the battery.

Flex PCBs
These boards can be made from flexible plastic substrates. Most often, they are composed of PEEK, polyamide, or polyester films. These boards can be bent and twisted.The applications of these devices in automobiles can be found around bends and corners.
How To Choose an Automotive PCB Manufacturer ?
PCB Type
Different industries have different requirements when it comes to PCBs. It is unlikely that all industries will use the PCBs made by PCB manufacturers. Find out which industries PCB manufacturers are focusing on and if they have any experience with automotive PCBs.
In addition, different parts of an automobile's electronic system require different types of PCBs. There are many types of automotive PCBs, including metal core printed circuit board boards, high-frequency printed circuit boards, HDI printed circuit board boards and flexible-rigid print circuit boards.
Thus, we need to know who the automotive PCB manufacturer is, what their specialties are, and what kinds of automotive PCBs can they offer.
PCB Quality
Automotive PCB manufacturers might offer different types of PCBs. However, Some types may not be very advantage. We should therefore ask them.
● Does extensive experience in the production of such printed circuit boards.
● Whether the product has been certified and passed strict quality control, such as ISO9001 or TS16949.
● How committed is the company to quality control?
Final, To test the product's quality, you can also obtain low-volume PCB samples.
Printed Circuit Boards Price
If you are planning to purchase PCBs, you should consider their prices. Despite the fact that quality comes first, it is important to keep costs as low as possible if the quality offered by automotive PCB manufacturers is not much different.
Considering the PCB quality is important when determining the price. Different manufacturers may offer different quotations for multilayer automotive PCBs that have four or more layers. This is due to unusual shapes and complex process requirements. To make an informed judgment, confirm any additional charges and understand the production scale of each party.
Auto PCB Manufacturing Capability
Another important consideration is the production capabilities and manufacturing capabilities of automotive PCB manufacturers. Automotive PCBs require higher quality and stability. We need to understand the production process, equipment, annual production capacities, and other manufacturing capabilities of automotive manufacturers in order to ensure high-quality products.
Delivery Time
Before we make a decision on an automotive PCB manufacturer, it is important to understand their delivery and capabilities. When you order, they will guarantee that it will arrive on time and within the specified delivery period.
Additionally, it is vital to consider where the production site located when determining delivery times. This has a significant relationship with transportation time and cost. JarnisTech, for example, is located in Shenzhen. It is adjacent to Hong Kong. It is one of China's most important export trading cities. The transportation system is perfect. You can rely on a reliable sea or air service provider to ensure your products reach their destination quickly, regardless of whether you require proofing or bulk transport.
Service
Learn what services an automotive PCB manufacturer offers. There are manufacturers who offer only high-volume manufacturing, some who offer customized services, and some who offer one-stop services, for example:
● PCB scheme design.
● Design for signal integrity.
● Front-end PCB design.
● Manufacturing PCBs.
● Assembly and assembly of PCBA.
● Testing, etc., as well as related work.
● Technical support after-sales and pre-sales, etc.
When choosing an automotive PCB manufacturer, it's important to prioritize the ability to offer one-stop customer service. Due to incompatibility between different vendors, this can save time and reduce PCB failure risk.
JarnisTech offers a complete range of automotive PCB services. These include component procurement, manufacturing and assembly, as well as inspection and supply chain management. Our technical support and service can be provided 24/7 online. In order to minimize your losses, we can help you resolve any problem you encounter.
Automotive PCB Services of JarnisTech
JarnisTech is the best one-stop PCBA service provider for the automotive market. We offer one-stop PCBA solutions for PCB design and manufacturing, component procurement, testing and assembly testing. Our commitment to quality and traceability ensures that we are the most reliable and trustworthy.
Depending on your specific needs, we provide a variety of services. For the automotive industry, we have produced low volume PCB assemblies since 2002. We are a specialist in "prototype" and low-volume production. We have received IATF16949 and ISO9001 certifications. The quality is guaranteed.

Future of Automotive and PCB Industry Together
These two huge industries could change the industry's shape. We can see today that automobiles are entirely powered by electricity and batteries, completely eliminating the need for fuel pumps.
Future electric charging stations will charge cars like smartphones. This will make your car more efficient and environmentally friendly. Thus, Manufacturing and assembly of PCBs for electronics are integral parts of the automotive industry.
It's only a matter of time before these automotive PCBs are used in every car's engine electronics as well as car's accessories electronics. They will be completely replacing mechanical fuel engines with electric car engines and interface motors that can drive your car efficiently.
Applications of Automotive PCB
In today's cars, there is a wide variety of electronic systems, which means that automotive electronics require a diverse range of PCBs. Depending on the technology used in the car, flexible PCBs, rigid PCBs, or rigid-flex PCBs may be needed. The demand for automotive PCBs in varying types is only increasing as people demand more and more accessories and features powered by electronic components for their cars.
Manufacturers of car PCBs must be able to offer a wide range of PCB options. For improved safety and efficiency, many systems and operations now use printed circuit boards, including rear LED lights, running lights, transmission controls, and comfort controls. Furthermore, you will find PCBs for engines, entertainment systems, digital displays, radars, GPSs, power relays, timing systems, and mirror controls.
Not only do automotive circuit board manufacturers need to offer a wide variety of types of PCBs, but Those who manufacture, assemble, and ship printed circuit boards for the automotive industry not only need to offer a wide variety of PCBs, but they also need to be able to provide boards that can stand up to harsh conditions and support a long life cycle. In order for the PCB to dissipate heat rapidly, high-temperature PCBs are essential.
Circuit board design must keep up with the demands of safety, convenience, connectivity, and other requirements. These complex systems were made possible by PCB applications due to advancements in the automotive industry.
PCBs are the heart of all new cars and come in many types including single-sided, double-sided, multilayer, rigid, and flexible. A broad range of applications are spread throughout the vehicle's operating system, so they can cover a wide range of applications.
What Is Automotive PCB Prototyping ?
Before the production of automotive printed circuit boards can begin, a prototype for an automotive PCB is required. This prototype will help you make high-quality automotive printed circuit boards (PCBs).
It will also help you to understand or determine if the particular automotive PCB design that you are interested in is going to work. Your prototype will save you so much money and time if it is ready before the PCB assembly.
Learn the Specifications for the Automotive Printed Circuit Boards
It is important to identify the material type, dimensions ,plating finish, impedance control, and board thickness. Asides from this, you must also include the minimum pitch and solder mask as well as the size of the holes.
Find Out If There Is a Design Violation
Make sure you review the design rules. You can make a great prototype by using design software. Software required includes Free-DFM (DRC) and eagle.
Generate Gerber Files
The software allows you to obtain the blueprint for an automotive PCB. Next, you'll need to inspect the files and ensure that they are in the best order.
Have Your Stack Up Documented
When your Gerber files are ready, then the time for stack up documentation is set. After that, you need to send it to your manufacturer. Make sure these layers are properly labeled and arranged.
Further, the producer or manufacturer can create your prototype and test it to ensure it works.
Conclusion
Creating Your Next Automotive PCB
JarnisTech can help you get your next big idea on the market. As a leading provider of engineering and design and manufacturing services focused on the automotive space, we provide you with reliability and cost-saving solutions.
Our advanced prototyping method allows you to test, modify, and finally finish your component development. Your next automotive innovation will be completed. We can speed up many of the new modernizations within the automotive industry by using our customer-approved approach to go to market.
Call us to get a free quote now