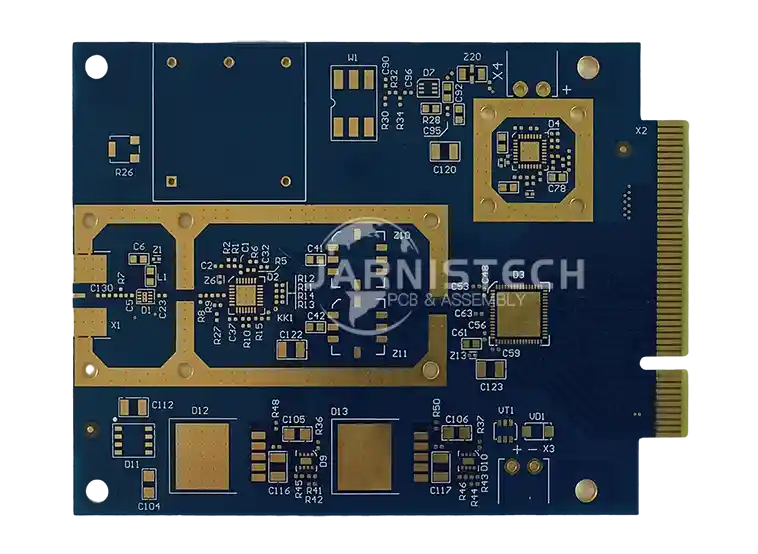 Estimate Gold Fingers PCB Price Send your PCB file at [email protected], We will give you a price as soon as we can.
What Is Gold Fingers ?
There are gold-plated columns along the edges of printed circuit boards (PCBs) that are called gold fingers. The purpose of gold fingers is used to connect an external PCB to the computer's motherboard. PCB gold finger are also utilized in other devices communicating via digital signals, for instance, smartwatches and smartphones for consumers. Gold is utilized for connecting points of PCBs because of its superior conductivity.
Gold Fingers PCB Board
The default bevel for gold finger is value is 45 degrees as shown in the following figure. The standard plating used for gold finger allow for the use of hard gold and immersion gold.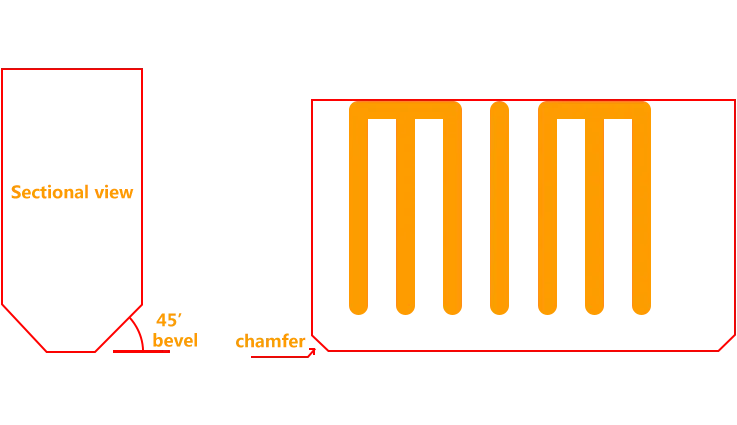 This little finger type has proven to be quite versatile, as it can be used for a variety of purposes depending on what it is intended use. Here are some of these uses:
● Offers connections to network transfer of data.
● Attaches special adaptors.
● Connects various devices to the board. It connects various devices to the.
● It can be used to create an audio adaptors.
The Types of Gold Fingers
There are two types of gold that are commonly used to make gold finger. These are:
Electroless Nickel Immersion Gold (ENIG)
Electroless Nickel Immersion Gold which is also known by the abbreviation ENIG, has a flat solderable face and is fairly cheap to manufacture. It is however malleable and thin, This makes it a poor choice for PCBs that are frequently inserted into or removed from hardware components.
Electroplated Gold That Is Electroplated Hard Gold
Electroplated Hard Gold is much thicker than ENIG, usually measuring at 30Us. Its stable, robust nature makes electroplated hard gold an excellent choice for PCBs under constant use.
Why Do We Need a Gold-plated Finger ?
Industrial applications can face a variety of issues like long-term operations as well as air pollution, temperature and humidity changes dust, shock, corrosion of chemicals, and many other interruptions from outside. Thus, Depending on the situation, any of these factors may negatively affect electronic devices' reliability. Gold fingers are therefore a robust and long-lasting protection for the electronic components, making sure that the devices function reliably and effectively even under adverse conditions.
What Is the Role Played by the Goldfinger on PCB ?
● The most significant function of goldfinger is connecting and therefore, it should possess high electrical conductivityand wear resistance corrosion resistance, oxidation resistance.
● In general, The texture of pure gold (gold) is relatively soft does, so goldfinger not use pure gold (gold). Instead, they use a layer of "hard gold (gold compounds)" on top of the plating. This is not just a good way to increase the conductivity from gold but can also improve its wear resistance and the performance of oxidation.

Get Gold Finger PCBS From JarnisTech
JarnisTech is a full PCB and PCBA service manufacturer and provider in China. We offer all kinds of printed circuit boards and assembly services at a affordable cost. Our huge facility can manage low volume orders thanks to our more than 500 skilled workers.
We are able to supply Gold Finger PCBs that meet your specifications. We are aware of the standards and guidelines that are followed when creating gold fingers. In order to ensure the best performance, we pay close attention to every detail. The quality control system we use is strict and assures top performance. We are accredited through RoHS, ISO, and UL. So our customers can place orders with confidence knowing that we'll offer the highest quality services in accordance with international standards.
We can assist you with developing prototypes as well as complete assemblies. We can provide fast turnaround with turnkey assembly. Buyers can also purchase one PCB for testing their designs. For more details and information please contact us, Our team will be glad to provide you with more information and details.
Application of the Gold Finger PCB
These PCBs with gold fingers are great for use in many applications. Because these PCBs are able to withstand wear and wear, they're ideal for applications that require high performance.
Telecommunication Industry
In the telecommunications sector, the Gold finger PCB is essentia. It provide connects between several boards, and allows connections to transfer network information. This PCB is able to make smartphones can work effectively.
Industrial Systems
This PCB is employed for industrial machines. In many industries, automated machines have internal cards. The gold finger PCBs assist ​link the internal cards to the major source of power. For instance, robot arms generate power with the help of gold finger PCBs.
Different movements are controlled by Different cards, while Gold fingers connect various devices to their cirucit boards.
Automobile Industry
It is common to find gold finger PCBs in automobile control systems and USB connections. This printed circuit is used to connect certain devices.
Application System for Computers
Gold finger PCBs are utilized in notebook memory cards, graphics cards and so on. Due to the advantages these PCBs have they play a major part within the computer sector.
Gold Finger PCB: Functions
A gold finger PCB can be used for a wide range of purposes and has a large number of features. Traditionally, gold fingers are made with flash gold, which has a thickness between 3u" and 50u." Due to its thickness, flash gold is regarded as one of the thickest gold.
Because these PCBs are thick, they are commonly employed in plug-in and plug-out applications. The gold finger PCBs do the following:
Attach an Electronic Device to PCB Board
This printed citcuit board allows to connect various devices. For instance, ISA, PCI, and AGP are connected with the use of a gold-plated finger PCB. Additionally to that, the PCB can provide a solid system for data transfer. This PCB can be connected to any device.
These PCBs with gold fingers are the ideal PCB for any system, whether stationary or remote.
Audio Adaptors Connection
There is a need for a gold finger PCB to help transmit data and signals more efficiently. It also provides high-quality audio and graphics regardless of what it's employed for.

PCB Gold Finger Specifications
Like other electronic components, gold fingers have to be in compliance with stringent specifications and specifications before they are secured to PCB. This ensures that all gold finger components function well and last an extended time.
There must be a correct alignment of gold fingers on PCBs, and the length of the gold fingers must be appropriate for the PCBs. While the position of gold fingers can vary from PCB to PCB there are some commonalities between every gold finger. This includes:
● Plated holes. Gold fingers cannot be placed near holes that have been plated.
● Contact with a soldering mask. Gold fingers are not allowed to make contact with or be close to screens or solder masks.
● Gold finger orientation. Gold fingers must be aligned so that they face the opposite direction as the PCB's center.
Gold fingers must conform to IPC standards for thickness cosmetic appearance, chemical composition and adhesion.
The PCB could be unable to communicate with the parent circuit board if any of the above regulations are not observed during the PCB gold finger plating procedure. In addition the PCB may not fit into the slot that is appropriate on motherboards.
The reason that gold is employed for finger connectors on PCBs because of the alloy's quality and strength. Gold's strength allows fingers to be inserted and ejected hundreds of time without damaging the contacts that connect them. Without the security of the gold plating the circuit board could easily lose the connecting function after few times.
It's understandable that you might wonder why gold stands out from other metals. In fact, gold is one of the rarest and most expensive natural elements on earth. Could it be cheaper to plate the edges of PCBs using nickel or copper?Gold, however, is necessary for the functions required of a printed circuit board.
As PCBs developed into the modern form, gold was selected as the best connecting-contact metal based on many aspects. Gold's main advantages is its electrical conductivity as well as its the resistance against corrosion. To add durability, the gold used on printed circuit boards typically made of cobalt or nickel. These give the gold additional resistance to wear and tear in the face of PCBs that are constantly in use. In the plating process the nickel is a thicker layer between 150 and 200 microinches.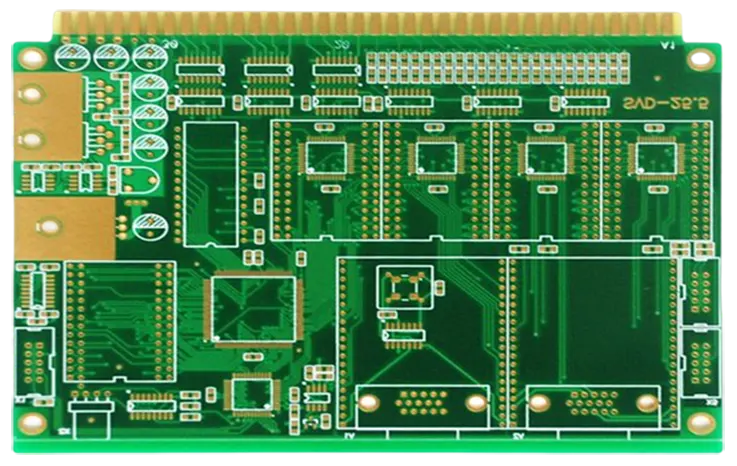 The standards for production of PCB gold finger were developed as of the year 2002 by Association Connecting Electronics Industries (IPC). The standards were modified in 2012 following the publication of IPC-4556. In 2015 the standards were modified by the publication of IPC A-600 and IPC-6010, currently the most frequently used standards for PCB production. These IPC Standards can be described in the following manner:
Chemical Composition: To achieve the highest rigidity at those edges that connect PCB contacts the gold plating should comprise from between 5 to 10 percent cobalt.
Thickness: The thickness of the plating on gold fingers must always be between 2-50 microinches. The most common thicknesses according to dimensions include 0.031 inches, 0.062 inches, 0.093 inches and 0.125 inches. The lower thicknesses are usually employed for prototypes, whereas the thicker ones are utilized on connecting edges that are typically used to insert, remove and re-insert.
Test of Visuals: Gold fingers must be able to pass a visual test by a magnifying device. The edges must be smooth and clean surface, and free of any excess metal plating, or the look of nickel.
Test With Tape: To check the bonding strength of the gold plating and the contacts and the contacts, the ICP suggests a test in which the tape strip is placed on the edges of contact. After taking the tape off examine the tape for signs of plating. If there is any gold plating visible on the tape, the plating is not adhesive enough and the contact points.
Gold Finger PCB Design Rules- know Gold Finger PCB Features
In order to design gold-finger PCBs, there are a few aspects be aware of:
● Gold finger designs are able to be placed either or both sides up to an approximate depth of 25mm from the edge.
● The longest length of the plating pads is typically 40 millimeters when a standard plating baths are used.
● The layers inside must be free of copper at points on PCBs' edges. If not, beveling could reveal the copper.
● Hard gold is coated on each side of the PCB. However, if the connectors are located on opposite sides, there must be a minimum distance of at least 150 millimeters between the two sides.
● To make sure that you get the best panelization For the best panelization, ensure that you have gold fingers facing outwards in the middle of the panel.
● Have allgold fingers connected to 0.008″ conductor tracetraces. This should be on the edges. This makes manufacturing simpler.
● No silkscreens or even a solder masks can be used near gold fingers.
● Plated pads should be placed on the PCB's edge since this is an electroplating process. There must exist an electric connection between the pads and the frames of production panels.
● Chemical compositions – For maximum rigidity around connections on the PCB's edges gold plating should be in the range of 5 to 10 percent cobalt.
● Visual tests Gold fingers should pass the tests performed using magnifying lenses. All edges must have a clear and smooth as well as free of any extra plating or appearance of nickel.
● Tape testing – to test theadhesiveness of gold plating measured through contact Tests are suggested.
● After the tape has been removed, the strip should be examined for plating tracetraces.
If there is any gold plating evident on the tape, that means it doesn't have enough adhesiveness on its contacts.
Once you have mastered these guidelines, it's now time to create the PCB with the gold-plated finger.
PCB Gold Finger Beveling PCB
PCB Gold Fingers plating begins after solder masks have been deposited and before the surface finish has been applied. It consists of the steps listed below:
● Nickel plating: Nickel is initially plated on the connector edges of the fingers between 2~6 microns.
● Gold plating: This step involves between 1 and 2 microns hard Gold is coated on top of the nickel layer. In the general case, Cobalt is also added to Gold to improve the resistance of the surface.
● Beveling: After that, the edges are beveled or tapered at a particular angle (30-50 degree) in order to make insertion into the slots easier.

Possible Causes of Damage to the Finger PCBs
The main reasons for the damage to the PCBs with gold fingers are:
Contamination Mostly Using Solder
Do not place solder masks in close proximity to the gold finger on printed circuit boards. The heat that is generated by any of these devices may cause a contamination of the gold finger, which could cause the damage over time. The solder may cut down the PCB's longevity.
Surfaces That Have Been Scratched
It is possible for a gold finger with scratched surfaces to impair with the printed circuit board's functionality. The majority of scratches are caused by wear and tear. This is the reason why, for PCBs with gold fingers, small scratches will keep deepening. In the future, this could result in permanent damage to your gold-plated PCB.
Reparative Process of Gold Finger PCB
When damage occurs to a PCB with a gold-plated finger There is a need to fix it. However, there are instances that be encountered where a complete replacement is needed. Here is a simple method to repair a damaged gold finger PCB.
Clean and Examine PCB Gold Fingers
The first step is to inspect the PCB for gold fingers and find the areas with issues. Use the appropriate detergent to make sure that the fingers coated with gold are clean and tidy.
Remove the Gold Plated or Fingers
Then, you ensure the damaged parts are tapped off.
Beware: If you've been using gold finger PCBs for a long time the time, it's best to install a brand new version.
Conclusion
The modern day computer and mobile devices become more complicated as companies compete to improve their products and more efficient. When you gather a number of mobile devices and assemble a big computer station, you are liable to have numerous gold-plated circuit boards interacting at the same time. Printers and scanners transmit signals from peripheral devices to motherboard cards via PCBs when you print an article or scan a photo for social media, which receive these signals via PCBs.
Due to gold fingers technology has been able evolve to the current array of devices on mobiles that millions of people are using on a regular basis for these mobilles devices. In addition, gold fingers have improved the efficiency and effectiveness of Industrial.
With increasing technology depend on gold fingers, it is vital to make sure they are plated and tested to the most stringent standards. This is the only way to ensure maximum performance from tech products that use circuit boards. At JarnisTech, we provide PCBs of the highest quality to customers across numerous industries.
Call us to get a free quote now