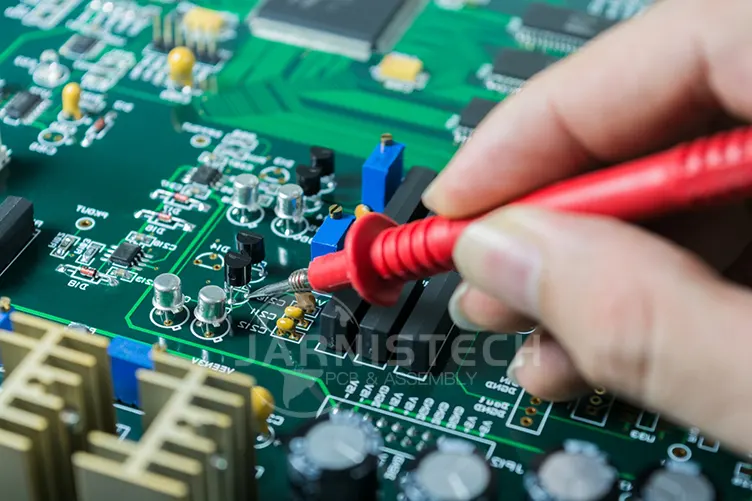 Printed Circuit Board Electrical Test
A test of electrical conductivity is conducted before the delivery of PCBs. In general, all PCBs are tested for E-tests after they are manufactured. Short circuits and open circuits are the standard tests. JarnisTech also offers additional test types based on clients' needs.
PCB Electrical Testing Functions
The electrical tests are now a necessary test procedure for PCBs that have buried vias and blind vias, except for visual inspection and the AOI. E-test alone can identify any missing connections in the circuit board. The principal electrical testing methods for PCBs are in the following order:
● Circuits are open and short-term testing.
● Testing for capacitance.
● Testing for resistance.
● Testing for comparison.
● Flip to test.
● Testing for continuity.
● Testing of proximity.
Two Kinds of Test Equipment Are Used in Electrical Tests
Probe for Flying
The flying probe can be described as the device employed for testing using a flying probe. With the right software for the PCB layout, The flying probes test each signal one at a time. The entire testing duration is between 1 and 3 minutes.
Advantages:
● Testing does not require fixed tools..
● Low prices
● Delivery time is short (suitable ideal for PCB prototyping)
Nail Bed Fixture
The bed of nails is the particular instrument for fixture testing. Every type of PCB comes with an area of the nail. This testing procedure always takes 5-10 seconds for each PCB. Since it is required to design a test fixture for every type of PCB, which is not economical for PCB prototypes.
Advantages:
● Speedy
● More precise
● The tools for fixing can be reusable. (suitable to be used in batch manufacturing)
Both types of E-test have both advantages as well as disadvantages. A flying probe could cost less at first; however, using the nail bed test is more price for batch orders.
Choose JarnisTech for PCB Testing
Whatever method you choose to use, PCB testing is a crucial element of the process of design that can save your company a good amount of time and money by preventing Bugs from affecting the production process. But, in order to run testing on the PCBs, you have you require a vendor who you can trust to guarantee that your prototypes are created exactly to order each time. JarnisTech can help.
We offer a variety of prototypes as well as small-scale production services to aid in speeding up your testing process. With unbeatable quality and reliability, and with no hidden charges, We ensure that you are able to be confident that we will provide you with top-quality prototypes for the next phase of PCB testing. Request a quote today!

7 Types of PCB Testing Methods
In-circuit Testing
ICT (ICT) is among the more reliable kind of PCB testing available. The price is very high. There is a possibility of spending hundreds of thousands on it. There will, however, be a price difference depending on the size of the fixture, the board, and other factors.
It is also called a bed-of-nails test because it powers up the circuitry and actuates actuates the individual circuitry on the board. Most of the time, the test is designed to provide 100% coverage. However, you'll see closer to 85 to 90 percent coverage. The nice thing about ICT is the fact that what coverage you get is absolutely free of human errors.
This test uses fixed probes laid out the same way as the PCB's design. The probes verify the quality of the connections made by the solder. The bed of the nail tester just moves the board onto the probe bed to begin the test. There are access points designed within the board that allow the ICT testers to establish connections to the circuit. They apply the appropriate amount of tension on the connections to ensure it remains in place.
ICT is usually done on larger connections as well as ball grid arrays (BGAs).
This test is designed for the "mature" product with very limited revisions to be expected. If you don't have design-for-manufacturing as your goal, and the board doesn't have the right pads, you cannot run an in-circuit test. It's not possible to make a change and shift to an ICT approach until you've finished production.
Advantages of In-circuit Testing
While a bed-of-nails ICT is less flexible than the flying probe tester (more about that later), It also offers certain advantages.
The biggest draw for users of in-circuit testing is consistency. Testing in circuits provides reliability as the main benefit.. Every time, the test is conducted the same way.
When conducting ICT testing, every component is checked individually by automated testing equipment. The tester is able to check for functionality in the logic. In contrast to other tests, this one actually activates the components.
This comprehensive coverage reduces repair and maintenance costs because it makes other tests unneeded. In-circuit testers are extremely low maintenance. Because there are no moving parts, it makes it easier to keep your supply chain running. In the end, The speedy nature of ICT contributes to this as well. It's fast and cost-effective.
Further reasons why in-circuit testing is worth the investment include:
● Little room for operator error or poor decision making.
● Test ball grid arrays (BGAs) while flying probe testers and AOI can't.
● It's able to carry out an on-board test of the FPGA.
● LEDs can be switched on and tested.
● It is able to check the bottom-terminated component (BTC)'s integrity of solder.
Disavantages Of ICT Testing
When testing circuits, the board needs to be designed to work into the test fixture. Your electronics contract manufacturer usually will not be able to adopt an existing design and adapt it to the test. If you're looking to test circuits on an existing PCB design, you might need to modify the design.
Since the "nails" come up from the bottom of the PCB, it is essential to provide as many access points as you can on your board so that the nails are able to reach their destinations.
In-circuit testing may not be the best option for every OEM or project. It's possible to skip it if you tick off the following boxes:
● Costs that are high at the beginning.
● Longer development time.
● You will require custom tools and programming.
● The inability to evaluate connectors as well as non-electrical components.
● Inability to test components that are in sync.
● Unable to manage the high-voltage (limited to the range of 0-5 Volts)
Flying Probe Testing
Tests using flying probes are a tried-and-true method that is cheaper than in-circuit testing. The test is non-powered and tests for:
● Opens.
● Shorts.
● Resistance.
● Capacitance.
● Inductance.
● Diode problems.
The test operates with needles that are attached to probes on an x-y grid that is derived using CAD basics. The ECM program coordinates are matched to the circuit board's coordinates and execute the program.
We have discussed flying probes vs ICT being a typical comparison. Both have pros and cons.
In some instances, ICT makes it unnecessary to utilize flying probe testing. However, the PCB needs to be designed to be compatible with the test fixture. This means that it will have a higher cost at the beginning.
ICT is faster and less susceptible to error when compared with flying probe tests, which means that you could find it worth it. While flying probe testing might appear to be cheaper at first but it could be more costly for large orders.
A final note of caution One final word of caution: A PCB testing with a flying probe will not allow the board to be powered up.

Automated Optical Inspection (AOI)
AOI makes use of one 2D camera and/or two 3-D cameras to capture pictures of your PCB. Afterwards, the software compares the board pictures with the detailed schematic. If the board is not in line with the schematic to a certain extent, it is flagged for examination by technicians.
AOI can be helpful in discovering issues earlier to ensure production shuts down ASAP. But, it doesn't start the board and might not provide 100 100% coverage for all parts kinds.
Never solely rely on automated inspection. The AOI test should be conducted as a complement to other tests. Our top combinations include:
● AOI and flying probe
● AOI, in-circuit test (ICT)
● AOI and functional tests
Burn-in Testing
As the name suggests, burning-in tests are a much more intensive kind of testing that is suitable for PCBs. It's intended to find the early signs of failure and determine the capacity of the load. Due to its intensity, burn-in testing to damage the parts being tested.
Burn-in testing drives the power through your electronics, typically at the maximum capacity that is specified. The power flows through the board in a continuous fashion for a period of 48 to up to 168 hours. If the board fails this, it's referred to as infant mortality. In the case of medical or military use, boards with the highest infant mortality rates are not the best choice.
Burn-in testing may not be appropriately suitable for every project, but there are situations that make excellent sense. Product launches that are embarrassing or dangerous can be prevented before they reach the market.
Remember that burning-in tests could reduce the lifespan of your product, particularly when the test puts the board under greater stress than what it's designed for. If there are no flaws or issues found, it is possible to decrease the amount of testing allowed over a shorter time frame to prevent over-stressing your PCBs.
X-ray Inspection
Also known as AXI, This type of "testing" is really more than an inspection tool, at least for the majority of ECMs.
In this test, an Xray technician can spot flaws early in the manufacturing process through:
●  Solder connections
●  Internal trace traces
●  Barrels
It is possible to take 2D as well as 3D AXI tests as well as 3D giving a quicker testing time.
The X-ray test can reveal things that are typically not visible, for example, connections and ball grid arrays with solder joints beneath chips. Although this test can be beneficial, it is need for skilled, knowledgeable operators.
Be aware that your ECM cannot necessarily check each layer of the board with the X-ray machines. Yes, we can look across the surface to identify internal flaws, but this is an extremely costly and time-consuming procedure (for both ECM and the end user).
Functional Test
There are people who enjoy a traditional, functional test. Your ECM utilizes this test to ensure that your product is powered up.
This test will require certain items:
●  Equipment that is external
●  Fixtures
●  Specific requirements are required for UL, MSHA, and other standards.
The test's functionality and parameters are typically provided by the purchaser. Certain ECMs can assist in the development and development tests.
It can take some time. This may not be the best option if you want to deliver your product to market quickly. However, functional testing can save faces and money from the perspective of quality and longevity.
Other Functional Test
There are other kinds of tests that you can use to examine your PCB according to the conditions.
A PCB functional test checks the behavior of a PCB within the end-user's environment of the product. The requirements for functional tests, their procedure of development, and the procedures used to conduct it are different for each PCB as well as the final product.
Other PCB Assembly Testing Types Include:
● Solderability Test: Improves the durability of the surface and increases the chances of forming a stable solder joint.
● PCB Contamination Testing: It detects bulk ionics which could be harmful to your board and cause corrosion and other problems.
● Micro-Sectioning Analysis: Examines defects, openings or shorts as well as other problems.
● Time-Domain Reflectometer (TDR): Finds failures in high-frequency boards.
● Peel Test: Calculates the strength required to peel the laminate from the board.
● Solder Float Test: Determines the level of thermal stress PCB's holes will withstand.

What Is the Importance of Electronics Testing
Even the most well-designed and constructed electronic components are susceptible to failure. The problem must be discovered before the device is made available for mass production, usually at the beginning of the development phase.
This is why it is vital to ensure the proper testing of electronic components, specifically the printed circuit board (PCB) tests.
Testing is an important element in testing as part of the PCB designing process. In addition to achieving economies, PCB testing throughout the production cycle helps to prevent or minimize problems at the end of the production line.
Prior to and during the production of PCBs, A lot of designers' time and effort goes into Quality control, as well as PCB testing. They need to ensure that all the indicators, like capacity, performance and impedance, are in line with the appropriate ranges, and that the PCB does not have short circuits or open or defective solder joints.
There are numerous quality checks to ensure that high-quality designs are appropriate for production on a scale. Therefore, many professional designers begin by focusing on the printed circuit board assembly (PCBA) for testing. Then, they can install PCBAs on systems and perform an overall test.
When the board is manufactured and assembled, experts conduct an array of PCB board testing. PCB board testing is designed to evaluate its quality and yield and Ensure that the design was not damaged during assembly. The PCB tests are generally conducted on small batches or prototypes. They look for short circuits of electricity, as well as defective solder joints, and verify their functioning.
Benefits of PCB Testing
Many businesses view PCB testing as a necessity due to the numerous advantages it offers. Review the top benefits of PCB testing:
Issue Identification
The main reason to conduct PCB testing is that it assists in identifying issues in PCBs.It doesn't matter if the problem is in the manufacturability or functionality or any other area; PCB tests reveal issues with a PCB's design and layout in order to help designers can adjust accordingly.
Time-saving
PCB testing during the initial stages can reduce time over the long term and help designers identify significant issues during the prototyping phase. A thorough test allows designers to pinpoint the reason behind each issue quickly and quickly, and then make adjustments to continue producing more quickly and cut down on lead time for products.
Reduced cost
PCB testing can prevent the manufacturing of defective products by making small-scale assemblies and prototypes to test the product. Through thorough testing earlier during the design phase, designers can stop the unnecessary full-scale assemblies made of defective PCBs and ensure that their design remains as perfect as possible prior to go into production. This helps greatly reduce the costs of production.
Fewer Products Returned
When businesses conduct PCB tests, they reduce the chance of selling defective products or ones which don't meet the standards for performance. This means that they don't receive any returned items, which results in lower expenses associated with returning customers' money and dealing with defective products. Also, having fewer returned items can lead to higher satisfaction of customers and an increase in the image of the company.
Improved Security
Because PCBs are commonly employed in vital electronic technologies and devices, their failure could result in major problems in a company's efficiency or an organization's capacity to provide essential services. A damaged PCB could trigger an explosion, putting people who are near it at risk. Testing before manufacturing will also help ensure that machines, as well as workers don't get injured or damaged because of a flawed design in the course of production.
Although thorough testing isn't mandatory for all PCBs, especially for older products that are in their final product cycle, However, most new PCB designs require a regular and thorough test of the design procedure. The benefits of PCB testing can be experienced by your organization by establishing an appropriate PCB testing procedure.
What Is Being Tested
● Lamination
PCB lifespan is determined by this component. Therefore, it is essential to test carefully and thoroughly. In the absence of testing, can lead to issues with the final functionality of the PCB boards. Testers concentrate on the laminate's resistance so that they can peel it by force or using heat.
● Copper Plating Tester
In order to ensure good conductivity, test the quality of copper used in laminating the board. They examine the tensile strength and the elongation of the board in detail.
● Cleanliness
This is the ability of PCB to withstand environmental conditions such as corrosion and humidity. Analyzing PCBs before and after exposure to various environmental conditions is part of this process.
● Solderability
For a functioning PCB, solderability testing is essential since it ensures that components can be attached firmly to the board. The most often examined aspect is the amount of wetting or how well the surface can be able to accept liquid solder.
● Environment
Many PCBs are often used in humid conditions, and the most common test for PCBs is water absorption. If the PCB weighs significantly different before and after being placed in a humid environment, quality of the PCB board is not up to standard.
● Electrical
Testing the PCB conductivity in order to allow electric currents to flow minimal leakage.
● Quality of Wall Holes
It is a crucial component that needs to be tested to make sure that the wall of the hole isn't damaged or cracked when the PCB enters the field. This component is tested in a setting that is rapidly changing and cycling temperatures to assess how they react to thermal stress.
Cost of Testing PCBs
One method to gain cost justification is to attempt to do a cost benefits analysis that is able to support each kind of test. If the budget is set from a few boards up to maybe fifty or so, a reasonable PCB test option could be a flying probe. However, in the event that the cost is more normally speaking, the in-circuit test (ICT) might be an appropriate option.
The price for making ICT fixtures ranges from several thousand dollars to upwards of $50,000, and the proof is needed to justify these greenback expenditures. This is before the number of product shipments is considered. In the event that you find that an EMS company is shipping between fifty and a hundred boards per month for an on-demand market, for instance, and it is determined that the product's lifespan is anticipated to last at least 2 years or more, The value of this costly ICT fixture may be amortized over the amount. With all other incidental costs in mind, the cost marginal of the fixture for each board is quite small.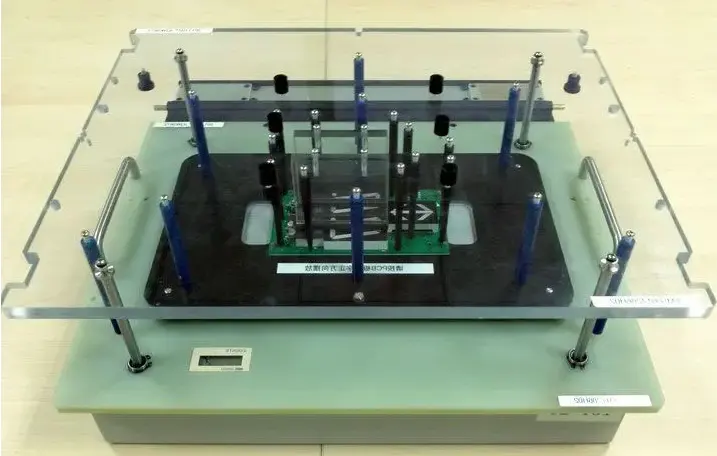 In contrast, If monthly shipments with regard to the variety of PCBs are massive, say 250-300 boards per shipment, the amortization process wouldn't be two years. Therefore, the entire worth of an extensive ICT fixture may be amortized within one year. Thus, amortization is contingent on the ICT fixture's production value, as well as the frequency of the shipments planned for AN extended time.
At JarnisTech Technology, we understand the process of testing completely, and our products are thoroughly tested. We've been offering our services for over 20 years and employing an experienced team of engineering and manufacturing experts. We have made our name within China's PCB manufacturing industry of China.
Conclusion
High-quality testing is essential to PCB design, especially at a time when the complexity of PCBs is constantly growing. PCB manufacturers typically select the appropriate test combinations, but outsourcing companies that value their reputation and customers often perform comprehensive PCB and PCBA tests. Testing for electronic components can not only guarantee the security and reliability of the PCB, but in the long term, it can reduce time and cost and enhance trust among customers by identifying and preventing possible problems before they are made available to mass production.
Call us to get a free quote now