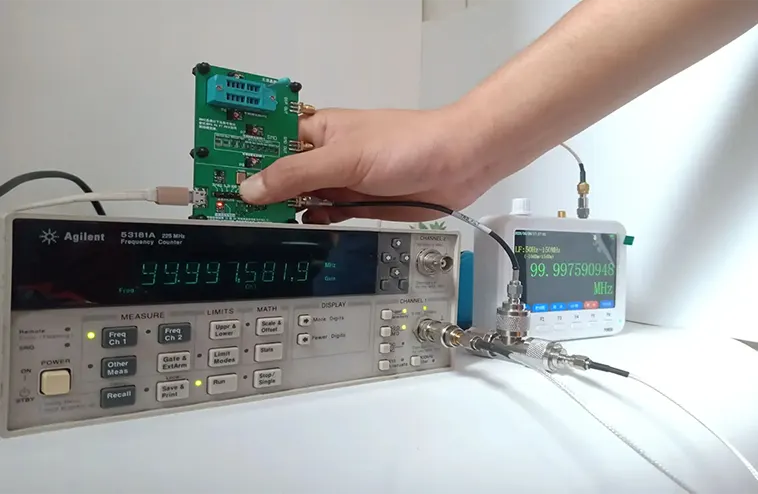 Medical PCB/Medical Device PCBs
JarnisTech company has over 20 years of experience providing custom printed circuit boards for medical devices. We have consistently ensured that every board meets the highest quality standards. Our quality assurance standards cover specialty materials, cleanliness, support for many product types, and stringent processes.
Our medical printed circuit boards are designed specifically for a variety of care settings, lab settings, and testing scenarios. At JarnisTech, we pride ourselves on our ability to fabricate medical instrumentation PCBs with precision, and our customers have always been satisfied with the results.
We will provide professional suggestions for your medical PCB and assembly project if you're interested in PCBs for the medical industry. If you'd like to learn more about the challenges and applications of PCBs for the medical industry, as well as what you need to consider when designing medical-grade PCBs, please contact us.
What Is a Medical PCB ?
Medical PCB is a type of PCB that's used to make medical equipment and facilities. Medical equipment and facilities must be accurate and precise due to the sensitive nature of medical fields. It's primarily because using these equipments and facilities on people puts their lives at risk. It is essential that medical equipment be built using reliable and precise medical PCBs in order to provide accurate and reliable results.
Technologies for Medical PCBs
The current trend in electro-medical devices is to create smaller products with a higher density of components, as has been the case in other electronic fields. There are many implications for printed board design as a result of this. These include the arrangement of components, their relative distances, length and distance between traces, as well as thermal dissipation. The margins of error for designing a board have decreased dramatically, which often means that need greater flexibility during design and production.
This need can be met by PCB technology that allows for the creation of high-density connection boards (HDI). The area for routing the traces is reduced by reducing the PCB's size and increasing the complexity of the functionalities.
Flexible and rigid-flex printed circuit board technology is another popular technology used in medical PCBs. Medical devices are often not the standard size and shape of traditional PCBs. They must fit in the smallest area possible, which ensures the same reliability and durability. Flexible PCBs can be made of lighter materials to reduce the overall device's weight. These PCBs can bend to optimize space and reduce production costs. This gives the designer more flexibility in designing the case. Even though the design of a flexible computer board is more complicated than a rigid one, it's much easier to create a robust and ergonomic device.
Flexible PCBs have significant mechanical advantages over rigid ones in many medical applications, particularly wearable ones. Flexible PCBs can also be connected to rigid boards using thin flat cables without the need for bulky connectors.
Many wearable devices are now using non-standard PCB forms. This is a result of the current trend in many devices that monitor vital signs, such as those for training, fitness, or clinical purposes. Sometimes, the PCB may take on completely different shapes. Designers can easily design printed circuit boards with a variety of shapes and sizes by integrating flexible and rigid-flexible PCBs.

Primary Use PCB Boards in the Medical Industry
There are many options when it comes to selecting the right PCB specifications and materials for medical equipment and devices. You can get the best performance for your medical device by choosing the correct PCB specifications. Below are some of the most important PCBs in the medical field. Also, you can see the top factors that make certain PCBs suitable for specific applications.
Flexible PCBs
The FlexPCBs are the top choice for many medical devices. Flex PCBs are a great choice because they can be bent to fit in places that require flexibility. Flex PCBs are great for medical devices that will need to be wrapped and folded.
Flexible Aluminum PCBs
Flex PCBs can be used for many electronic medical devices. However, certain high-power devices require a stronger PCB. Because they have heat transfer properties, flexible aluminum PCBs can be used for high-power applications. These boards are ideal for scanning and surgical lighting applications.
PCB Microcircuits
In addition, you might want to consider whether flexible PCB microcircuits are right for your project. We know that they are malleable like flex PCBs and offer greater performance, at the same time, the PCB microcircuits can be used with smaller PCBs.
On account of the unique design of PCB microcircuits makes them ideal for small medical devices such as hearing aids, industrial sensors, and wearable devices.
Polyimide PCB Material
When you are looking for the best base material for your PCB board, Polyimide is a good choice. The flexibility and tensile strength of polyimide PCB substrate materials are outstanding. Since the materials are extremely durable, thermally stable, and chemically resistant, making them ideal material for medical devices like prosthetics or implants.
Ceramic PCBs
These Ceramic PCBs make a great choice if you use medical devices that have low coefficients of thermal expansion and high thermal conductivity. These PCBs are capable of operating at extremely high temperatures and can provide exceptional high-frequency performance. They also allow for easy implementation of high-density traceing and resist chemical erosion.
Rigid-flex PCBs
A rigid-flex PCB offers both the flexibility of circuits and the reliability of rigid PCBs. In order to connect the flexible materials with other layers, the flexible materials are plated through holes between rigid layers with conductors. These boards are more durable than flex boards and offer greater design flexibility. These boards are used in many applications, including consumer electronics, lighting and contract manufacturing, instrumentation and more.

Medical PCB What Is Traceability
It is a invaluable asset to be able to track your steps. This allows you to look back at past practices and have an idea of what the outcome will be. This hindsight can only be useful if it contains data or information that identifies areas for improvement or actions. It is possible to define traceability as follows for circuit boards and electronics:
Definition
For PCBA development, traceability means that raw materials and components, as well as the equipment and processes (including inspection and validation techniques), which utilize them throughout the manufacturing process are tracked and documented through specific data, such as product serial numbers.
It is important to consider three primary aspects of traceability in the medical industry when developing PCBAs and electronics:
Quality Management
The ISO13485 standard is an international agreement for all medical device suppliers and OEMs. This standard must be adhered to by all suppliers of medical devices to companies or organizations. The OEM may require other links in the supply chain to comply with the requirements of this standard, such as those that supply components, materials, and maintenance.
Process Agility
Manufacturers can develop and implement an effective risk management plan by following the PCB traceability requirements. It is also an internationally acknowledged standard, ISO 14971, which provides a comprehensive framework for managing risk. Among the templates available are Preliminary Hazard Analysis (PHA), Hazard Analysis and Operatability studies (HAZOP), Failure Mode Analysis and Effect Analysis. Having these strategies in place will help you improve the reliability of your product development process.
Legal Responsibilities
Another reason to comply with PCB traceability requirements regarding medical devices is to provide legal protection in the case of an emergency that could result in harm to patients or other significant damages. In such situations, it can be extremely valuable to show your compliance with industry standards.
How Can We Meet Your High-reliability Needs With Full Traceability ?
Using IPC-6012 class 2 and class 3 as a guide, we build standard, advanced, and micro boards that are highly accurate. All advanced boards are compliant with UL 94 V0 flammability standards. The following documents and certificates are provided by us:
● Certificate de conformance.
● Specifications of the material.
● First article inspection report.
● Reflow profile copy (included in the first article).
● Photo requirements.
● IPC J-STD-001E.
● Keep a record of all calibrated tools used in manufacturing.
● AOI or visual inspection report.
● Report on flying probe/in-circuit testing.
● Report on the Ionic cleanliness test.
The Following Standards Are Used To Build Reliable, High-quality Medical PCBs for Healthcare & Med-Tech Industry:
● IPC 6011: Defines performance specifications of class 1 and class 2 PCBs.
● IEC60611-1: Basic safety and essential performance requirements for medical electrical equipment.
● IEC 60601-1: Defines the electromagnetic requirements (EMI/EMS) for medical PCBs.
● ISO 13485: Provides requirements for quality management systems for medical equipment.
Every PCB Board Offers DFM/DFA Checks
DFM and DFA analysis are our specialties. We offer internal quality control systems and preventive services. If you choose to go with IPC Class 3, we can provide engineering support to ensure that your design performs as expected.
Considerations When Designing and Assembling Medical PCBs
● Consistency: The primary requirement for a Medical PCB, is that it provides reliable output every time it is used. Due to its potential for affecting human life, precision is crucial when designing a medical PCB.
● Safety: Some medical devices can be worn or implanted as tiny circuits. The medical PCB design must protect the patient from any vibrations or extreme temperatures.
● Convenience: User-friendliness in Medical PCB Design is a key factor. It is important has to take into account the product's easy accessibility as well as its durability.
● Lifespan: The efficient design of power and on-board batteries is essential to prolong the equipment's lifespan. The device's lifespan can be improved by understanding the common failure points and designing a sturdy product.
All of these factors can be addressed by adhering to the regulations and medical PCB standards.
Assembling Medical PCB
The next step after designing and fabricating a PCB is assembly. The PCB assembly involves soldering various electronic components onto the fabricated board. Since an assembled PCB board can function to achieve its intended purpose, this procedure is performed to test the bare PCB whether functions as intended.
You should consider some important factors before assembling PCBs. These important factors include the type and function of the PCB, as well as the characteristics of its parts. When it comes time to assemble the circuit board, you will need some essential tools. You will need testing equipment, soldering machines, and SMT equipment to assemble. Solder paste and solder wire are also important materials.
It is extremely important to perform a design-for-manufacture test before you start assembling the board. It is necessary to test the design for manufacturability before you begin assembly in order to identify and resolve any design issues. DFM's main objective is to ensure that the final medical circuit board functions as expected after assembly.

PCB Assembly Challenges Faced in the Medical Device Industry
● Assembly: There are several challenges faced by medical device manufacturers when designing and building their products, and many of those challenges can be applicable to printed circuit boards components. The most common are:
● Standardization and Regulations: Many regulations and standards are applied to the medical industry. These standards ensure products are reliable, safe, and traceable. This is crucial for the protection of patients and personnel. As a result of stringent regulations, companies may have difficulty getting their products sale approved. All components, including PCBs must meet the applicable standards.
● Performance Requirements: Equipment and medical devices must provide predictable and reliable performance. These requirements are met by PCBs. They ensure that devices and equipment work as intended when they are designed and constructed correctly.
● Production Costs: It is important to keep within budget when producing and developing medical devices. Manufacturers need to find a way of balancing performance and regulatory requirements with costs.
These challenges can be difficult, but a PCBA partner who is experienced and knowledgeable can help you overcome them.
Why Choose JarnisTech for Your Medical Device PCB Manufacturing Needs ?
It is crucial for any company to make the right decision when outsourcing electronic assembly. Electronic Manufacturing Services Group, Inc. is committed to providing the best customer service and industry knowledge. JarnisTech is a manufacturing factory with more than 20 years of experience. It is located in China, ShenZhen. We are experts in PCB assembly and electronic component manufacturing. Our industry leadership position in the Turnkey PCB assembly field has been made possible by the expansion of our production capabilities and technical capabilities. We are ISO 9001 certified, so we strictly adhere to expandable quality control practices that are expandable. We also specialize in the following technologies:
● Surface Mount Technology (SMT), Manufacturing.
● Through-Hole Manufacturing.
● Electronic Assembly.
● Box Construction and Final Assembly.
● Testing and Inspection.
Our Capabilities
JarnisTech provides engineering support and complete PCB fabrication services to medical instrumentation engineers. Medical devices can benefit from our ability to produce high-frequency, high-density interconnect boards.
The following are some examples of how our PCB capabilities can help you go from concept to market:
Prototyping: If you are developing a new product or redesigning an existing design, JarnisTech can help you by providing PCB prototypes to test the design and PCB before production begins.
Engineering Support: JarnisTech offers engineering support to customers. We consult with them to make sure that the specifications of their PCBs are within budget and for their intended use. Our top engineering solutions include Design Rule Check and Design for Manufacturability. We also offer cost consulting, stack-up designs, surface finish consulting, laminate and raw material considerations. With our help, you will be able to design PCBs that meet your quality and financial requirements.
Fabrication: In addition to providing engineering solutions and prototypes for our customers, we also have the ability to oversee the process of fabrication. Due to the complexity of the PCB manufacturing process, we have established long-standing relationships with domestic and overseas PCB facilities capable of providing our customers with high-quality, affordable products.
Lifecycle: JarnisTech will continue to assist you after your PCB goes through engineering and fabrication. With our support, you will get the highest level of service throughout the whole lifecycle of your PCB, whether you have any questions or require analysis. To minimize future PCB problems, we also test and check every PCB circuit boards that we sell.
Our team is fully staffed and equipped to meet your PCB and electronic manufacturing requirements. In-house inspection and testing services are available to help you get your orders in a timely manner. Call us at 0086-0755-23034656 to request a quote or for more information about our services. You can also reach us via our contact page.
Medical PCB Applications
You can find them in many different applications in the medical sector because of their variety. Take a moment to look at some of the most top medical PCB applications as you decide if you require them:
● X-ray computed tomography.
● Infusion fluid controls.
● Diagnostic devices.
● Cochlear implants.
● Equipment for imaging.
● Equipment for electrical muscle stimulation.
● Wearable medical devices.
● Dental equipment.
● Response neurostimulators.
● Monitors for blood glucose and pressure.
● Monitoring devices.
● Ultra-HDI cables and circuit boards.
● Smartphones and tablets for mobile health applications.
● Imaging devices.
● Sensors for 2D and 3D.
● Implanted defibrillators.
● Magnetic resonance imaging equipment.
● Digital X-ray Equipment.
● Flex and rigid-flex interconnects for sensitive equipment
● Ultra-thin equipment.
● Dispensing systems and flow rate.
● Monitors of body temperature.

Get Quote on Medical Printed Circuit Board and Assembly
Our website allows you to securely upload files. To give you a quote, we need the following information:
● Gerber, ODB++, or IPC-2581
● BOM, if you require assembly
● Quantity
● Delivery time
Conclusion
Contact JarnisTech Today To Get Your Medical PCBs.
A patient might not be able to get a diagnosis if a medical device is down. A PCB failure can pose a serious health risk if the machine is used to save a patient's life. Medical devices require long-lasting, reliable components. This is why medical device professionals need to use reliable PCB fabrication and assembly sources.
JarnisTech Company manufactures and assembles PCB products from all materials, If you looking for a PCB and assembly factory to hadle your medical PCB project, now please contact us, you will get a free quote on your medical PCBs.
Call us to get a free quote now