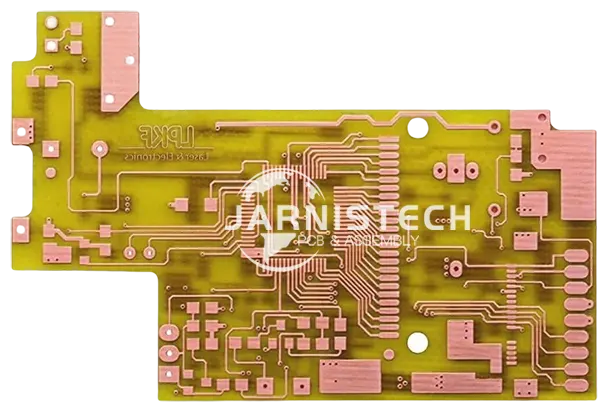 What Are the Quality Certifications for Isola PCB ?
The main quality standards to be followed by the top Isola PCB materials must be able to include:
● ISO certificate
● Certification for REACH
● Certification by UL
● RoHS certification
Your Leading Isola PCB Supplier in China
In the world, JarnisTech is considered to be the leading producer and distributor of Isola PCBs. With more than 20 years of experience, we are experts in the production of Isola PCB which you cantrust. JarnisTech as a high-quality and reliable manufacturer of Isola PCBs, we guarantee to provide you with the best and most high-end Isola PCBs.
Our PCBs are an high-performance product because it is constructed of Isola materials. JarnisTech Isola PCB is widely utilized in electronic end-markets, which include networking and communications equipment computers, computers, and other high-end consumer electronics.
JarnisTech can produce Isola PCBs for products that are designed to be used in the most advanced automotive markets, military, medical and aerospace. JarnisTech Isola PCB meets all the industry standards like IPC 6012 CLASS3/3A, AS9100D ISO 9001, MIL-PRF-31032, MIL-PRF-5110, and others.
What Is Isola's PCB ?
This is a Complex printed circuit boards are fabricated with high-performance Isola laminates materials.
The product incorporates proprietary resin constituents engineered to meet the most demanding performance requirements.
This PCB is utilized in the most important electronic devices, including top-of-the-line consumer electronics as well as aerospace equipment.
Types Of Materials Used in Isola PCB
The components utilized in the production of Isola PCBs include:
Prepreg
impregnated material or prepreg is a dielectric material that is characterized by unique characteristics and electronic insulation. When manufacturing prepreg, a technique called fiberglass fabric infusion is employed, which is usually used to rectify Isola PCB's method.
Copper Clad Laminates
This copper-clad laminate or CCL is created by suppressing a few of copper and prepreg layers combining them in conjunction with one another. For the Isola PCB maker, this procedure is best done under high pressure, temperature, and vacuum circumstance.
What Is the Material Used To Make Isola's PCB Resin System ?
Isola PCB makes use of no-flow prepregs. They are polyimide-based and are suitable for PCB applications that require high temperatures.
They utilize a polyimide-based retardant resin system that is ideal for applications that require higher performance and better thermal properties. The materials that make up the prepreg of Isola use a blend of polyimide and thermoplastic resin. They can be fully cured without making recourse to Methylenedianiline (MDA).
This leads to in polymers with a higher Tg that avoids the issues of brittleness as well as weak bond strength at the beginning. The resin structure that is the basis of Isola PCB is superior to the structure of the resin of thermoset polyimide, a traditional thermoset.

Isola's Materials & Applications
Isola's high-performance material is used in the following industries:
● Automotive and Transportation.
● Networking and communications.
● Radio Frequency and Microwave.
● Aerospace and defence.
● Computing storage, computing and peripherals.
● Consumer electronics.
● Medical industries, pharmaceuticals and instruments.
Materials Isola Products
370HR
IS620i
I-Speed
FR406
IS415
I-TERA MT40
FR408
IS410
I-TERA MT40 (RF/MW)
FR408HR
Green Speed
Terra Green
P95/P25
GETEK
Terra Green (RF/MW)
P96/P26
185HR
Tachyon 100G
G200
370HR
Astra MT77
IS680-300
IS550 New Product Q2 2019
370HR
FR408HR
Constructing the Multilayer Isola PCB
Manufacture of multilayered Isola PCBs utilizes prepreg and CCL through complex operations involving multiple processes.
The laminate's copper surface is cut. This creates electronic circuits. Going forwards, by inserting one or more prepreg plies between each etched laminate, the laminates will be assembled to form a multilayer structure
Plating and hole drilling follows the creation of electrical interconnections among PCB layers. In the end, the Isola PCB that results will serve as a device for interconnecting semiconductors and other components.
The Advantages of Isola PCB Laminate
Isola substrates are high-performance, 180°C glass change temperature (Tg). FR-4 system is suitable for multilayered Printed Wiring Boards (PWBs) where maximum thermal performance and reliability is required.
Isola laminates and prepregs are produced using a special multifunctional epoxy resin that is high-performance and which is reinforced by electric grade (E-glass) glass fabrics.
While maintaining FR-4's processability, this system offers improved thermal performance and lower expansion rate compared to conventional FR-4 systems.
Alongside this outstanding thermo-performance, it also has superior mechanical water and chemical resistance characteristics that match or surpass the capabilities of conventional FR-4 materials.
Isola PCB Features

High Thermal Performance
● Tg: 180°C (DSC).
● Td: 360°C(TGA @ 5% wt loss).
● T260: 60 minutes.
● T288: 15 minutes.
● RoHS Compliant.
● UV Blocking and AOI Fluorescence.
● PCB fabrication and assembly with high throughput and accuracy.
● Superior Processing.
● The closest thing to the conventional processing in all high-speed materials.
● Core Material Standard Availability.
● Thickness ranges from 0.002″ (0.05 mm) to 0.125"(3.2 mm).
● Available in full-size sheets or in a panel format
Prepreg Standard Availability
● Forms of panel or roll.
● Prepreg panel tools are available for tooling.
● Copper Foil Type Availability.
● Standard HTE Grade 3.
● RTF (Reverse Treat Foil).
Copper Weights
● 1 oz and 2 oz (18, 35, and 70 μm) available.
● Heavier copper available upon request.
● Copper foil that is thinner available upon request.
Glass Fabric Availability
● Standard E-glass.
●Glass fabric with a square weave is available.
Industry Approvals
● Qualified for UL's MCIL Program.
JarnisTech Offers The following Isola Materials' Manufacturing Services
If you're looking for other high-frequency PCB material, in that case, you are in the right place. Dupont PCBs, Arlon PCBs, Rogers PCBs, and Teflon PCBs are normally we have material on stock. If you need a special part number, we can order it for you.
Usually, we have the material in stock. If you require a specific part number is required, we can purchase the material for you. Don't hesitate to send your inquiry to [email protected]. JarnisTech will be your reliable PCB Supplier.
Do you want to learn more about Isola PCB? This is where we will explain to you everything you need to know about Isola PCBs. Among them are its uses, properties, features, quality testing, laminate material, and quality certification, among others.
You can become an expert on Isola PCBs by reading on.
What Laminate Materials Are Utilized in Isola PCB ?
Now, let's take a look at the most common laminate materials that could be utilized in the manufacturing of Isola PCBs:
Astra MT77
The laminate material used in Isola PCB comes with great electrical features that remain constant across a broad spectrum of temperatures and frequencies.
It has a stable dielectric constant that is within the range between -40 ° Celsius to +140 degree Celsius. Furthermore, Isola Astra MT77 offers a dissipation rate of 0.0017 which is extremely low. This is the reason it's cheaper than PTFE as well as other microwave laminates that are used commercially for PCB.
The laminate is perfect for a variety of current PCBs for RF/microwave designs.

DE104
The DE104 has a high thermal resistance because of its low CTE and unique resin system on the Z-axis. DE104 is also equipped with the decomposition feature and glass temperatures between 315 degrees and 135 degrees Celsius and 135 degrees Celsius, respectively.
The time it takes for the laminate to be delaminated at an temperature of 260 ° can be as long as 12 minutes. The material can be processed with standard parameters and is generally referred to as FR-4.
ED130UV
This laminate made of epoxy made by ED130UV allows you to meet the specifications to make PCBs using a material that blocks UV. The Isola PCB laminates are created out of the epoxy base with high-tech surface plies of epoxy.
The ED130UV is able to help a lot in UV fluorescence, as well as blocking when used with the Automated Optic Inspection.
FR402
It's composed of tetrafunctional epoxy resin intended for use in applications that require multilayer Isola PCB, which requires high-performance properties that are superior to difunctional epoxy.
The FR402 formulation was to improve the accuracy in addition to throughput AOI devices that use lasers. In addition to this, it offers very good resistant to chemical and thermal degradation
FR406
The Isola PCB laminate is the industry standard for high-performance materials for epoxy PCBs. It is designed to meet the specifications of multilayer PCBs and ensure that the traditional FR-4 process is maintained.
The FR406 provides excellent thermal and chemical performance, product stability, and enhanced dimensional control.
FR408
The Isola F408 is a form of high-performance PCB laminate and prepreg that is made to provide better PCB-related applications. As a result, it has the lowest dielectric constant and dissipation coefficient. This is the reason they are ideal for PCBs with broadband capabilities that require greater signal speeds or better reliability of signals.
It is a good Isola PCB material that can be used with the majority of processes that use FR-4. Thanks to this feature, you'll be able to use the FR408 process without adding complex fabrication techniques that are currently used.
FR408HR
The Isola Material is high-performance material one with temperatures of 230 degrees Celsius. This FR-4 materials is suit for multi-layer PCB that require high-end thermal performance and reliability. This Isola FR408HR material and prepregs are made by using the multifunctional resin complex copyrighted that is reinforced with E-glass fabric.
With its excellent ability to resist moisture in reflow and other fantastic characteristics, it is an item that fills in the gap from both electrical and thermal perspectives. Isola PCB is a great choice for electrical and thermal applications. Isola PCB material is also able to provide UV blockage and laser fluorescence for maximum compatibility with:
● Systems for optical positioning.
● Optic inspection systems which are automated Solder image masks.
● Another materials is the Isola Tachyon material.
Which Is Superior Between Isola PCB and Nelco PCB
For performance In terms of performance, the Nelco PCB and Isola PCB are both excellent. They both provide superior mechanical and thermal properties. Isola materials comply with RoHS standards, and the majority of them have high heat reliability. They can be made using leaded free.
There are numerous other Isola laminates, excluding Isola 370HR, such as IS415, IS680, IS415, IS680, 185HR, the FR402, FR406N, FR408 and the FR406N, IS410, and G200. There are many other materials that are high TG materials, like Shengyi S1000-2 IT180A, KB6167, Ventec VT-47 and S1170.
What Differentiates the Isola 185HR and 370HR ?
In discussing the difference between the Isola 185HR and 370HR, one of the things that immediately comes to mind is the construction process.The copyrighted method is used to create the laminate and prepreg equipment for the 185HR Isola, while the high-execution FR-4 epoxy complex is utilized for the laminates and prepregs for the 370HR.
The 185HR Isola PCB has a 340 degree Celsius disintegration temperature, and 360HR's glass transaction temperatures are 180° Celsius.
The 35HR Isola is able to block the laser's fluorescence as well as ultraviolet radiation and provides advantages related to optical positioning, solder mask image or optical examination. However, 360HR has precipitation chemical and mechanical resistance power.

What Is the Rheology in Isola PCB Fabrication ?
Rheology is the term used to describe the examination of waves of substances exposed to pressure and temperature during PCB production. This way, Isola PCB manufacturers is able to show the amount of equipment used, its temperature and heat peak rates pertained to shear, etc.
With Rheology, an Isola PCB manufacturer can attain press lamination-associated information. The fundamental Rheology model of an Isola PCB has two layers in parallel, with designated substances in the middle. Among these two layers here, one pile to another in parallel.
What Are the Various Tests in Isola PCB ?
JarnisTech uses a variety of methods of testing to ensure the highest performance from Isola PCB, making sure the PCB products are tested prior to departing the manufacturer. We employ thermal testing to test the rate of heat flow into and out and a different test procedure to determine the resistance that is present in Isola PCBs to the chemical.
Isola PCB materials are tested for electrical integrity to ensure they are able to be used for a range of electronic devices. The reliability and durability of Isola PCBs can be tested by mechanical means There are also specific testing procedures, such as Fourier Transform Infrared Spectrum (FTIR) as well as Scanning Electron Microscopy (SEM) to assess the overall performance of Isola PCBs.
Conclusion
At this point, you ought to have acquired a vast understanding of Isola PCB. The printed circuit board is complicated and is made by using the most durable laminate material. This kind of PCB is used for the vast majority of electronic devices, including aerospace equipment as well as high-end consumer electronic devices.
At JarnisTech, professional and dedicated staff with extensive PCB industry experience support Isola PCB's high-quality products.
JarnisTech offers a 24/7 technical support team, excellent after-sale service, and will be your great business partner! Contact us now!
Call us to get a free quote now