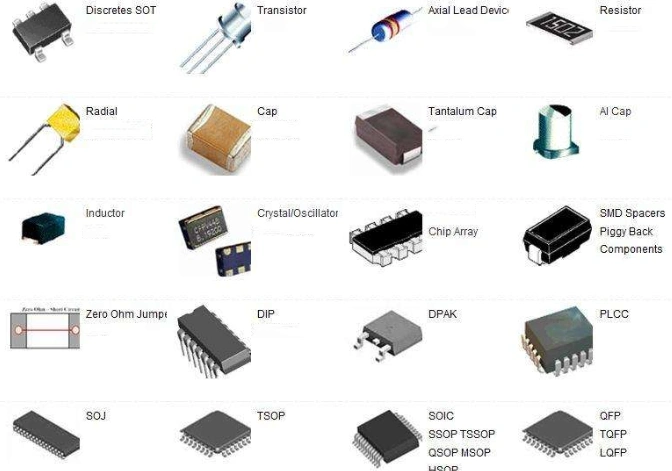 What Is PCB Components Sourcing ?
PCB Component sourcing is the process of buying the PCB components that will be assembled on the printed circuit board.
Components can be sourced in various ways.
The suppliers can buy components from authorized and trustworthy distributors and deliver them to your company through an order.
You could also recommend an agent from whom the supplier can source components and then bring the components to you.
However, you may choose to source certain parts and let a third party find the rest.
The sourcing of components can be local or overseas.
International component sourcing typically takes between 5 and 10 days, based on the time of the customs clearance.
Alternatively, local sourcing can save time and money. This is why it is recommended, particularly if all of the necessary components are in stock, because it reduces time and costs for production.
Expert Advice On Sourcing Components For Your Tech Product
Lead Times For Components May Be Longer Than You Might think
The term "lead time" refers to the length of time between the moment you make an order for an item and the time it arrives. Lead times can differ considerably: It could take anything from a few weeks to up to a full year to get a piece ordered and delivered in the event that parts aren't immediately available through distributors. Most parts are within the 12-20 weeks lead time if an order needs to be made through the manufacturer.
Different components may have such a wide variety of lead times because of a variety of factors. There are many factors that can affect lead times, including global manufacturing changes, material supply chains, and market demand. Even the size of your order may be a factor: sourcing 10,000 parts is significantly different from sourcing 10. Don't use the past as a guideline. Just because it took just several months to receive goods last time does not mean it'll be the same this time around.
Last-minute Purchases Could Result in a Higher Cost
Let's suppose that the production process would take about a week, but you're missing parts and aren't fully prepared on the day your deadline arrives. The manufacturer might take your name off of the queue. The project that follows you will require three weeks to finish. Then there's another project planned to follow that. The delay on your component just Your component delay just got compounded while you are waiting to see your CM approve you once more.
Market Conditions in the Global Market Are Not Always Predictable
For instance, the past shortfall of ceramic capacitors. They are present in nearly every small electronic device and they typically are less expensive than one penny. In recent years, there was a shortage and the stock was not sufficient to meet demands. A growing number of companies were making mobile phones, tablets as well as other electronic gadgets, and factories were unable to meet the growing demand, thus extending the time for delivery.
Products Can Go End-Of-Life
Generally, it's a good idea to make sure your components from reaching end-of-life prematurely. Typically, a manufacturer will inform an exact date to let you know when production will end. JarnisTech will help you stay up to date with this information since we receive notifications of changes from the manufacturers they work with. we also provide advice on which parts could work as substitutes in your design.
It Is Not Always Easy To Vet Distributors and Manufacturers
It is also possible to get counterfeit products if you do not go through a trusted distributor or manufacturer. Despite looking the same as the real thing, a lower-quality component is likely to fail. Even a 1% failure rate can have a significant impact on your business, no matter what the rate may be. If one out of 100 components fails, it's a sign that one out of 100 of your products isn't working correctly. This could result in damage to your brand's reputation as well as a terrible customer experience, and a slew of unhappy customers.
To Get the Best Results, Work With a Professional
They Can Assist in:
● Quickly Obtaining components: Getting components fast JarnisTech has millions of components on its own. (Be sure to check with us when you begin your project!)
● Forecasting: Check your production schedule with JarnisTech and get support in placing orders in order to meet important deadlines on your product's timeline.
● Risk Assessment: And determining which components are likely to reach the end of their life and then discuss suggestions for sourcing as well as alternatives to the design.
● Bill Of Materials (BOM) Tool: With JarnisTech's BOM tool, you can make a component list, source parts, understand lead times, and plan for unexpected delays.
● Find answers: To your questions for Answers, JarnisTech team is on hand by phone or email to assist you whenever you require assistance.

Components (BOM) Souring Service
JarnisTech is a PCB manufacturer, assembly as well as design company. If you choose one of our Turnkey PCB assembly services, All components which include the active and passive components, will be provided by us. That's mean, we are accountable for the complete BOM components for sourcing.
We recognize how important it is to reduce component cost and reduce PCB as well as PCBA fabrication turnaround times by implementing strategic components sourcing management. We have long-term partnerships with a variety of component suppliers and manufacturers in the US and abroad. We can find those parts that are difficult to locate at reasonable prices and quick delivery times, and we also offer the widest selection of top-quality components.
All suppliers of components are vetted to ensure they meet all our standards for quality and the sourcing lead time requirements. Only trusted suppliers are allowed to procure and be used in your PCB assembly project, whether they are used in the form of prototypes, or low-volume and high-volume runs.
Types Of PCB Components
There are a variety of PCB components. Listed below are just a few
Keep in mind that the kind and design of the components will be contingent on the particular functions of their assembly process.
A Few of the Most Commonly Used PCB Components Are Listed Below:
● Resisters
● Capacitors
● LEDs
● Power inverters
● Power regulator
● Battery
● Transistors
● Inductors
● Diodes
● Backplane connectors
● Filters
● Suppressors
● Sensors
● Circuits integrated
● Temperature cut-offs
● Modules for energy harvesting
● Lamp holders
● Backlighting components
● Monitors
● Clips
● Switches
● Semiconductors
● Transformers
● Chokes and coil
● Processors
● Controllers
● Thyristors
● Thermistors
● Antennas
● Ferristers
● Varistors
● Connectors
● Component sockets
Electronic Component Overages and Quantities
It is important to have certain quantities components ready for your PCB assembly project in order to ensure smooth assembly and shipping. Furthermore, it will be for each setup of the feeder, and the remaining components will be lost during removal and installation. Thus, if the PCB assembly job is set up more than once or in the future, additional components will be needed.

Continuous Strips & Tapes for Consignment or Partial Turnkey Assembly
In order to set up and operate an SMT placement machine properly, parts overages (or extra parts) are required because the feeder and picking nozzle of the machine have a small length that is unusable. Moreover, the machine may throw away some parts, and manual uploads to the feeders may miss parts. A PCB assembly will be packaged with unused and excess parts supplied by you or purchased by us and returned to you.
In the case of SMT parts that are not supplied on reels, you should keep them on one continuous strip of tape, not cut them into separate strips if you need to assemble different PCB boards with the same SMT parts, just keep them in the continuous strip of the tape or on the reels.
Standard of the purchasing quantity for parts or quantity to PCB Assembly Prototypes. For large-scale PCB production runs additional parts by percentages are acceptable for us. All additional components are essential to ensure smooth assembly and the delivery of your completed boards on time.
If parts are provided by you, please send each kit separately. Do not mix several orders into one box unless the kits are clearly marked and separate. It is recommended that all kits come with a packing list describing the contents and quantities of each item.
Directly working with PCB assembly manufacturers, JarnisTech will bring you numerous benefits when it comes to the sourcing of components, not just at a price. Get a cost estimate for BOM now from Jarnistech!
Quality Testing During Component Sourcing for PCB
Testing of quality for PCB components is carried out by contract manufacturing companies during the production process.
This test is mostly performed to ensure quality control.There are three parts to it:
Fabrication
Fabrication assures that the specifications of the design for spacing, clearances and size of drill holes are within the acceptable tolerances.
You may also ask your manufacturer to carry out some optical and electrical tests on your PCBs.
Currents in the trace, pin voltages the temperature of the board, supply levels, and switching as well as signal timing can also be tested upon request.
You may also want to request that the manufacturer sourcing your components test your PCB for functionality. This method although is time-consuming and costly, but it helps to prevent field faults.
Additionally, it will reduce losses, and damage to your brands, and ultimately promote a good relationship between your business and your clients.
Testing Process for Component Procurement
As soon as you have purchased all the PCB components quoted in your BOM, your BOM is compared against the purchased components to ensure accuracy.
Some contract manufacturers do additional checks such as component tolerancing and solderability testing.
Assembly
If your components supplier also assembles the components, they are also tested for functionality after assembly.
It is more inspected in comparison to the prior steps.
The tests that are involved in this consist of both external and internal optical scans, tests for electrical and chemical contaminations, and electrical tests.
During assembly, design tests can be conducted to ensure that the PCB conforms to the design specifications.
The contract manufacturer sets rules and regulations to help you ensure that the specifications for the components meet acceptable tolerances.
Failure to comply with these rules could delay the manufacturing of the board or prevent the fabrication and assembly of boards.
PCB Component Shortages: 7 Ways To Prevent Them
When selecting a component during the schematic phase, make sure it's not obsolete. The information can be found on the site of the manufacturer and also on the distributor's websites like Digikey and Mouser. In addition, you should select new components, check the lead times, and choose manufacturers with a good reputation.
● You should generate a BOM after you have completed the schematics and send it to your assembler for verification.
● Before assembling the Printed circuit board, check the availability of the components.
● When sending files to fabrication, select alternate components (as a backup).
● Whenever possible, it's best to be flexible with part values
● In order to achieve long-term fabrication goals, it may be necessary to make minor changes.
●If your fabrication partner asks you question for components project, respond as soon as possible.
● Component sourcing is an essential element of the manufacturing process and must be done with care to avoid delays and limit downtime.

Component Sourcing: How To Get a Free Quote
It's essential to prepare a detailed bill of materials, which consists of raw materials, items, assemblies, subassemblies, and components.
If the bill of materials is ready, please submit a quote request by clicking the link below.
In general, it takes approximately one week to complete components procurement from the time the components are ordered until when the parts are received. Based on the difficulty level of the procurement process, lead times differ from the fastest lead time of five days.
Our Advantages Below
● Manufacturer direct pricing allows customers to profit more.
● Professional technical teams offer free DFM service.
● Make sure delivery will be in time. Our services also include Quick Turn PCBs, PCBAs, and components, as well as sourcing
● If you need a sample order or a huge number of OEM production, we all can handle it.
● Full-service manufacturing in-house and capacity.
● The rigid production process and advanced equipment ensure high quality PCBs and PCB assemblies.
● Lead time:Samples are ready in 7 working days, batch production takes 2-3 weeks.
● Upon shipping, all electrical components are tested for functionality.
● Certifications include ISO 9001, Rohs, UL, ISO14001, and ISO/TS16949.
JarnisTech: Why Source Electronic Components From Us
Calculate the BOM cost. Please send the BOM list to [email protected]. The quote will be sent to you soon.
JarnisTech is a major hybrid distributor of electronic parts within Shenzhen. Our company offers a wide range of active and passive components (IC-components – integrated circuits, memory chips, diodes, transistors, etc.), as well as electromechanical components ( connectors, switching devices, etc.) or hard-to-find electronic components.
We are a certain brand's authorized agent. We as well as working with other authorized distributors and agents as well as distributors and authorized agents,and Strive to improve our advantages of more electronic components continuously. We offer Original Equipment Manufacturers (OEM) and manufacturers of original brands (OBM) Electronic contract manufacturers and manufacturers of electronic product contract (EPC), EMS ( Electronics Manufacturing Service) providers, as well as Design houses (Design House) to provide complete supply chains for electronics components.
Our business covers industrial control security, military LED lighting medical equipment, Automotive electronics instruments and consumer electronics, optoelectronic coupling communication, power management networks, and computer circuit components sensors, smart homes, smart homes instruments, and high-speed subway lines automation. We are able to provide customers with different fields, including purchase on the spot, bill of materials matching, lower costs purchases and small-batch purchase.
Distribution
JarnisTech has several years of knowledge working in the electronic component industry. It has a great collaboration with several well-known brand makers and their agents. JarnisTech also serves as an agent to distribute famous brands in the US and overseas.
Genuine Parts at a Fair Price
From well-known brand manufacturers to direct agency suppliers to first-hand suppliers, you can be sure that your components products is authentic and original. All brands and products are priced competitively.
Superiority Products
For well-known brands, we have a deep cooperation with many broad channels and leading international importers: integrated circuits, MOS field effect transistors, diodes, Schottky, voltage regulators, SCRs, optocouplers, IGBT/power tube sticker chips with LED capacitors, resistances, and inductances, connectors, etc.
Fast Shipping
Stable channels and a long-term supply. We keep a huge amount of inventory, inquiries and orders. Components can be delivered fast. The supply of the conventional variety is sufficient, and your delivery will not be delayed. Professionals at IQC supervise and thoroughly inspect each components to ensure that the product is authentic.
Qualitative Service
Excellent products, extensive expertise, and knowledge of current market trends offer cost-effective services and the quickest purchase of inventory acquisition for products.
Full Traceability
We operate full supply chain management,, only buying from franchised distributors or directly from manufacturers. This helps us to get the highest quality opportunities and the most competitive cost-per-units. All suppliers are reliable and trustworthy, and the entire procurement process is traceable.

Bill of Materials (BOM) List Quotes
Experienced for many years in inspection and distribution. Offer customers the most trustworthy items and solutions. Send us the product's information or the BOM to us, and we will send you an estimate of the price along with the date of delivery.
As we are a PCB Assembly producer, We know electronic components in depth, and we know the significance of each component is.
Conclusion
Over twenty years of experience working in the field of circuit assemblies has allowed us to establish strong collaborative connections with authorized distributors of components which include Digi-Key, Mouser Electronics, Arrow Electronics, Avnet, Laird, Microchip, etc. This allows us to procure your components at a reasonable price. In order to ensure PCB components' durability, quality & performance and ensure that your circuit boards are powered with the best functioning components, we will always purchase your components from authorized distributors.
In cases where the budget for your project is extremely limited and you need to switch to self-selected suppliers who are offering relatively lower component prices than authorized distributors, we will purchase components from your recommended suppliers to help you reduce production costs. We do not warrant the quality or performance of the components that you purchase through your preferred channels.
Please contact us via [email protected] for more information. We will get back to you within 24 hours.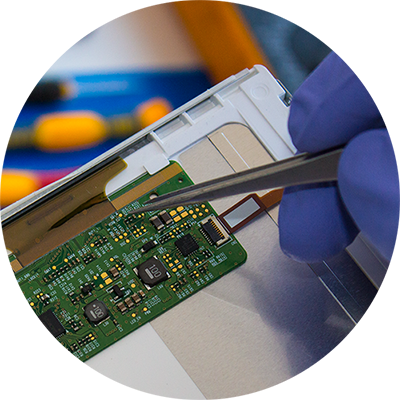 PCBs We Can Assemble
Min size: PCB whose width/length is less than 30mm should be panelized.
Max size: single board 500mm*400mm | panel board 310mm*410mm.
Layer Count: 1-60 layers (1-20 layers for mass production).
Copper Thickness: 1/2oz – 17oz.
PCB Types: Rigid PCBs, Flex PCBs, Rigid Flex PCBs, Rogers PCBs, Ceramic PCBs, etc.
Surface Finishes: Lead/Lead-free HASL, ENIG, ImSilver, OSP, Gold plated, Immersion Gold, etc.
Components We Can Assemble
SMT sizes: 01005, 0201 or larger.
BGA pitch: 0.35mm or greater.
BGA Ball count: 2 – 50.
Fine pitch: 0.4mm or greater.
WLCSP pitch: 0.35mm or greater.
Components Height: 0.1mm – 12mm.
BGA, micro-BGA, POP, CSP, LGA package, Flip chip, Hard metric connectors, Cable & wire, etc.
Min. Components Spacing: 0.20mm for SMT parts, no specific demand for Thru-hole parts.
Custom PCB Assembly Capabilities
Quick Turn.
IPC III standard compliant.
Prototype Quantities to Production Quantities.
Single PCB Assembly and PCB Panel Assembly.
Single and Double-sided PCB Assembly.
Leaded Assembly, Lead-free or RoHS Compliant Assembly and No-clean Process Assembly.
SMT Assembly, Thru-hole (DIP) Assembly, and Combo of SMT and Thru-hole Assembly.
Consigned PCB Assembly, Partial consigned PCB Assembly and Full turnkey PCB Assembly.
PCB Electronic Components
Call us to get a free quote now