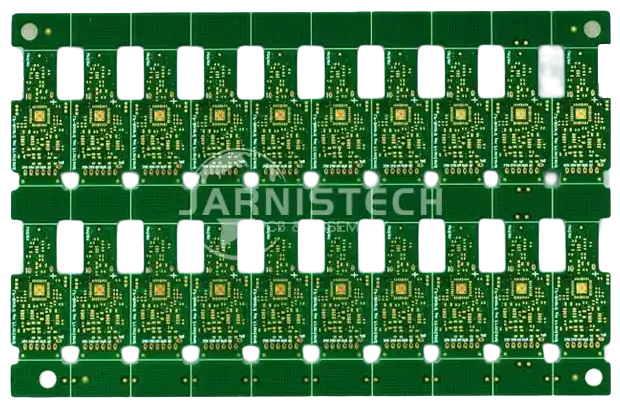 We Are Your Leading Nelco PCB Supplier in China
JarnisTech manufactures Nelco PCBs with RF technology and digital microwave, mostly to support telecommunications and the internet structure.
Aside from that, we also offer Nelco PCBs for high-end computing and automotive applications.
Our Nelco PCB is also fitted with top mechanical and electrical properties. That makes our Nelco PCB suitable for high-layer design digital layouts.
Nelco PCBs from JarnisTech offer excellent CAF resistance and thermal stability for lead-free assembly.
We also produce Nelco PCBs using a variety of top-quality materials, such as FR4 and high-speed epoxy prepreg/laminate and other advanced circuit materials, such as polyimide, cyanate ester and BT. Due to this, our Nelco PCB is best for:
● Low loss/high-speed and fine multilayers with line.
● Backplanes.
● Networking Communication servers and networking.
● Wireless technology and mobile phones.
● Automotive.
● Diverse containers and mounts.
Are you searching for an excellent and high-end Nelco PCB to use in your electronic or business projects? It's best to shop with a reputable and reliable manufacturer! In the end, you can buy at JarnisTech manufacturer!
The Definition of Nelco PCB
Nelco materials were used to fabricate this type of PCB, so call Nelco PCB. These materials provide outstanding mechanical and thermal performance. The Nelco PCB is perfect for high-speed, multilayer PCBs. Furthermore, the majority of Nelco boards have superior thermal stability and CAF resistance. Additionally, they comply in accordance with RoHS standards. RoHS standard.
Nelco PCBs provide conductivity and anodic filament (CAF) resistance to allow lead-free assembly. Additionally, Nelco PCBs are widely utilized in high-speed digital applications. These boards have proven to be among the most effective PCB materials in the market.
What Are the Materials Used in Nelco PCB ?
There are many different kinds of materials that are used in the production of PCBs. Each material has its own characteristics. Therefore when choosing PCB sheets, we must understand the reason behind the production of PCB PCBs, as well as the properties and features of the sheets.
Listed below are several types of Nelco PCB design plates:
● FR N4000-NF – N7000-1 – N7000-3
● N4000-2 – N4000-6 – N4000-7
● N4000-6F – N4000-7S1 – N4000-13
● N4000-13 SI – N4000-29 NF – N5000-30 PP
● N5000-32 Laminate – Meteorwave 8000 – Meteorwave 8350
● Meteorwave 1000NF

Nelcote7 Advanced Composites
● F-529
● E-765
● E-761
● E-752
● E-746
Nelcote7 Digital Electronic Materials
● N4000-13
● N4000-13 EP
● N4000-29
● N4000-7 EF
Nelcote7 RF / Microwave Materials
● N4350-13 RF
● N4380-13 RF
● N9000-13 RF
If you're interested in making a prototype Nelco PCB, Please contact us, we will provide the best service and highest quality Nelco printed circuit board for you.
Properties of Nelco PCBs
A Nelco PCB has excellent mechanical and thermal properties. It is suitable for applications requiring signal integrity and precise impedance control. The main properties of Nelco PCBs are:
● Assembly Compatibility With Lead-free Technology: Nelco materials can be used in assemblies that have a reflow temperature of 245°C. But, the reflow temp could increase to 260°C. This is contingent on the type of construction and design process.
● High and Loss Speed: Nelco PCB has a low dielectric constant and dissipation coefficient. Thus, it is able to be used with low distortion and rapid signal propagation. This is ideal for high-performance and high-frequency applications. This PCB is suitable for applications that fall within the 1-10GHz frequency range.
● Excellent Thermal Stability Great Thermal Stability: Nelco PCB boards provide excellent thermal stability. This is the reason for the capacity of Nelco material to withstand heat. The glass's transition temperature can be greater than 210 °C.
● Conductive Anodic Filament (CAF) Resilient: This is what makes Nelco circuit boards suitable for digital and RF applications. It also provides an extended period of reliability for these applications.
● A wide Range of Constructions: The PCB is available in various designs. Furthermore, these designs vary from copper weights to glass designs. They are also available as a two mill system.
Factors That Impact Nelco PCB Performance
The performance and capabilities of Nelco PCB are influenced by various aspects.
Fiberglass Weave
Glass fibers are woven by manufacturers in order to create fiberglass panels. This aids in the production of fiberglass within the prepreg as well as the core.
In addition, manufacturers impregnate the panels with epoxy resin. The fiberglass weaves come available in various styles of glass depending according to the form of fiber utilized.
Nelco PCB's dielectric constant will be steady if the weaving netting is rigid. This is why loose weaves will result in less stable Dk.
PCB Stack-up Design
This is another factor that could affect performance of Nelco PCB boards. A poorly-designed stack-up could impact the transmission of signals. In addition, it could affect the reliability and power delivery of the board. When making Nelco PCBs, it is crucial to consider stacking. Nelco PCB manufacturers use various different layers of prepreg that alternate as well as copper foil and the core.
The Temperature of Transition to Glass (Tg)
Nelco boards are susceptible to expansion and contraction as a result of temperature fluctuations. The speed of expansion or contraction depends on the CTE that is present in the Nelco PCB material. When selecting the Nelco PCB materials, look for one that has a high Tg that can sustain temperature cycles. Tg is the term used to describe what temperature PCB's PCB resin is higher than glass.
Nelco PCB Laminate is frequently chosen by our European customers. We have therefore created a sufficient standard Nelco PCB laminate inventory that is able to be delivered on time onto your Nelco PCB.
Nelco PCB Laminate is one of the most popular PCB laminates available in the PCB industry. Thus, this is definitely the best PCB raw material option that you can custom design yourself. We have enough stock to satisfy your Quick Turn and small and medium-volume Nelco PCB requirements.
Learn more about our information. Contact us via [email protected].

Things You Need To Be aware of Nelco PCB
If you're interested in electronics and PCBs, you've likely been aware of the Nelco PCB, but do you know everything about it? If not, continue reading and studying all of Nelco PCB's essential information.
● A Nelco PCB manufacturer uses particular Nelco materials to facilitate Nelco PCB production. It produces both circuit boards and RF/microwave enterprise equipment.
● Nelco material comprises prepreg as well as Nelco Laminates Materials. The result is resistance to heat and CAF resistance.
● As Nelco is a PCB manufacturer, it is essential to be aware of the pile-up, scraps of copper categorized by categories, various printed circuit board components and also the quality of signal and energy.
Nelco PCB Stack-up: Factors That Determine the Layer Number of the Design
The quality of the stack-up on Nelco PCB affects a variety of fundamental features, such as the rate of production, electrical capacity longevity, dependability over time, and other aspects.
Therefore, let's look closely at Nelco's PCB layout to determine its abundance of panes.
● The total of the signal nets required for shooting through the Ball Grid device.
● Assortment categories of materials and their velocity.
● The quantity of the power panels that are displayed there.
As you know, a Nelco PCB is composed of layers of prepreg, copper foil, and core materials, which are then pressed together by heat.
Important Characteristics of the Different Types of Nelco PCB Materials
If you look through Nelco PCB material, all of these materials have a variety of characteristics. Now, let's look at some interesting characteristics of Nelco PCB materials:
High Execution
● The first high-quality, low-flow and long-lasting Nelco product comes in the form of Meteorwave 1000NF. It doesn't contain lead and is able to perform at 240 degrees.
● A more reliable and cost-effective Nelco PCB material includes Meteorwave 8000. It is a good resistance to CAF.
● Meteorwave8350 is a different great Nelco PCB material that has similar execution abilities. Additionally, it is able to be used in high temperatures and is a dielectric with extreme strength.
● Another noteworthy Nelco PCB material is the N4000-29NF. This is a material that is recognized for its superior temperature resistance and leadless composition. Furthermore, several other Nelco PCB material include N400-7, N400-6, N400-6F and more.
The Diverse Printed Circuit Board Surface Finishes for Nelco PCBs
A Nelco PCB manufacturer can use various surface finishes to meet the needs of clients.The following are a few of the most common surface finishes for Nelco PCBs.
ENIG
It's a lead-free, long-lasting surface finish in which delicate gold layers are put between copper and nickel tracks.
HASL
This is a method of levelling solder using hot air, which ensures the quality of the Nelco PCB. Due to the many benefits that are offered through this process, it is used in the production of high-end electronic components.
ENPIG
The surface finishing includes electroless nickel, which acts as a cover for the copper plate. In addition, the palladium that is electroless of this finish helps to prevent attrition.
IS
The Nelco PCB does not get too oxidized due to this surface finish.
As Nelco PCB maker, you're able to choose other finishes for your surface, such as Hard Gold, Entek, Soft Bondable Bond, Immersion Tin as well, Lead-free HASL etc.

Quality Control for Nelco Printed Circuit Boards
In order to ensure the quality of Nelco PCBs, different methods are used by different Nelco PCB manufacturers. Some of them are mentioned below:
● DSC or Differential Scanning Calorimetry.
● TRA or Thermos Radiometric Analysis.
● Thermos Mechanical Analysis.
● Infrared Spectrophotometry.
Choose the Right Vias for Multilayer Nelco PCBs
Different types of vias can be commonly employed for multilayer PCBs. Additionally, vias provide the possibility of a pathway through which you can get the flow of electrical as well as thermal energy. For multilayer boards, the following factors need to be taken into account when selecting vias.
Via Size
The via of 10 mil will shrink to 7 mils immediately following plating. PCB thickness determines the dimensions of the via. However, Nelco PCB thickness determines the microvias.
Right Technology
In PCB manufacture, the type of via is determined by PCB manufacturer the technology used. Also, make sure to make an inquiry into the kind of technology used by your manufacturer.
Via Tolerance
The manufacturer has to indicate the tolerance for the size of the hole. However, Nelco PCB manufacturer provides internal guidelines.
Annular Ring
An annular ring is formed when the maker has drilled through every layer's pads. Connection to the plate is made by the annular ring prior to through-hole plating.
How Do Nelco PCB Differ From Isola PCB ?
● Isola PCB and Nelco PCB are both high-frequency printed circuit boards which provide superior thermal and mechanical performance.
● Nelco PCB uses an array of laminates and prepreg materials, whereas Isola PCB commonly uses copper-clad dielectric prepregs and laminates.
● The materials used for both printed circuit boards make them suitable for manufacturing enhanced multilayer PCBs.
Does Taconic PCB Differ From Nelco PCB
The main difference between Taconic PCB and Nelco PCB lies in the type of material used in the circuit board.
● Taconic PCB mostly utilizes PTFE laminate.
● Nelco PCB appliesa variety of materials such as high-speed epoxy, FR-4, and High-Tg. In addition, It also use of enhanced materials , cyanate ester BT and polyimide are used to improve performance.
● In both printed circuit board types, enhanced multilayer PCBs can be fabricated.
Additionally, Other High-quality Certification Providers of Nelco PCB Are
● Underwriters' Laboratory certification.
● RoHS Quality standard.
● Conformite Europeenne regulation.
● ASTM as well as ISO quality standards

The Importance of Panelization in the Size Determination of Nelco PCBs
It is necessary to use a Nelco PCB that matches the size of an electronic device when one wants to minimize the size of an electronic product. Consequently, Nelco PCB manufacturers prioritize panelization as part of their quality assurance processes. Additionally, panelization deducts the expense of each board while increasing output.
Hybrid Construction
This design of Nelco PCB is quite fascinating. In addition to reducing the additional cost, Nelco PCB special configuration ensures a high rendition of the related device.
The most appealing aspect of the hybrid Nelco PCB is that the layer that contains powerful enactment materials costs the highest, not the other layers.
When designing the hybrid Nelco PCB, it is recommended to be careful not to mix the prepreg substances to ensure that no emergency situations occur when you are in your laminate process.
Material Loss and Vital Strategies for Mitigating the Loss in Nelco PCBs
Loss of material is among the main problems faced by companies when making a Nelco PCB. So, before you set up the equipment, it is essential to consider a few aspects, which include loss digression, the fiberglass weave configuration, the skin's impact and dielectric constant and so on.
Be cautious and adhere to the references listed above to avoid the loss of dielectrics, conductor losses, inductive mismatch, etc. In addition,During the layout stage of the Nelco PCB, you should always take measures to mitigate those problems.
Final Thoughts
Nelco PCB is a vital type of circuit board that is suitable for applications in specific industries. But, in order to design and manufacture a functional Nelco PCB, it is essential to be aware of the different aspects of the PCB and how these factors impact performance the Nelco PCB is.
Nelco PCB Laminate & Materials Series
Call us to get a free quote now