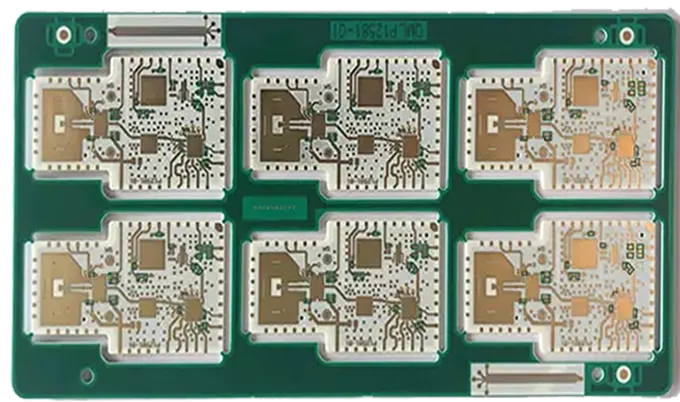 Defines High Frequency PCB
High-frequency PCBs usually have an operating frequency of 500MHz up to 2 GHz that can satisfy the requirements for high-speed designs radio frequency, microwave, and mobile applications. If the frequency above 1 GHz would be considered high-frequency.
Since the complexity of components and switches keeps increasing and electronics require faster signal flow rates. Therefore, higher transmission frequencies are needed. High-frequency PCBs can be helpful in integrating specific signals into electronic products and components with benefits such as high efficiency, fast rate, less attenuation and stable dielectric properties.
High-frequency PCBs are widely employed to make RF in both Microwave PCB. High-frequency PCB components differ from standard FR4 materials. They typically use Teflon and PTFE as the main materials. Excellent electrical properties as well as low loss of signal form the foundation.
At JarnisTech, we strongly believe in staying abreast of all technological changes, and this is one of the strong reasons why we have remained at the top of PCB manufacturing and assembly for the past 20 years. The high-frequency PCB manufacturing we offer is at the top of our list of state-of-the-art products.
Fabrication Process for High-frequency PCBs
After the design is completed the final stage, it's PCB production, which included these steps:
Create PCB Design: Begin by sketching out the PCB blueprint using your favorite design software. It is possible to use extended Gerber to encode the blueprint and then forward the blueprint to the fabricator for production.
Print the PCB Design: Print the PCB layout, and you can utilize plotter printers to create a PCB film, which acts as an image negative of the blueprint. It has two inks on the film. Black shows the conductive copper lines, while the clear ink identifies the non-conductive areas.
Print Copper for Inner Layers: This is the point where PCB manufacturing begins. As soon as the PCB has been printed on the laminate, copper is pre-bonded to the laminate, forming the structure of the PCB. The next step is to engrave the copper, revealing the original blueprint.
Alignment of Layers: Because a high-frequency PCB is made up of various layers, manufacturers typically utilize optical punches to align them, pushing pins into the holes. In addition, a different machine is used to determine if the layers are aligned and free of defects.
PCB Lamination Layers: If there's no defect, then the next step is the fusing or laminating the layers, along with layup and fusing steps. Make sure to prepare both the inner and the outer sections, and then utilize a clamp of metal to join the two sections.
Drilling: Utilize a computer-guided drill that follows the direction from the extended Gerber design for the drilling. Before that, you should make use of an X-ray machine to identify the drilling locations. After drilling, file away the copper that is left to make the surface clean.
Plating of PCB: The process of plating involves joining the layers by using chemicals. However, first, you need to cleanse the boards thoroughly prior to dipping them into the chemicals.
Solder Masking: Next, The solder mask must be removed by cleaning the panels again before putting the solder mask on and by using epoxy ink with the solder film and exposing the board to UV radiation.
Screening and Finishing of Silk: As previously mentioned, the process of finishing includes plating the boards using silver, gold or HASL in order to avoid oxidation. After that, screen the PCB to print all important information, including the manufacturer's name, along with warning and safety labels.
Testing: This procedure checks the circuit's isolation and continuity to make sure that there are no disconnections or shorts.
Cutting: The final step is to cut the PCB either with a CNC machine or with a V-a groove.

Why You Choose JarnisTech Circuit Board Manufacturer ?
When you're dealing with PCB designs with high frequency, it is essential that the design engineer works with the PCB vendor to select the appropriate materials to meet the frequency specifications desired and to decide on the appropriate stack-up. JarnisTech is a renowned PCB maker with deep capabilities and expertise in controlling depth drilling and control depth milling also known as the back drill, in contrast to other companies. And our team of engineers has the expertise, technology, and experience to assist you in designing and creating the best high-frequency PCB.
We are unique because we are competent to handle all complex jobs that span from design through assembly, and we manage it all under the same roof, with cutting-edge technology and a vast engineering team. Our expertise from beginning to end allows us to be a leader in all stages of the process and to be the most reliable PCB service provider in global.
Your Specialist High-frequency PCB Manufacturer: Our manufacturing Capabilities
Specs
Capability
Layer Counts
1-60
Normal Lead Time
5-6 days
Expedited Lead Time
24-48 hours
Materials
FR4, High TG FR4, Halogen Free material CEM-3,  Rogers HF materialand more
Copper Thickness(Finished)
0.5-30oz
Overall Board Thickness
0.2-6 mm
Minimum Line/Track Width & Space
2.5Mil/2.5Mil
Technology
On-across blinded viascharacteristic impedance controlrigid-flex boardand more
Other Technology
Gold finger. peelable masknon-across

Blind-buried vias. Characteristic impedance control. Rigid-flex board and more.

Solder Mask Color
Green,black,blue.white,red,yellow. matt etc.
Legend/Silkscreen Color
White, yellow, black, etc
Surface Treatment
HASL Lead-Free HASL Immersion Gold OSPImmersion Tin.Immersion Silver etc.
Wrap and Twist
≤0.7%
Qualifications
ISO 14001:2015 IS9001:2015Certified IATF16949:2016Certified
Materials Used To Create High-frequency PCBs
High-frequency boards require special PCB materials to create the signals at high speed. The most distinctive materials are:
FR4: The most affordable laminate material, it is also easy to manufacture. However, it has relatively poor electrical performance, particularly when the signal speed is beyond 1.6GHz.
Rogers 4350BHF: Like the FR4 material, it is low fabrication cost, very competitive prices, and outstanding dimension stability.
ISOLA IS620 E-Fiberglass: Although it can be difficult to manufacture it is a great material with outstanding thermal and electrical properties.
Taconic RF-35 Ceramic: This is a cheap material that is composed of PTFE-filled ceramic with weaved glass. It's relatively simple to manufacture the material but it also has excellent peel strength, high electrical performance and low dissipation.
Taconic TLX: Consisting in PTFE fiberglass. It is a highly stable and dimensionally stable material that has excellent mechanical as well as electrical properties. However, it can be difficult to make.
Rogers RO3001: Bonding films with a tangent of low loss and constant dielectric. It also resists high temperatures and chemicals.
Rogers RO3003: The RO3003 is composed of PTFE glass that provides low Dk loss as well as a cost-effective price.
ARLON 85N: A Pure polyamide resin that has a high thermal resistance.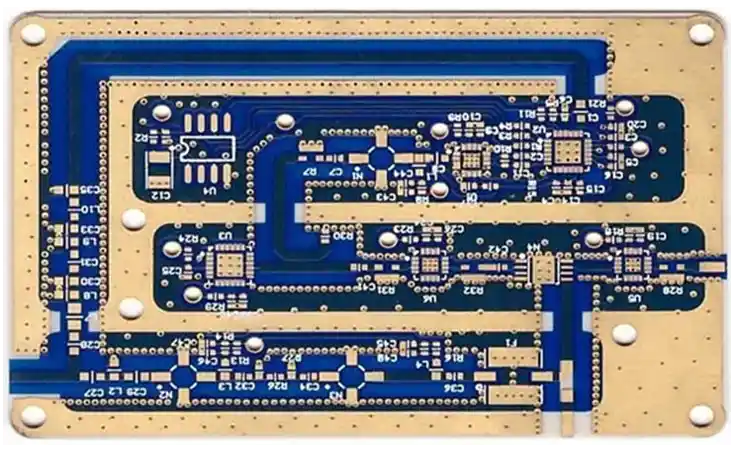 Different manufacturers offer different material options for high-frequency use however, the most common ones are:
● FR-4
● Ceramic-filled PTFE
● The PTFE is woven with glass
● Hydrocarbons with ceramic-filled fillings
● Micro-glass and PTFE
● Ceramic-filled hydrocarbon containing weaved glass
● Ceramic-filled PTFE woven with glass
The Features of High Frequency PCB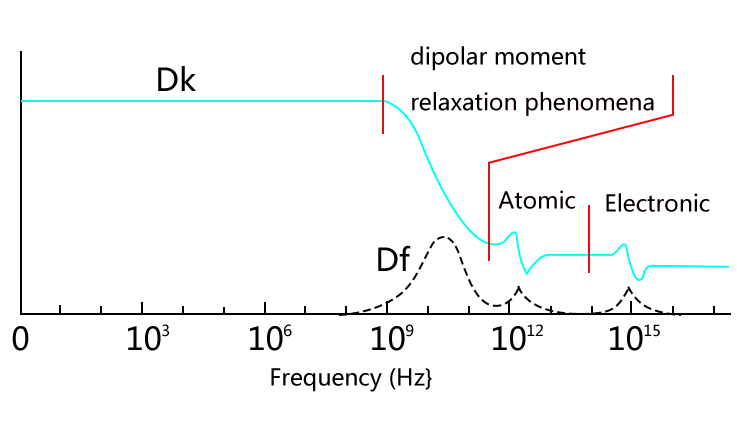 ● DK must be low in size and steady enough. Usually, The smaller the better, but a high DK could cause delay in transmission of signals.
● Signal transmission quality is affected by the DF, a smaller DF could lead to less signal loss.
● The thermal expansivity needs to be identical to that of copper foil to the extent possible , as difference could result in copper foil becoming separated by the variations of cold and heat.
● Water absorption should be minimal. Absorption of water is a major factor that affects DK in addition to DF when it is in a humid environment.
● Chemical properties that resist heat, resistant, durability to impacts and peel-off resistance must be in good condition.
Designing High-frequency PCBs: What Are Some Tips ?
High-frequency circuits tend to be highly integrated and feature high wire density. Utilizing a multilayer board is essential and effective method to decrease interference.
A reasonable selection of a size and layer PCB in PCB layout can effectively reduce parasitic inductance, shorten the transmission length of signals, and reduce cross-interference by using an intermediary. An intermediary can provide better nearby grounding, improve parasitic inductance, and effectively reduce cross-interference. It is good for the reliability of high-frequency circuits to use all of these methods.
The same material is used, and the sound level of four-layer boards is 20dB less than the noise of the double-panel board. But, at the same at the same time, there's an issue, which is the higher the number of layers PCB boards there are the more complicated the process of manufacturing would be and the more costly cost of the unit required. This means that when designing the layout of PCBs, along with selecting the appropriate layers of PCB, be a sensible layout of the components should be completed and the proper wiring regulations should be implemented to finish the layout.
● The less alternating leads that are on the pins connecting the high-frequency circuits' layers the more efficient.
● High-frequency circuits are better if they have a short lead between their pins.
● The less bend there is between the electrical pins on high-frequency devices the more efficient.
● Be aware of pay attention to "crosstalk" caused through the signal line that runs parallel to the close distance.
● For isolation, there are two ground lines: a high-frequency digital signal ground line and an analog signal ground line.
●Decoupling capacitors for the power pins of the IC block should be increased for high-frequency operation.
● Do not use loops while wiring.
● Good signal impedance match must be guaranteed.
Difference Between High-speed and High Frequency PCB
High-speed and high-frequency PCBs are distinct. A high-speed circuit means that the voltage increases or drops in a short amount of time. A high-frequency circuit means that the circuit has a short period.
There isn't any exact distinction between a PCB with high-speed and one with high-frequency. The basic materials are identical.
Therefore, if you're asking the differences of high-speed PCB and high frequency PCB do not bother with the label that the circuit board is on and concentrate on the best way to ensure the integrity of the signal in the circuit.

FAQs on High-frequency PCB Design as well as Fabrication
This guide can't be comprehensive without looking at what our clients typically need to know.
This way, you are able to expand on the knowledge available regarding this guide and it is relevant.
Have a look.
What Is the Most Affordable Price for High-frequency PCB ?
The price of your PCB can be affected by many aspects.
These include the raw materials, the size of the board, boards thinckness, copper, and the option of finishing the surface.
Other aspects include trace width and the space. To reduce these costs make every effort you can to design your PCB simple possible.
Very Important To Test the PCB Electrically
It is crucial to conduct an electrical test on your PCB as it can to ensure quality of your PCB is the best.
You can test the usefulness of your PCB by passing several tests.
It's the only way you will be able to identify any flaw or issue on the PCB particularly those that are underneath your solder mask.
Could You Fabricate My PCB From a Picture File ?
No. it isn't possible to manufacturing PCBs using pictures as these files are not compatible with the process of manufacturing because of resolution and quality.
In order to make it easier for the manufacture of your PCB, it is important to make sure that your design is in Gerber Format.
How Many Type Surface Finish Do You Provided ?
There are many surface finishes from PCB manufacturers to provide for your PCB board. But choosing a surface finish, you should involve several factors.
This includes cost, your desired effect for the PCB as well as the impact the method has on copper.
The options for surface finishing comprise HASL, Immersion Tin, OSP, ENG, ENEPIG, etc.
There's also Immersion Silver, immersion gold, and HASL lead-free.
Colors of Solder Masks
There are a variety of shades of solder masks that are available on your PCB. You can make your choice based on your preferences.
Some of the most common colors are blue, black, green and yellow.
Difference Between a Buried Via, a Regular and a Blind Via
The function of the buried via is to join two inner layers of your PCB. Consequently, it does not go to the top or bottom of the board.
On the other hand, the blind via serve connects the bottom or top layer of the PCB to the internal layer. This type of blind via must go through either the top or the bottom.
Contrary to the other vias that connect the top and bottom layer of PCB, a Regular via passes through all layer that is inside.
Function of Decoupling Capacitor
The decoupling capacitor is used to reduce the sound of the power source. When designing your PCB you should position your decoupling capacitor as close to ICs as you can.
What Exactly Is DRC ?
The Design Rule Checking (DRC) process ensures that your PCB is free of any electrical problems.
When you are doing the DRC it is possible to discover a number of issues on the PCB. There are violations such as trace-to-pad violations, pad-to-pad violations, and component keep out violations.
We'd appreciate hearing from you, feel free to contact us with any questions you may have, and we'll be happy to clarify.
Discuss Your High-frequency PCB Project Today
To get the high-frequency PCB manufacturing cost Please send us your PCB files (Gerber format is preferred ) and your specifications to [email protected] and we'll provide a quote in the fastest time.

High-frequency PCB Application
High-frequency PCBs are utilized in many different applications. Their design meets the demands of high-temperature and high frequency applications. They are utilized in various applications like:
Communication Systems Technology: These board are employed in communications systems. Typically, they are used in filtering devices, receivers, amplifiers and booster stations.
Military Industry: Ammunition and firearms are made with PCB materials with high frequencies.
Systems for Radar: These PCBs play an important role particularly in the aviation and marine industries. As far as marine applications are concerned, radar systems protect ships against obstacles such as icebergs. The radar system steers aircraft and can prevent accidents.
Medical Systems: They are utilized in the production of medical electronic devices, such as diagnostic and monitoring devices.
Impedance Control Applied To High-frequency Circuit Boards
It is important to design a controlled impedance line so that signal loss is avoided. Controlled impedance can be set using two methods, microstrip or stripline. To support a better result, there must be traces on the outer layers that have a ground plane below them that are closer to the outer layers.
It is more effective to use stripline instead of microstrip because stripline can contain radiation and signal more effectively.
Summary
A high-frequency PCB is a high-performance board that comes with a variety of amazing features that make it ideal for use in a variety of environments. At the same time, They can meet the requirements of high-frequency applications and high-performance ones. These boards are very popular in the electronic sector.
Call us to get a free quote now