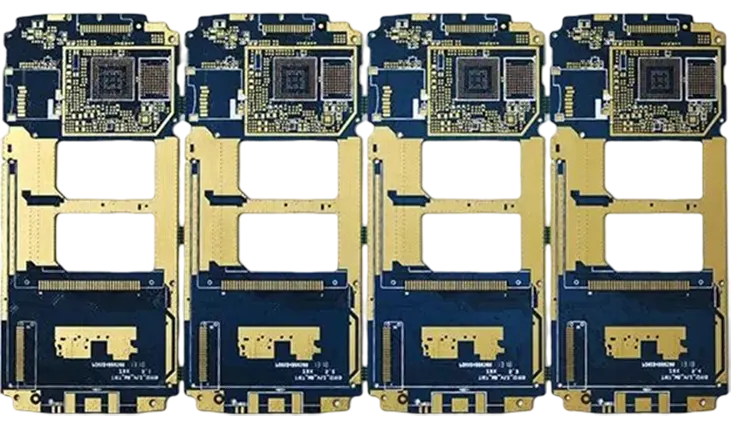 As the most wanted-after devices for consumers, smartphones are evolving towards smarter, smaller and multi-functionality, which will eventually require more PCBs to meet the requirements that electronic gadgets perform. If you are looking for a trustworthy PCB manufacturer to produce your smartphone's PCBs, JarnisTech is able to assist.
We provide quality guarantee full PCB production services for companies in the telecommunications fields for 20 years. As a result of our ISO9001 and TS16949 certifications, we are able to meet these demands. The expertise and experience of our team allows you to get the best possible circuit boards at an affordable price.
Do you require a PCB fabricated from bare boards and assembly services for your telecommunication device? Are you looking for answers regarding how JarnisTech produces smartphone PCBs, as well as the electronic board for other telecommunications applications? Get in touch with our experts anytime!
What Is PCB for Cell Phone ?
It is a type of printed circuit board that is used in the construction of a cell phone motherboard.
A cell phone PCB is a mounting device to support the components that are essential for the operation of the cell phone. The electronic components on a cell phone PCB are connected by conductive pathways engraved in the board. You can use via hole and surface mounting techniques to mount PCB components.
How Mobile PCBs Are Made ?
Like other circuit boards, Mobile PCBs are constructed with Printed Circuit Boards materials such as copper is conductive material with polytetrafluoroethylene and fiberglass-reinforced epoxy.
A number of steps have been taken in the making of printed circuit boards that can be used in mobile. The following are the main steps in the production of mobile PCB:
● Circuit Design: The first step is to create the blueprint for the circuit layout, as well as an illustration of a mobile charger. This can be done using software and trance-wide calculators.
● Print The Diagram: Following that, you need to print the circuit layout using the plotted printer. This print copy will provide the specifics of Mobile PCB layering and the components. Clear ink refers to non-conductive areas that are inked. The part that is inked exposes the copper trances that conduct electricity.
● Construct The Structure: In this phase, the physical structure begins. The substrate holds the crucial elements of the circuit structure. They are formed by the oven to be bonded. Copper layers are etched during this stage.
● Components Alignment: After aligning tracks and the components of the outer and inner layers, it's time to laminate them beneath Uv Rays. It is necessary to wash the board in alkaline solution to remove the excess photoresist. Additionally, get rid of unwanted copper.
● Layer Interconnection: Then The layers that are clean are examined. It is in this step that the holes are drilled that create the connection between the inner and outer layers.
● Fusing: The board then forms the shape of a sphere by fusing. Following this, the laminating process starts. Substrate, copper foil, and PCB resin are then placed over the prepreg layer. Afterwards, copper layer is applied. Pins are then punched onto the layers to seal them.
● Plating: Following that, they plating start. The bonded layers go through an acid solution. They will form a cote panel with very thin copper conductive layers.
● Planting: It's time to plant the mobile circuit board. A thin tin guard is applied to the circuit. That will protect the inner copper layers.
● Use Solder Mask: After plating and planting, apply an epoxy soldering mask film to the circuit board.
● Place Silk Screen: One of the most important actions is to silkscreen the circuit boards. Then the board is coated with coated with a soldering coat finish to improve the performance of the circuit.

How Many Layers Perfect for Mobile Phone PCB ?
According to the purpose and development trend of future smartphones, greatly multi-layered circuit boards for cell phones should be used as motherboards, while low multilayer circuit boards should serve as complementing daughter boards. Manufacturers of cellphone motherboards usually choose multilayer PCBs with a 10-layer build-up for the manufacturing of motherboards.
However, Since this type of PCB is extremely complex, it can up to 12 layers. The addition of layers to your cell phone's PCB will allow greater wiring and circuitry to support more advanced applications. But, due to function consolidation because of semiconductor packaging (SiP), it is the possibility that the number of layers will remain the same or reduce.
Why Should You Use Multilayer PCB for Cell Phones ?
In terms of design and technology, multilayer PCB provides numerous advantages. Here are some principal advantages of multilayer PCBs for cell phones:
Enhances Functionality and Abilities
By Laminating several layers of circuit board together effectively can enhance the performance and potential of cellphone PCB. At the same time, it will allow more wiring and circuit on the multilayer circuit boards.
Use Rigid PCB or Flexible PCB
Depending on the requirements, multilayer circuit boards for cell phones can be either flexible or rigid circuit board. Nevertheless, Increasing the number of layers will makes the PCB less flexible.
Smaller Sizes
It is possible to fabricate a cell phone PCB with a high capacity yet a small footprint by bonding two layers over the other. This makes the board compact and saves space.
Lightweight
Because of the layered structure, this type of PCB does not require connectors for independent PCBs. This facilitates simplified fabrication, which saves space and reduces PCB weight.
In general, multilayer mobile phone PCBs tend to be superior in quality to PCBs made of conventional materials.
It is because of this that more planning, design and funding are incorporated into the design of circuit boards.
Despite the cost of multilayer PCBs for cell phones, however, you can compensate by gaining capabilities and performance. The boards are usually designed to function as a single unit, which makes mounting them on the phone simpler.
What Is the Cell Phone Circuit Boards Function ?

Background
In a cell phone, circuit boards are one of the primary elements, as are different individual parts like Liquid Crystal Display (LCD) microphone, antennae speakers, and keyboard. The circuit board of a cell phone is to be, for all intents and functions, the mind that runs the telephone. It is the central point of operation for the entire phone. There are a variety of components in the circuit board which work together to ensure the proper functioning of the mobile phone.
PC Chips
A cell phone circuit board consists of a few computer chips. This circuit board contains digital-to-analog and analog-to-digital conversion chips. They convert analog to digital audio signals and then convert digital to analog audio signals. In addition, the circuit boards have a digital signal processor with an average speed of 40 MIPS (millions of instructions per second) that calculates signal manipulation calculations very quickly. It handles the compression as well as the decompression of signals.
Flash Memory and ROM Chips
A cell phone circuit board has flash memory and ROM components that provide storage for the phone. They storing both the customizable options and the operating system of the phone. A circuit board's power and radio frequency sections are responsible for charging the phone and managing its power supply. Aside from controlling several hundred FM channels, the radio amplifiers are responsible for amplifying signals going into and out of the antenna of the phone.
Microprocessor
A microprocessor controls how the display area and keyboard of a cell phone perform their tasks. Also, it helps to interconnect all the keys' main functions by dealing with the phone's control signals (to and from the base station).
Smartphone Phone PCB Design Requirements
Multilayer PCB Laminate
Multilayer laminate PCB fabrication is a kind made of PCB multilayer fabrication technology that is being used extensively. In the process of applying multilayer laminate PCB fabrication, the subtractive process is used to fabricate circuit layers. The interconnection between layers occurs by means of stages of lamination mechanical drilling as well as electroless copper as well as copper plating. In the end, you will find the solder masks, solder coats, and silkscreen, which complete an entire circuit board.
BUM Technology
On the insulating substrate board or a traditional double-sided or multi-layer board, an insulating dielectric coating is used to create the leads and through holes using electrical and chemical copper plating. The process repeatedly repeats until a multilayer PCB that has the required number of layers is produced. The most effective characteristic of BUM PCB is that its substrate layer is extremely thin, the trace size and spacing are small and the via diameter is so tiny that it has such high density. It can therefore be utilized in high-density IC packaging.
Fiducial Marks
As a general rule that every side of the daughter boards on smartphones must have at minimum 2 fiducial marks. If space is that it is limited, they may be flexibly arranged. They must be designed to be circular in shape with size is 1mm (40mil). In order to create contrast between the color of the material and the surrounding environment, the areas of the solder mask should be 1mm (40mil) greater than the fiducial marks. No characters are permitted. If real estate is small, the size of the masking area may be set to be 0.5mm larger. However, solder pads that have identical colors shouldn't be designed within a limit of 3mm.
In addition, the fiducial markings on the same board must have the same background. This means that they must remain compatible with copper coating. A lonely fiducial marks with no routing around should have an interior diameter of 3mm and a circular width of 1mm to act as protective circles. Furthermore, coordinates figures should be displayed in fiducial marks, which shouldn't be considered to be a sign of PCB design.
Panel Design
• The double-side v-groove technique is suitable for PCBs that are square, with the advantages of attributes of neat margins following breaking up, and the cost of manufacturing is low. This is why it's initially recommended. The most common angle is thirty degrees can be applied, with board thickness being one-fourth or a third of the thickness. This method doesn't make sense on printed circuit boards equipped with ICs that have BGA as well as QFN packages.
• Long-slot holes plus circular hole is required for motherboards that have more than four layers. Other daughter boards like LCD boards, button boards, SIM cards, as well as TF cards should choose panels in accordance with the figures and the shape of the circuit boards printed. It is suggested that the long-slot holes, along with circular holes, should be applied to arcs or irregular shapes.
If You Want to Order Cell Phone PCBs From Your Manufacturer, Here's How You Do It
Here are the essential specifications of PCBs for cell phones you must communicate with the manufacturer before placing an order:
● Material.
● PCB Type (Rigid Flexible, Rigid-flex, or Flexible).
● Amount Of Layers.
● Shape Of Board.
● Cutting Method (V-score tab routed or shear).
● PCB Thickness.
● Copper Thickness.
● Solder Mask Color.
● Silk Screen Color.
● The minimum line width of the Silk Screen.
● Minimal Trace Or Gap.
● Minimum Holes Diameter.
● Surface Finish.

Your Top Cell Phone PCB Supplier From China
Whether you need a cell phone PCB for your application, JarnisTech is the world's largest printed circuit board manufacturer in China . For over 20 years, we are one of the world's leading manufacturers of printed circuit boards.
Our advanced manufacturing facility allows us to manufacture durable PCBs using a variety of materials to meet your specific requirements. JarnisTech cell phone PCBs are manufactured using durable raw materials.
We manufacture cell phone PCBs from epoxy-fiberglass composite, also called FR-4, which is nonconductive and has excellent electrical and mechanical properties.
In addition to the circuits' multiple layers laminated together with components displayed on the bottom and top layers, our cell phone PCBs have a number of wiring characteristics, which make them more complex.
As a reputable manufacturer, we can produce various types of mobile phone PCBs, such as:
● Android mobile phone PCB
● Mobile phone charger PCB
● Solar phone charger PCB, etc.
Moreover, we produce and distribute cell phone PCBs in a variety of sizes at competitive prices, supplying them to more than 500 companies worldwide.
If you're in search of an one-stop service supplier for mobile phone PCB needs, JarnisTech is always the top option!
Production-wise, we are at the forefront of every aspect of the manufacturing process, from costing calculations and monitoring of the product to quality control.
We are among the most well-known and reliable cell phone PCB manufacturers and distributors in China, which you can trust us.
For more details, please send email to us or Call us today!
What Are the Benefits of Mobile PCB ?
The benefits that come with Mobile PCB can't be described in a single word. Here are the major advantages of mobile circuit boards:
● Multilayer circuits Boards have greater functionality and capability.
● Its Mobile PCB is extremely tiny compared to other device circuits. It's lighter and more compact.
● It provides greater mechanical strength to ensure that performance doesn't decrease.
● Halogen-free Dupont Layered Mobile PCBs are environmentally friendly.
● Increases reliability and satisfaction of customers.
● Increased capacity for thermal resistance.
● Because it has a mobile PCB holder, it is easy to store and maintain.
Does There Exist Any Differentialities Between Mobile PCB and the Telephone PCB
The Mobile PCB is slim, lightweight, easily repaired, and is made up of more layers. The mobile is operated by radio frequency, while the telephone is controlled by cable.
Therefore, the arrangement and arrangement of parts, the characteristics and properties, as well as the number of tracks layers, and fabrication methods are different for each.
In printed circuit boards for telephones that are used, there is a metallic disk known by the name diaphragm. It transforms the Sound waves are converted into electrical energy. Using telephone cables, electricity energy is transferred and transformed back into sound waves. These are heard by the listener person.
However, The printed circuit board on mobiles has computers chip. This circuit board is considered to be a mini-computer due to its capabilities and features, which are more advanced than the telephone circuit.
Circuit boards of mobile phones convert audio and audio signals to digital signals. Digital signals are transmitted as radio waves, which can be picked up by another mobile. The receiver's mobile circuit gets transformed into an analog signal and people are able to hear the signal.
What Does the Mobile Phone PCB Cost ?
Cell phone printed circuit boards can vary in price according to a number of factors, such as the type of PCB substrate material, manufacturer, and complexity of the board.
Thus, you'll receive diverse quotes from the manufacturers based on the specifications of the PCB of your cell phone.
But, generally speaking, making a single piece from cell phone circuit boards usually ranges from USD 0.50 up to 10. The trick to slash cell phone circuit board prices is to order in bulk, as many fabricators offer discounts for huge orders. I'm sure that you are interested in mobile phone PCBs. Get in touch with us today if you have any querys about our mobile phone PCBs.

How To Choose a Good Manufacturer for Mobile Phone PCBs ?
Mobile PCB assembly and telecommunication services maybe an important part of your business and you should select the right manufacturer. For the right manufacturer to meet your needs, you should consider the following factors:
●  Manufacturing process.
●  Total cost.
●  Type and the quality of the materials.
●  Layers Laminations and fabrication.
●  Packaging storage and maintaining capability.
●  Services they provide on time.
Naturally, you should choose a reputable and highly-rated manufacturer for this. JarnisTech has been operating for over 20 years and gain many high praise about PCB manufacturing and assembly quality from our customers.
Conclusion
It's time to wrap up the information. JarnisTech provides all kinds of consulting and services related to Mobile PCB. Mobile PCBs are slim, smaller, lighter, and smart enough to delight client. If you wan to know more information for Phone PCB, Contact us Today, you will get a professional service from JarnisTech Team.
Call us to get a free quote now