What Is Ceramic Circuit Printed Board ?
Ceramic PCB is made of ceramic powder that conducts heat and the organic binder that is used for heat conduction. ceramic PCB is manufactured with a thermal conductivity of 9-20W/m.
In the simplest sense, a ceramic PCB is a printed circuit board that has the base material made of ceramic that is highly thermally conductive, such as Alumina (Al2O3) as well as aluminum Nitride (AIN),  Beryllium Oxide,(BeO) , Silicon Carbide and Boron Nitride (BN). These materials can have a rapid result in the transfer of heat from hot spots, and dispersing it across the entire surface. Furthermore, the ceramic PCB is made with LAM technology which is a laser-based rapid activation metallization technique. Therefore, ceramic PCB is extremely adaptable and can be used in place of the typical printed circuit board, and with a an easier construction and improved performance.
Ceramic PCB Substrate Materials
There are many Ceramic PCB materials in use in the present, with the ones below being the most popular:
Alumina (Al2O3) PCB Is the Most Frequently Material That Is Used
It is one of the most sought-after substrate materials in the electronics industry. There are a number of advantages to using Alumina over other oxide ceramics, including its superior mechanical, thermal and electrical properties. Alumina has a high degree of mechanical and chemical stability that makes it ideal for the production of a wide range of equipment of various forms.
Al Nitride (AlN) Circuits Are Likely Close To Being a Second
This material has two important characteristics: its expansion coefficient is similar to the silicon one as well as having a remarkably excellent thermal conductivity. However the presence of an extremely thin layer of oxide on its surface decreases the thermal conductivity considerably. To make an AlN substrate that is consistent the manufacturers must manage their materials and processes. Another obstacle to the growth for AlN is its comparatively higher cost when compared to Al2O3. But, as technology advances that the industry is expecting this bottleneck to be reduced.
BeO Is Utilized Less And Less Due To Safety and Health Security Concerns
As compared to metal aluminum substrates BeO offers a greater thermal conductivity. It is commonly used for applications that require high thermal conductivity at temperatures that are below 300 C since BeO's thermal conductivity BeO decreases dramatically at temperatures above 300 C. However, since BeO is toxic, the market restricts the use of it.
Silicon Nitride Based Circuits Are Getting More Popular
Ceramic Material Specifications
| | | | | | |
| --- | --- | --- | --- | --- | --- |
| Property |  Unit | Al2O3 (96%) | Al2O3 (99.6%) | AIN | SiN |
| Thermal Conductivity | W/mK | 24 | 29 | 180 | 85 |
| Coeffcient of Thermal Expansion (CTE) | X10-6/K | 6.7 | 6.8 | 4.6 | 2.6 |
| Dielectric Constant | – | 9.8 | 9.9 | 9 | 9 |
| Signal Loss | X10-3 | 0.2 | 0.2 | 0.2 | 0.2 |
| Light Reflectivity | % | 70/85 | 75 | 35 | – |
| Dielectric Strength | KV/MM | ≧15 | ≧15 | ≧15 | ≧15 |
| Repture Strength | MPA | 400 | 550 | 450 | 800 |
| | | | | | |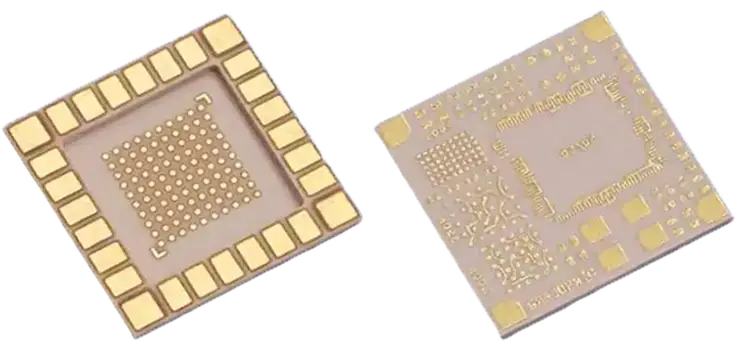 | | | | | |
| --- | --- | --- | --- | --- |
| Max Operating Temperature | Al2O3 (96%) | Al2O3 (99.6%) | AIN | SiN |
| Substrate | 850°C | 850°C | 850°C | 850°C |
| Cu Conductor | 300°C | 300°C | 300°C | 300°C |
| Solder Resist | <300°C | <300°C | <300°C | <300°C |
| | | | | |
Ceramic PCB Circuit Surface Method
Surface treatments are Nickel Plating, Gold Plating, Silver Plating, ENIG, Immersion Gold, Immersion Silver, OSP and NiPdAu etc.
Why Should Choose To JarnisTech For Ceramic PCBs ?
With the advantages of Ceramic PCBs and the numerous industries they serve, you may be interested in the services JarnisTech can offer you. Learn more about why we're the best choice for ceramic PCBs for your business:
● Design Rule Review: To ensure the boards you receive have been optimized for space, our staff uses a Design Rule Check (DRC). Through the help of our DRC software, we are able to make sure you get the best layout for the board you are purchasing.
● PCB Designs for Manufacturing: We also employ PCB Design for Manufacturing (DFM) procedure to ensure that the ceramic PCB will be quickly and efficiently manufactured according to meet your specifications and expectations for quality. A better design for manufacturing helps to reduce costs, improve the quality and safety of your PCB and speed up time-to-market and increase satisfaction with your customers.
● Highly skilled manufacturing and engineering personnel: Our expert staff will assist you to get the most suitable ceramic PCB for your product. When you partner with us, you'll be assured that our team is concerned about your requirements and has the expertise to provide high-quality results.
● High-quality assurance:The company operates an PCB Quality Assurance program implemented to ensure you only receive top-quality boards. The Quality Control Team monitors every step of the production process for ceramic PCBs to ensure we meet the requirements of our customers along with industry norms.
Different Types of ceramic PCBs Based Upon Manufacturing Processes
The manufacturing process for ceramic PCBs is much simpler than conventional PCBs. Ceramic powder that is thermally conductive and the organic glue are combined together and then thermally treated to create ceramic PCBs. Most often laser rapid activation (LAM) technique is employed to manufacture ceramic PCBs. Beyond the ceramic material employed in the manufacturing process, there is a further class of ceramic PCBs dependent on the process of manufacturing:
Thick Film Ceramic Printed Circuit Board
Thin-film ceramic circuit boards are manufactured using screen printing. In general, when using the screen printing method to make the line, it is easy to produce a rough line and an incorrect alignment because of the problem of the screen version. Thus, the precision of the ceramic circuit board is slowly disappeared for cooling sheets that have smaller and smaller dimensions in the near future.

Thin Film Ceramic PCB Manufacturing
Pros: lower temperature of manufacturing Fine circuit; excellent surface smoothness.
Cons: high-priced manufacturing equipment; cannot manufacture three-dimensional circuits.
The copper layer on PCBs with thin film ceramics is thinner than 1 millimeter. The primary ceramic materials used for thin-film PCBs are aluminum nitride and alumina. The process of manufacturing it is:
● The ceramic substrate must be cleaned before it is used.
● In the vacuum, the water that is on ceramic gets thermally evaporated.
● Then, a copper layer is then formed on the surface of the ceramic substrate through magnetron Sputtering.
● A circuit's image has been created in the copper layer using photoresist that uses yellow light.
● Then , the excess copper is eliminated by the process of etching.
● The solder mask is then added to safeguard the circuit.
LTCC (Low Temperature Co-fired Ceramic PCB)
Low-temperature co-fired multilayer technology that uses ceramic substrate printing circuits on the substrate with screen printing, integrating multilayer circuit board and finally sintering them through low temperatures. The metal circuit layer on the co-fired low-temperature multilayer ceramic PCB is also created by screen printing and the alignment errors can also be due to the issue of meshing. Furthermore, once the multilayer ceramics have been coated and sintered the ratio of shrinkage is taken into consideration.
The Highest Temperature of Co-fired Ceramic ( HTCC )
● Pros: strong structural strength and high thermal conductivity. excellent chemical stability; high wire density and RoHS certified.
● Cons: poor conductivity of the circuit High sintering temperatures costly cost.
HTCC is an acronym that stands for high-temperature ceramic co-fired. It is the first PCB fabrication method made of ceramic. The materials used for HTCC include alumina, mullite or aluminum Nitride. The process of manufacturing it is:
● Between 1300 ℃ and 1600℃ , the ceramic dust (without glass addition) is then sprayed and dried until it has solidified. It is possible to drill holes on the substrate board if the design requires for through holes.
● In the same high temperatures, high-melting-temperature metal is melted as a metal paste. The metal could be tungsten or molybdenum manganese, molybdenum, and other such. The paste of metal is printed according to plan to create an electronic coating on the substrate for circuits.
● Then, 4% to 8 percent sintering aid is then included. If the PCB has multilayers, layers are laid.
● After 1500-1600℃, all the components is sintered to form ceramic circuit boards.
● In the end an solder mask has been then added to protect this circuit layer.
Ceramic PCB Using LAM Technology (Laser Activation Metalization)
The advantages of the emerging LAM technology aren't widely recognized by the general public. However, this ceramic circuit board made with LAM technology doesn't need to take into account tension during the production process for thick films and the shrinkage ratio following multilayer pressure sintering. Moreover, it does not consider the use for the substrate made of thin films. Because sputtering and electrical/electrochemical deposition produce pollution, LAM technology solves not only the heat dissipation bottleneck, but also puts environmental protection into the long-term plan.
The refrigeration film available has a steady voltage and excellent heat dissipation. The thermal conductivity and thermal efficiency of ceramic PCB manufactured using LAM technology and the substrate  are able to be adapted to meet the requirements of development.
JarnisTech offers ceramic printed circuit boards to meet your PCB requirements. A lot of printed circuit boards manufacturer discover that ceramic circuit boards are superior over conventional boards made from other materials. They provide a substrate to be used for electronic circuits that are thermally conductive and have a low coefficient of expansion (CTE). This multilayer PCB is extremely flexible and can be used to replace a typical printed circuit board using a simpler layout and better performance. It is suitable for high-power circuits and chip-on-board components, proximity sensors and many more.
In addition to its excellent thermal properties and its high expansion capacity, the ceramic board operate at temperatures of up to 350 degrees Celsius making them smaller packages, providing superior performance at high frequencies. Additionally, they can be packaged in hermetic packaging for no water absorption.
Since ceramic PCBs have parallel processing layers, they are extremely cost-effective for dense packages.

Why Do We Use Ceramic PCB ?
A ceramic PCB has a higher thermal conductivity and a lower coefficient of expansion (CTE) than a metal core PCB or FR4 PCB. Of these, alumina-ceramic circuit boards are most commonly used and their thermal conductivity is between 20 and 36 W/m*K. The most suitable choice is aluminum nitride PCB and the thermal conductivity could be as high as 140-180 W/m·K. Additionally it is said that the conductivity for thermal energy of the beryllium oxide ceramic PCBs can be at least 300 W/m*K while the boron-nitride ceramic PCB could reach up to 600 W/m·K.
In theory, ceramic circuit boards work at temperatures ranging from -50°C-800°C and in reality they are more efficient than other circuit boards , as they are expected to do.
Because of LAM technology The ceramic circuit board could be utilized as an High-density Interconnect PCB to make small-volume electronic components. Additionally the ceramic circuit board features an extremely low dielectric constant and dielectric loss that can give a high-frequency performance.
Furthermore to that, the PCB made of ceramic offers the benefits of high toughness, excellent insulation with low impedance, excellent chemical stability, resistance to corrosion and a long life shell.
Ceramic circuit boards could be used to replace conventional PCB boards. But, in reality the cost of ceramic PCBs is higher than FR4 PCBs or MCPCBs which is why the specific circumstance should be considered before deciding on whether to go with a ceramic PCBs.
As an PCB maker with over 20 years of expertise, JarnisTech has advanced technological advantage and the raw materials channel. We can customise the ceramic PCB to fit within your budget. Now If you have any query about Ceramic PCB, Please call us or send message to [email protected], we will response fast!
Ceramic PCB Manufacturing Capabilities
Specifications
Ceramic PCB Capabilities
Layer
1-4 Layer
Delivery time
1 to 3 weeks
Ceramic substrates
Al₂O₃ (alumina), SiC, BeO, AlN (aluminum nitride), Si₃N₄ (silicon nitride), hybrid materials
Maximum PCB size
138mm × 190mm
Finished board thickness
0.25mm, 0.38mm, 0.5mm, 0.76mm, 0.8mm, 1mm, 1.5mm, 2mm
Size tolerance
≤±50μm
Trace width/space
5-10μm: 0.05mm/0.05mm
HOZ: 0.075mm/0.075mm
1OZ: 0.1mm/0.1mm
2OZ: 0.127mm/0.127mm
3OZ: 0.3mm/0.3mm
6OZ: 0.5mm/0.5mm
9OZ: 0.6mm/0.6mm
Copper thickness
2μm to 105μm (DPC)
150μm to 300μm (DBC)
Solderability
>95% (IPC-TM-650 2.4.14)
Surface finish
OSP, immersion silver, immersion gold, nickel palladium gold
Laser drill
≥75μm
The Application of Ceramic Circuit Boards
Ceramic PCBs are widely utilized in high-voltage as well as high insulation and high frequency temp, reliability and electronic products that are small in volume which includes but is not specifically:
●  Refrigeration Equipment
●  Circuits with High Power Circuits
●  High Power LED
●  Sensors
●  RF Modules
●  BMS System
●  Power Supply
●  Solar Cell System
●  Semiconductor Cooler
●  Control Modules for large mechanical
●  Medical Hub
●  Automotive Electronics

Ceramic PCB Prototype Delivery Date and Prices
The cost is usually based on the requirements of the process and the amount, size of the board and more. The customer may  email us the Gerber files for an estimate.
The lead time for an ordinary FR4 PCB made of aluminum in a standard manufacturing facility is around 5-7 working days. However, the Ceramic PCB manufacturing process needs many manufacturing steps, and it requires a lengthy time. So, you can expect Ceramic PCB timeframes are 13-15 working days. To meet the customer's demands, JarnisTech accepts expedited orders which can be fulfilled in as little as a week.
JarnisTech Top-quality Ceramic PCB Maker
JarnisTech One of the top ceramic PCB producers, mostly uses the 3D-DPC technique for ceramic PCB production. It also uses the other manufacturing techniques depending on the requirements of clients. JarnisTech offers all-in-one ceramic PCB manufacturing, PCB assembly and other products like aluminum nitride PCBs, alumina PCBs , Bryllium Oxide, Silicon Carbide, Boron Carbide, SiC PCBs, IGBT modules, COB LED modules, DOB LED modules and more.
There are Several Reasons To Consider JarnisTech As Your All-In-One Ceramic PCB Supplier:
● The layer's thickness can be variable, ranging from 1μm to 1mm.
● The three-dimensional design is possible.
● Ceramic PCBs are able to be made to have high density (20mm minimal line spacing).
● Temperature resistance and welding quality have been improved.
● There is no oxide layer in the circuit layer, so it has a longer shelflife.
● JarnisTech offer engineering support one-on-one (DFX).
Final Conclusion
This article outlines the most common ceramic PCB manufacturing processes. It describes the processes used to manufacture ceramic PCBs and gives a short overview of the techniques. If companies, engineers or institutions are looking to have ceramic PCBs made and assembled we is able to provide 100 100% satisfaction to our customers.
Call us to get a free quote now