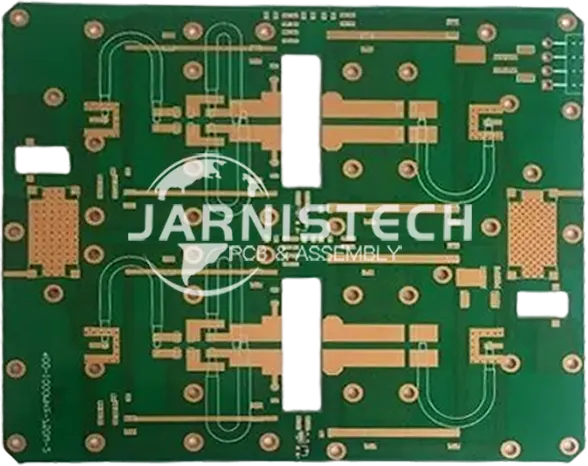 Why Choose JarnisTech as Your Taconic PCB Supplier
JarnisTech can assist you in manufacturing Taconic PCBs, and offer assembly services. With more than two decades of experience in making Taconic PCBs. We are equipped to manufacture and supply various kinds of Taconic PCBs.
We carry a wide range of Taconic laminates on hand without a minimum order requirement to allow you to save money and time. Being an ISO-certified PCB firm, we will always ensure the quality of the product prior to all other aspects, and we'll offer products that meet your expectations in accordance with your requirements. Contact us via [email protected].
What Is Taconic PCB ?
This type of PCB is made from Taconic PCB materials that incorporate glass fiber reinforcements and ceramic-filled polytetrafluoroethylene.
Taconic PCBs are commonly used in high-speed radio frequency laminate applications, such as communications, microwave electronics, and aerospace. It is the result of its reduced electrical signal loss as well as characteristics of dielectric loss.
In addition, the PCB features a wide range of dielectric constants.
Benefits of Taconic PCB
● Low Cost: In all instances related to the manufacturing of these circuit boards, it's important to cut costs. For professionals, it's typically a cost-effective option. This laminate is made of ceramic, The ceramic-filled laminate is one of the most cost-effective laminates available.
● The Low Dielectric Loss: Taconic PCB laminates are a good option for microwave and radio frequency processes. Its dielectric losses Taconic is low in addition, the dielectric constant is the reason for the low dielectric dissipation.
One of the major benefits of these board is their very low loss of electrical signal. Due to the materials employed in its manufacture Taconic laminate exhibits a lower dielectric loss.
● Dielectric Constants in a Diverse Variety: Taconic PCB provides many dielectric materials, which makes it ideal for a broad array of tasks.
● Low Dissipation Coefficient: The low dissipation percentage on this particular circuit makes it an ideal insulation device. An effective insulator device has a common dissipation factor.
● High-performance: Taconic PCB keeps its original dimensions when exposed to heat. Experts recommend this circuit board for applications that are likely to be exposed to a variety of conditions.
● Low Absorption of Moisture: This board is less water absorption. Therefore, it can be used under humid conditions. Moisture can weaken the durability of PCBs, therefore PCBs that have a low amount of humidity is perfect.
● Hybrid Production Factors to Consider: The production of hybrid Taconic PCBs, for instance, Taconic 35 RF PCB will have to address specific issues.
● Parameters of Drilling: The parameters of a drill are essential to examine since they influence how the hole is created. Moshe stack-up materials determine the speed and feed of the drill as well as the speed and feed through hybrid manufacturing. Some components, for example, release a significant amount of heat and could cause deflections.
● Compatibility of Components: The components used in the hybrid stack-up must be compatible with the lamination process. Throughout the lamination process, certain substances require high temperatures and pressure. Before using a resource for construction, always verify the specifications to ensure it is appropriate for the function.
● Development of the Hole Wall: After the hole is drill, the next step is to create the hole wall. There may be procedure guidelines for every broad group. To ensure 100 percent accuracy, It would be better if you improved each element's method.

Materials & Applications
PTFE-coated fabrics, non-stick fabrics, and other materials for food processing have made Taconic into one of the industry's leading suppliers. They also offer a broad variety of coated products, such as tapes, fabrics, and belts that can be used in a range of industrial uses.
There are many applications for Taconic composite materials in microwave, radio frequency, and high-speed digital technologies, such as:
Telecommunications
● Antenna/base station antenna.
● Components/combiners/filters/splitters.
● Power amplifiers.
● Systems to prevent traffic collisions.
● Transmitters.
Automotive
● Autonomous cruise control.
● Reliability at high temperatures.
● Keyless entry systems.
● Tire pressure monitoring.
● System of road tolls.
Military
● Guidance systems.
● Radar.
● Telemetry.
Multilayer
● Testing for ATE/chips.
● Digital multilayer.
● Multilayer RF.
● Satellite.
Mechanical
● Assembly of the Flex PCB.
● Gasket.
● Non-silicone masking tape.
Medical
● Body area wireless network.
● Medical scanners.
● Thin-core packaging and Flexible interconnect.
Taconic PCB Hybrid Fabrication: What to Consider ?
When manufacturing a Taconic hybrid PCB, take into account the following features and mechanical properties:
● Parameters for Drilling: It's an important factor worth taking into consideration as it's the primary determinant of the perfect hole formation. In the main, the speed and feeds of the drill are caused by the stack-up of materials. But, you can alter these during this hybrid process.
● Compatible Materials: It is vital to have hybrid stack-up materials that match the lamination process. Certain materials also require high temperatures and pressure for efficient lamination.
Thus, to ensure that materials are safe to use, make sure to check the datasheet before using them.
● The Preparation of the Hole Wall: The next step is to prepare the material following the drilling of the hole. Keep in mind that the procedure for preparation will depend on the materials you're employing.
Fundamental Lamination Techniques in Multilayer Taconic PCB Manufacturing
There are many lamination techniques that are useful in the production process. These include:

Multilayer PCBs
In this type of PCB, multiple trace layers are combined with thin etched boards bonded by lamination. In the process of lamination, the internal PCB layers are exposed to extremely high temperatures and pressures.
Double-sided PCBs
They're similar to PCBs previously mentioned in relation to the lamination process. Additionally, double-sided circuit board lamination requires the use of a photosensitive dry resist.
Microwave Laminates Made of PTFE
They are among the most common laminate materials used in PCB lamination. The majority of these laminates possess the following characteristics:
● Stability of the thermal environment.
● Excellent electrical properties.
● Durable electrical features.
● Resistance to flame.
● A relatively thick tolerance.
● Low electrical loss.
● Constant dielectric constant.
Additionally, the laminates are high-end circuit board components in radio frequency PCBs.
Sequential Laminate
The lamination technique can be useful on circuit boards with a minimum of two or more subsets.
JarnisTech Factory Offers High-end Taconic PCBs
If you're in search of an ultra-premium Taconic PCB to use in your electronic or business projects, JarnisTech Manufacturer is exactly what you want. We are unwaveringly dedicated to providing fast and exceptional services while ensuring the highest standards of workmanship.
JarnisTech has over 20 years of experience in the production of Taconic PCBs in China. Our aim is to give you a complete solution for all your Taconic PCB requirements.
When Should You Use Rogers PCB Instead of Taconic PCB ?
In a similar manner to Taconic circuit boards, Roger PCB is a high-frequency laminate. Both laminates are part of the low-loss category.
But, when you consider the effectiveness and the lowest chance of losing out, Taconic Laminates perform better over Rogers PCB. In addition, although both excel in electrical features in transmission and electrical features, Rodgers PCB fares better for lower frequency applications.
Furthermore, they are both ideal for use in extreme temperatures which require ceramic laminates. Additionally, both excel in reducing electrical noise in particular when high-performance standards are required.
Between Arlon PCB and Taconic PCB, Which PCB Material Guarantees High Performance
Taconic PCB components guarantee superior performance when compared to Arlon PCB material since they utilize PTFE as well as ceramic-filled laminates.
The most common materials for high-frequency PCBs are polytetrafluoroethylene (PTFE), a thermoplastic fluoropolymer with exceptional dielectric characteristics at microwave frequencies.
Low Z-axis CTE and low dielectric constant, and thermally solid PTFE laminates are the most commonly used materials for the production of microwave/RF circuit boards.
The majority of Taconic PCBs are manufactured with very little fiberglass content to provide higher insertion losses and uniform dielectric constants across the entire laminate.
In addition, ceramic the homogenous dispersion throughout the laminate leads to ultra-low CTE for X and Y.

What's the Distinction Between Taconic PCB as Well as Isola PCB ?
Many have asked what the distinction between Taconic and Isola PCB is. The two boards offer similar advantages however they differ from one another. A Taconic PCB is composed of ceramic-filled Polytetrafluoroethylene or reinforced glass Polytetrafluoroethylene, which makes it thermally and electrically stable.
Taconic boards are made up of thermoplastic prepregs as well as thermosets to meet the needs of the high-performance board. They are perfect for radio frequency or microwave designs.
Additionally, Isola PCB utilizes copper-clad laminates as well as dielectric prepregs to make its products. In order to satisfy high-performance requirements, the Isola PCB laminates are made of resin. These laminates have excellent mechanical, electrical, and thermal properties. These properties are superior to what materials like FR-4 can provide.
Taconic, as well as Isola PCBs, are designed specifically to be used in High-speed, high-end use However, these boards use different materials in manufacture.
How Does Taconic PCB Compare to the Ventec PCB ?
Both Taconic PCB, as well as Ventec PCB, are high-speed printed circuit boards but the main difference lies in the type of materials they employ.
As you may have guessed, Taconic PCB mainly uses ceramic-filled laminates and PFTE.
However, Ventec PCBs utilize high-performance premium copper-clad prepregs and laminates used in a multitude of PCB-related applications.
Blending superior losses, performance at high frequencies, and the highest level of reliability, they provide uniform mechanical characteristics and excellent dimension stability, which aids in restricting PIM.
At JarnisTech, we can help you to get the most efficient Taconic PCB.
Just tell us what requirements for designing PCBs. requirements, Our engineers can help you with precisely that.
Types of Taconic Laminates
Taconic has a range of high-frequency laminates. Each laminate has impressive properties and advantages. Let's take a review of the various varieties of Taconic laminates on the market.
Taconic RF 35
It is a form of laminate made by Taconic. The laminate is filled with ceramic and reinforced by the woven glass. This material is perfect for applications requiring high performance, such as antennas, power amplifiers, and active components.
It is the ideal solution for microwave and RF applications. It is characterized by properties like low dissipation and low moisture absorption and excellent quality dimensional stability. Taconic the RF35 PCB can be described as RoHS certified. It is compatible with a variety of hybrid designs.
Engineers mix Taconic RF-35 with HYBRID multiple layers boards. The combination of these top-quality materials will increase the reliability of your system.
Taconic CER 10
Taconic CER 10 A great laminate from Taconic. It is a laminate that is filled with ceramic that is reinforced by the weaved glass. The Taconic CER 10 is characterized by its solder resistance and homogeneous electrical properties. The laminate is utilized in various applications such as power amplifiers, couplers, filters as well as active components.
In Taconic CER 10, there is an interlaminar laminate and it can be coated on both sides or on one side only. With its low cost and dimensional stability, this laminate is an ideal solution for applications requiring a high volume of products. This laminate passes a test of flammability. And Taconic CER 10 clad with Brass aluminum, aluminum, or copper.
This laminate offers excellent mechanical and thermal properties. It's also perfect when designing microwaves. Taconic CER 10 flexural strength is good, and its moisture absorption is low.
Taconic TLY-5
Taconic TLY-5 is made by Taconic. These laminates feature dimensional stability and a uniform dielectric constant. They have a dielectric constant of 2.20 as well as .0050 the thickness of their dielectric. Taconic TLY-5 can be found in many applications, including power amplifiers and aerospace equipment, cellular communication, automotive radars and satellite communications.
Materials like aluminum copper and brass are used in the cladding of the laminate. The laminate is then reinforced by the weaved glass. It is typically used in low-cost applications that need the highest performance. The material is dimensionally stable and is tested for flammability.
Taconic TLY-5A
Taconic TLY-5A is a highly dimensionally stable laminate with a high frequency. It has the lowest dissipation rate in the Taconic laminates. The material used is PTFE for the coating of this laminate. It's also reinforced by glass woven in the same way as other Taconic laminates.
This laminate is suitable for a variety of applications, including power amplifiers, aerospace satellite communications, power amplifiers, and the radar industry in the automotive sector. The laminate has low water absorption as well as a strong peel strength. It also has a low dielectric constant. It is possible to use the Taconic TLY-5A with hybrid builds.

Frequently Asked Questions
Does the Effectiveness of Taconic PCBs Affected by Humidity ?
PCB performance may be affected by humidity since the proportion of moisture content to water absorption may affect loss performance. The dielectric coefficient of Taconic PCB components is around 70. Absorption of moisture in laminates designed for high-performance use is usually very low with values lesser than 0.2 percentage or o.2 percent.
What Can I Do To Reduce PCB Loss in Insertion ?
One can cut down on the loss of PCB insertion through the use of larger wires, decreasing the DK of the PCB, using more dielectrics with greater thickness, and making sure to have an looser coupling.
Conclusion
With our experienced staff, we have helped our clients come up with the most effective and efficient solutions. At the same time, our experienced engineers also can assist you in designing the perfect Taconic PCB.
And we are able to manufacture high-quality, reliable Taconic PCBs for you at the most affordable cost.
If you have any questions about the Taconic PCB, please don't hesitate to contact us. We'll be delighted to assist you.
Call us to get a free quote now