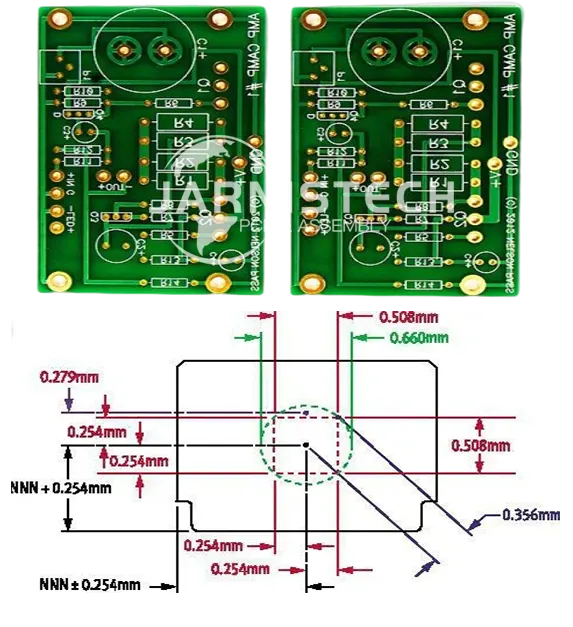 PCB Tolerances in Fabrication PCB
As we know, PCB tolerances are present in every PCB manufacturing aspect. When you design a new product it is done with an exact set of dimensions in your mind. They are also known as nominal dimensions. The tighter or smaller precise the tolerance the greater the price or the longer the time to manufacture will be. In the production of industrial printed boards, There are international standards, and these are in addition used to determine the PCB tolerances.
Each PCB manufacturer has its own tolerances for PCBs that impact the engineer's goal in determining the impedance as well as a pile-up. While it is not required, however, it's extremely helpful for the designer of the PCB to get in touch with a PCB fabricator as well as the PCB assembly company in the early stages during the layout and design process to obtain an accurate duplicate of PCB tolerance requirements as well as stack-up. One advantage of working with a company such as JarnisTech is that everything is handled in one place – design, Engineering consultations as well as fabrication, component procurement as well as assembly.
Our expertise is offering the best solution for the most difficult design issues and the most demanding of applications, whether that be critical reliability or high-heat standards. We offer these cutting-edge technologies to our customers, which are transforming the way you purchase printed circuit boards. Therefore, With us,  clients there's no longer a need to manage numerous supplier relationships and be accountable for miscommunications on issues such as the overage of components and tolerances.
JarnisTech gives you below the guidelines for tolerances in-house to ensure quality production of printed circuit boards. Following these tolerances will ensure the proper manufacturing of PCBs. Within these parameters, there's enough variance to allow us to make the board and allow it to function effectively in your application. Please contact us if you have any concerns or would like to discuss your unique needs.
Via (finished) Diameter Tolerances
Via Type
Via Diameter
Tolerance
(Plated Thru-hole)
≤0.8mm
±0.08mm
>0.8mm, <2.5mm
±0.1mm
>2.5mm, ≤6.3mm
±0.15mm
>6.3mm
±0.2mm
NPTH
(Non-plated Thru-hole)
≤0.8mm, >0.8mm, ≤6.3mm
±0.05mm
>6.3mm
±0.2mm
Paper based PCB
≤0.8mm
±0.1mm
>0.8mm
±0.2mm
PTH slots
<10.0mm
±0.2mm
≥10.0mm
±0.3mm
NPTH slots
<10.0mm
±0.15mm
≥10.0mm
±0.2mm
Board-dimensional Tolerances
Dimension
Range
Tolerance
Board thickness
(finished)
≤1.0mm
±0.10mm
≤1.6mm, >1.0mm
±0.14mm
≤2.0mm, >1.6mm
±0.18mm
≤2.4mm, >2.0mm
±0.22mm
≤3.0mm, >2.4mm
±0.25mm
>3.0mm
±10%
Lamination thickness
/
±8%
Board size (finished)
/
±0.1mm-±0.3mm
Mechanical Manufacturing Tolerances
Item
Specific Aspect
Tolerance
Hole location
tolerances
Drilling
±0.18mm
Milling
±0.15mm
V-cut
V-cut remain thickness
±0.1mm
Bevelling
Bevelling angle
±5°
Edge milling
Ordinary parts
±0.13mm-±0.4mm
Internal slot
±0.20mm
Card slot
±0.15mm
Countersink
counterbore
Depth
±0.20mm
Angle
±5°
Note:
The tolerances mentioned in the table up are part of the category of standard. They're not permanent. JarnisTech will meet stricter tolerances due to the higher standards on custom PCB designs. Simply tell us about your specific specifications here and we'll give you an efficient solution quickly.
Are you looking for PCBs that have a specific tolerance? Look no further than JarnisTech for a reliable fabrication solution for PCBs. In the meantime, you can use the button below to obtain an approximate price for the fabrication of your PCB.
Call us to get a free quote now