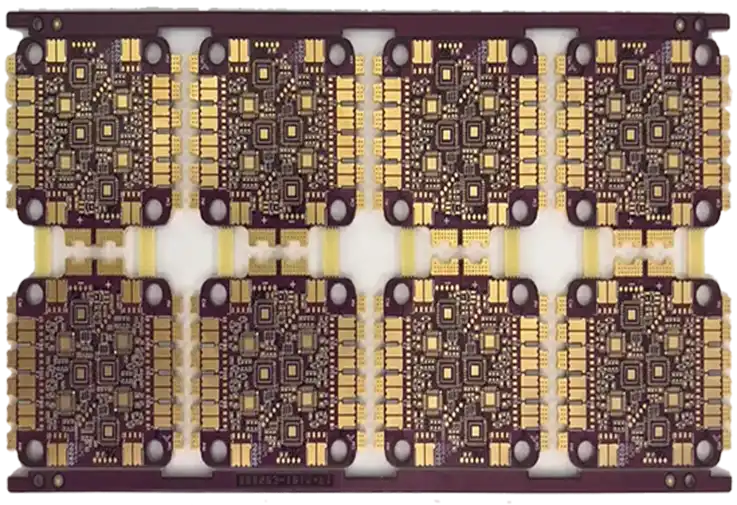 The history of PCB technology dates back to the early 20th century when simple single-layer PCBs were used for radio applications. During the 1950s, the development of double-sided PCBs with plated through-holes greatly improved the efficiency of electronic circuits, but they were still relatively simple in design.
In the 1960s and 1970s, multi-layer PCBs were developed, which allowed for more complex circuit designs and increased density of components. The introduction of computer-aided design (CAD) software in the 1980s revolutionized the PCB manufacturing process, enabling intricate routing and design verification.
In the 1990s, surface mount technology (SMT) and ball grid array (BGA) packages were introduced, which led to smaller and more compact PCB designs. HDI (high-density interconnect) PCBs further improved the layout density and reliability of PCBs.
Today, with the advancement of materials, manufacturing techniques and software tools, PCBs are used in a wide range of applications from consumer electronics to critical defense and aerospace systems. The demand for smaller, faster, and more reliable PCBs continues to drive innovation in the field.
Therefore, this article aims to provide detailed insight into the various elements that compose a 20-layer PCB, including its stack-up design, materials selection, and manufacturing process, along with their impact on the final product's quality and performance.
What Is a 20 Layer PCB ?
A 20-layer printed circuit board (PCB) is a commonplace example of a multi-layer PCB. This type of PCB typically comprises of copper mixed with epoxy resin materials along with solder masks and silkscreens. Its thickness ranges from 3.2-4.8mm with a tolerance of approximately 10 percent. Due to its layered construction, it offers high stability for electronic applications. The arrangement of signal and ground layers is designed to support High-Density Connect (HDI) applications.
The materials used in the construction of 20-layer PCBs have low dielectric constants and thin dielectric components for a high-layer PCB. This feature enables a strong connection between the PCB layers, resulting in reliable shielding of high-speed signals.
As a result, a 20-layer PCB offers exceptional performance for electronic devices due to its remarkable specifications. Several 20-layer PCB options are available on the market that can be customized to meet specific requirements. The most widely used 20-layer PCBs include:
● Rigid 20-Layer PCB.
● High-TG 20-Layer PCB.
● 20-Layer Rigid-Flex PCB.
● Microwave 20-Layer PCB.
● High-current 20-Layer PCB.
● 20-Layer PCB with High Frequency.
● 20-layer PCB ENIG( 20 Layer Immersion Gold PCB).
Design Considerations for 20 Layer PCB
When designing a 20-layer PCB, several considerations must be taken into account to ensure optimal performance and functionality. These considerations can be divided into three main categories: routing and signal integrity, stackup design and material selection, and thermal performance analysis.
● Routing and signal integrity considerations involve ensuring that signals travel correctly and without interference across the PCB. It is crucial to optimize the routing of high-speed signals, avoid crosstalk between traces, and minimize the impact of electromagnetic interference. This may involve carefully laying out the PCB to shorten trace lengths, reducing the number of vias and optimizing their placement, and carefully selecting trace widths.
● Stackup design and material selection are crucial elements of 20-layer PCB design. Choosing the right materials, such as high-frequency laminates, can significantly impact the signal integrity of the board. Because 20-layer PCBs require additional layers of copper and insulating material, careful consideration must be given to the stackup design to optimize signal flow and minimize noise. This may include specifying the thickness and order of layers, selecting materials with specific dielectric properties, and choosing the right impedance control strategies.
● Finally, thermal performance analysis is essential for 20-layer PCB design. With more layers comes an increased risk of heat buildup, which can lead to performance issues and component failure. Thermal analysis involves ensuring that components and traces are adequately spaced to dissipate heat and selecting materials with good thermal conductivity. Additionally, thermal pads and vias can be added to help dissipate heat more efficiently.
By considering routing and signal integrity, stackup design and material selection, and thermal performance analysis, PCB design engineers can create effective and reliable 20-layer PCBs that meet project requirements.

A 20-Layer PCB Is Fabricated Using Different Methods
The manufacture of 20-layer PCBs involves an intricate process that requires the interspersing of insulation material between each layer of copper. The following steps are employed to produce these PCBs:
● Image Process: PCB manufacturing involves the translation of digital circuit designs from software into physical boards, commonly referred to as printed circuit boards. This process enables the creation of physical boards that accurately match the intended design, utilizing a variety of manufacturing techniques and equipment to ensure the highest level of quality and precision.
● Etching Procedure: To remove any excess metallic material from a printed circuit board (PCB), an industrial solvent is typically utilized. This solvent is able to dissolve and effectively remove the excess metallic material from the surface of the PCB, leaving behind only the desired circuit pattern. This process is an important step in the manufacturing of PCBs to ensure that the final product meets the required specifications and quality standards.
● Layer Lamination: In the printed circuit board (PCB) manufacturing process, a pressing machine is commonly used to join the various layers of the board together. This process involves applying heat and pressure to the PCB, which effectively fuses the individual layers into a single, cohesive product. Given that many modern PCBs consist of multiple layers (e.g. 20 or more), this pressing process is critical in ensuring that the final board meets the necessary requirements for functionality and durability.
● Machining of 20 Layer: During the machining process in printed circuit board (PCB) manufacturing, through-holes and vias are drilled into the board to facilitate connections between the various layers of the PCB. These holes are essential for enabling the electrical pathways to run from one layer to another, allowing the different components of the board to function as intended. Given that modern PCBs commonly comprise of multiple layers, the drilling of these holes is an important step in ensuring that the final product operates correctly and meets the required specifications.
● Plating on the PCB: During the fabrication process of printed circuit board (PCB) manufacturing, a metal finish is typically applied to the drilled through-holes and vias. This finish serves an important role in protecting the exposed metal surfaces from environmental factors such as corrosion and oxidation. By applying this metal finish, the PCB is able to maintain its structural integrity and prevent any deterioration of the electrical connections within the board.
Testing and Verification of 20 Layer PCB
Testing and verification of 20-layer PCBs are critical steps in ensuring their effectiveness and reliability. Various testing and verification methods can be used to ensure that the PCB meets design specifications and operates as intended.
● Electrical testing is one of the most common testing processes for 20-layer PCBs. It verifies the functionality of the board and identifies short circuits, open circuits, and other electrical issues. The testing is usually conducted using automated test equipment (ATE) that covers a range of electric tests, including continuity testing, isolation testing, and resistance measurement.
● Performance verification is another testing process that validates the operational performance of the circuit design. This testing process is usually conducted under simulated or real-world conditions to ensure that the PCB can tolerate the anticipated loads.
● Quality control is crucial for 20-layer PCB products. Comprehensive quality control measures should be implemented throughout the manufacturing process to ensure that all components and processes meet high-quality standards.
● Additional testing and verification methods can include environmental testing, such as thermal cycling, environmental stress screening, and vibration testing, to ensure that the board can perform optimally under various conditions.
So, testing and verification are crucial steps in the design and manufacturing of 20-layer PCBs. Electrical testing, performance verification, quality control, and environmental testing, where applicable, are essential components of the testing and verification process. Ensuring that a comprehensive testing and verification plan is implemented can help ensure that a 20-layer PCB product functions effectively and meets rigorous design specifications.

20 Layer PCB Applications
The 20-layer PCBs are across six main areas. Let's take a quick look.
● Consumer Electronics: The advanced technology of 20-layer PCBs plays a fundamental role in the production of electronic components that are commonly used in offices and households. These components include calculators, watches, music players, smartphones, and other devices. Furthermore, 20-layer PCBs contribute to the manufacturing of various household electrical appliances, such as electric kettles, washers, lighting bulbs, washing machines, kitchen, and cooking appliances.
The exceptional performance and reliability of 20-layer PCBs have made them an ideal solution for realizing intricate designs in electronic components and appliances. This quality allows for high-density component placement, complex electrical circuits, and effective power management. By utilizing 20-layer PCBs in the production of electronic components and household devices, manufacturers can develop products that are efficient, dependable, and meet the needs of the end-users. Our company is dedicated to providing high-quality PCB manufacturing services that meet the specific requirements of our clients, contributing to the growing electronics industry.
● Telecommunication Electronics: The advanced technology of 20-layer PCBs is instrumental in various electronic communication systems, including GPRS and radar technology used in communication towers, computer servers, and satellites. These PCBs are relied on in the design and development of electronic subsystems, including LNA filters, mixers, filter power amplifiers, sonar antennas, and PLLS attenuators.
Their application in these systems stems from their ability to house intricate designs, achieving a higher component density, and accommodating more complex electrical circuits. This quality enables 20-layer PCBs to provide a reliable, high-performance platform for electronic communication systems. As a result, 20-layer PCBs have become an indispensable part of various high-end communication and electronic systems. Our company is committed to offering high-quality PCB manufacturing services that meet or exceed the client's specific demands for their electronic communication and subsystems.
● Computers: The advanced technology of 20-layer PCBs is instrumental in the manufacturing of computers, and other essential components such as graphics cards, power supplies, EEPROMs, and motherboards. They are increasingly being used in the development of various computer subsystems, including ADCs, computer keyboards, mice, and circuits dedicated to processing images.
As a result, 20-layer PCBs have become an indispensable component in the computer technology industry due to their exceptional performance and reliability. They allow for intricate designs to be realized, enabling computer systems and their components to function at optimal levels. Through the use of 20-layer PCBs, manufacturers can develop computer systems that perform efficiently while reducing their footprint and optimizing manufacturing costs.
● Automation: The industrial environment often features harsh operating conditions, including exposure to dust, pressure, extreme temperatures, humidity, and shock. For this reason, 20-layer PCBs are an ideal solution as they can exhibit exceptional robustness and resilience. They are well-suited for use in a wide range of industrial applications, including robotics, automotive manufacturing conveyor belts, and various automotive subsystems.
If you require 20-layer PCBs, we invite you to request a quote from us. Kindly send your PCB files to our email address at [email protected], and we will respond promptly to your inquiry. Rest assured that we are committed to providing our clients with cost-effective, high-quality PCBs that meet or exceed their specific requirements.
● Medical Devices: The advanced capabilities of 20-layer PCBs have significant potential in the medical industry for testing and monitoring medical equipment. These PCBs can be particularly useful for measuring blood pressure, monitoring temperature using infrared and electronic devices, testing sugar levels, and much more. Their versatility and high performance make them well-suited for an array of medical applications where precision and reliability are paramount. 20-layer PCBs can have a considerable impact in improving the effectiveness and accuracy of medical equipment, helping healthcare professionals better diagnose and treat patients in need.
● Defense, Aerospace, and Military: In light of their advanced capabilities, 20-layer PCBs have found extensive applications in military equipment such as radar, surveillance systems, unarmed aerial and ground vehicles, rail guns, and navigation systems. Additionally, these PCBs are well-suited for cutting-edge technologies like artificial intelligence as well as automated firearms. Their exceptional performance and versatility make them an ideal choice for use in high-end and mission-critical applications.
Selecting the Best Vendor for Multilayer PCBs
The manufacturing of multilayer printed circuit boards requires specialized equipment and a significant investment in operator training, which contributes to the high costs of production. Consequently, some fabricators may be hesitant to enter the multilayer manufacturing industry compared to others.
However, at JarnisTech, we offer advanced capabilities to support the most complex printed circuit board designs that have demanding requirements such as laser-drilled microvias, cavities boards, heavy copper up to 20oz, via-in-pad microwave and radio frequency boards up to sixty layers, and more. With our expertise and state-of-the-art equipment, we are committed to delivering high-quality and precise printed circuit boards that meet the most stringent specifications and expectations of our customers.

20 Layer PCB Makes Use of the Highest Quality Raw Materials
Item
Standard
Advanced
FR4 Standard Tg
Shengyi, ITEQ, KB, Nanya
Shengyi, ITEQ, KB, Nanya
FR4 Mid Tg (Lead Free Compatible)

Shengyi S1000, ITEQ IT158
Shengyi S1000, ITEQ IT158
FR4 High Tg

(Lead Free Compatible)

Shengyi S1000-2, S1170

EMC EM827

Isola 370HR

ITEQ IT180A

Panasonic R1755V

Shengyi S1000-2, S1170

EMC EM827

Isola 370HR

ITEQ IT180A

Panasonic R1755V

High Performance

Low Loss FR4

EMC EM828, EM888(S),

EM888(K)

Isola FR408, FR408HR

lsola I-Speed, l-Tera MT

Nelco N4000-13EP, EPSI

Panasonic R5775 Megtron 6

EMC EM828, EM888(S),

EM888(K)

Isola FR408, FR408HR

lsola I-Speed, l-Tera MT

Nelco N4000-13EP, EPSI

Panasonic R5775 Megtron 6

RF Materials

Rogers RO4350,

RO3010, RO6003,

Taconic RF-30, RF-35,TLC, TLX,

TLY

Taconic 601, 602, 603, 605

Rogers RO4350,

RO3010, RO6003,

Taconic RF-30, RF-35,TLC, TLX,

TLY

Taconic 601, 602, 603, 605

Halogen Free

EMC EM-285, EM370(D)

Panasonic R1566

EMC EM-285, EM370(D)

Panasonic R1566

Halogen Free

Shengyi SAR20, Yugu YGA

Shengyi SAR20, Yugu YGA
The PCB substrates mentioned above serve as the fundamental materials for realizing multilayer PCBs. If you have any concerns about the cost of manufacturing printed circuit boards, please do not hesitate to contact us. Our team stands ready to recommend suitable PCB raw materials for your specific project requirements, ensuring that you obtain high-quality printed circuit boards that perform optimally. We prioritize collaboration with our clients to achieve their PCB manufacturing objectives, and rest assured that we are available to offer our full assistance to you.
20-Layer PCB Stack-up
The development of 20-layer PCBs calls for expertise in high-density interconnect (HDI) boards, with notable considerations of larger dimensions, spaces, and holes exceeding 0.3mm. Our seasoned team of professionals possesses the required expertise to fabricate 20-layer PCBs utilizing six signal layers. Such boards require the application of thin dielectrics such as 0.006 or 0.062 thick boards, creating a highly compact coupling between the various layers.
To achieve optimal performance, we undertake proper routing and staking that comply with specific stipulations and high-quality industry standards, achieving impeccable electromagnetic compatibility (EMC) performance while safeguarding signal integrity. The tightly coupled signals demand a shielding mechanism for high-speed signal return surfaces, with multiple ground planes precisely positioned in the center of the board. Ultimately, our 20-layer PCBs feature extraordinary efficiency due to optimized signal pathways, tightly coupled ground planes, and shielding of high-speed signals.
Substrate 20 Layer PCB 4.8mm+/-10%

20-Layer PCB Prototype Delivery Times and Price
Pricing for PCB manufacturing typically takes into consideration process requirements, board size, and other relevant factors. Customers may provide Gerber documents to facilitate project estimation. Manufacturing lead times for 20-layer boards across most facilities generally range from 15 to 21 days. At JarnisTech, we also offer expedited order processing options to meet urgent customer needs, with the ability to deliver completed orders within a week.
Future trends and challenges for 20 Layer PCB technology
The continually accelerating pace of technological innovation has given rise to numerous new trends and challenges for 20-layer PCB technology. Some of the emerging trends and challenges include:
● High-frequency applications: With the increasing demand for higher data transfer rates, 20-layer PCBs will need to support higher frequencies and have lower signal loss. This will require the use of new materials with high-frequency performance and better impedance control techniques.
● Miniaturization: The demand for smaller and more powerful devices will require further miniaturization of 20-layer PCBs. This will require smaller and denser component placement and may necessitate the use of advanced surface mount technologies.
● Power Integrity: As devices become more complex, power delivery networks must be designed to ensure stable, regulated power throughout the device. Challenges in this area include power plane design, decoupling capacitor placement, and power distribution network optimization.
● Reliability: As devices become more critical to daily life, reliability is becoming an increasingly important factor. Achieving high reliability in 20-layer PCBs requires designing for thermal and mechanical reliability, minimizing the potential for defects in manufacturing, and employing robust testing and verification processes.
● Sustainability: There is increasing pressure on the electronics industry to reduce its carbon footprint and improve sustainability. Achieving sustainability in 20-layer PCBs will require using environmentally friendly materials, improving recycling, and reducing waste.
In a word, the trends and challenges faced by 20-layer PCB technology will continue to evolve and drive the need for ongoing innovation and development. Overcoming these challenges requires careful consideration of design, material selection, and manufacturing methodologies that prioritize performance, reliability, miniaturization, and sustainability.
Summary
20 layer PCB technology has come a long way since its inception, with the industry continually pursuing innovation and improvement. The design and manufacturing processes have evolved to meet the ever-increasing demands of modern electronic devices, and they now offer impressive levels of functionality, miniaturization, and reliability. The use of advanced materials, including high-frequency laminates and thermal management materials, has considerably impacted the performance and reliability of 20-layer PCBs.
However, despite the numerous benefits of 20-layer PCB technology, the increasing demand for higher frequencies, miniaturization, reliability, and sustainability has created new trends and challenges, requiring ongoing innovation and development. PCB design engineers and manufacturers must remain attentive to these challenges while developing new solutions to ensure that 20-layer PCB technology continues to meet industry demands and consumer expectations for the future.
JarnisTech is a distinguished PCB manufacturing company, specializing in quick-turn multilayer PCB fabrication and printed circuit board prototyping. We understand the importance of timely delivery to our customers, enabling them to launch their products more efficiently. We possess diverse capabilities to cater to all kinds of PCB fabrication demands. With over two decades of experience in providing top-notch prototyping printed circuit boards, we have served hundreds of clients worldwide. Our full-scale manufacturing process can effortlessly craft up to five thousand printed circuit boards with no NRE requirements or contracts, providing our clients with exceptional ease and flexibility for their PCB specifications.
If you require a high-end multilayer PCB prototype with a quick turnaround time, please feel free to contact us via email or phone. We would be delighted to offer a complimentary quote for your PCB project.
Call us to get a free quote now